Posted: February 19, 2012
Filed under: Downton Abbey, PBS
| Tags: Anna Smith, Brendan Coyle, Dan Stevens, Downton Abbey, Elizabeth McGovern, entertainment, Hugh Bonneville, ITV, Jessica Brown Findlay, Jim Carter, Julian Fellowes, Laura Carmichael, Maggie Smith, Michelle Dockery, PBS, Rob James-Collier, Siobhan Finneran, television, TV
1 Comment »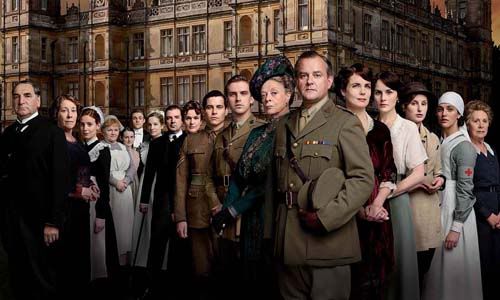 It's over. It's really over. And now, the long slog to January, 2013 begins. It's a hard life we live, us fans of these British dramas, content to produce a paltry six or seven episodes a season. But, it is the life we've chosen. We'll make do. Or as the Brits say, jog on.
But despite the hiatus, I imagine there will be enough debate about Downton Abbey season 1 vs. Downton Abbey season 2 to last us a while yet. Even before the new season premiered in the US, I was reading reviews that said that this year just didn't live up to the high standard set by the show in its freshman season. It was still great, to be sure, but it wasn't as great. Well, after watching, I have to say the nays have it. But I wouldn't go so far as to say that it was because of a drop in the quality of storytelling. I think that in its second year, the show just started telling a different story.
In its first season, Downton Abbey was all about contrasts. We had the rich and privileged, and then we had the people who cleaned their house and cooked their food. But the show was never going to be able to keep its premise as clean cut as that. If the Crawleys were just horrible people, content to live in their ivory towers with blinders strapped to their heads, then maybe they would have gotten away with it for a few more years. But they're not. They're good people. Rich and endlessly worried about arranged marriages and keeping the aristocracy intact or whatever, but also determined to do right by the people they employ. Even Maggie Smith — who may very well be the best thing about this show — the most set in her ways, lets Mr. Moseley take home the blue ribbon at the Downton Village Flower Show. So this divide between the rich and the poor was never something the show was going to be able to singularly focus on. And in season 2, a lot of those contrasts went away, and the show turned more into a soap opera. That's not a knock against it. Soap operas can be good, too. And in the case of Downton Abbey, they're really effing good.
(I'll try and make this next bit as simple as possible, because even now as I'm writing it it sounds confusing to me.)
But as the show focused less on class divisions and put all its characters on more equal footing (because all their skullduggery was so inextricably wrapped around one another), it also turned Downton itself into a character by showing us how, during the war, it was used as a convalescent home. By using historical events – the sinking of the Titanic, World War I, the Influenza Pandemic — to orient viewers who may be a little thrown off by the show's jumps in time from episode to episode, Downton Abbey isn't only telling stories about these characters, but also giving us a history of this place. As if you're taking a guided tour. For some, it's a bit grander a portrayal of things. For others, the show still won't be as good as it used to be. I came out of season 2 feeling satisfied. Your mileage will vary.
Regardless of any dissenting voices, however, I don't think Julian Fellowes is going to feel like he has reason to right the ship going into season 3. The show's ratings have increased since its premiere, and it's now a huge international hit. As a matter of fact, I think there's reason to believe the show's success may have spooked its creators just a bit, to the point of making sure they change as little as possible about the way they tell their stories. This season of Downton suffers from what I call Star Trek Voyager Syndrome. For those who never got into that show, Star Trek: Voyager was about a starship — the titular U.S.S. Voyager — that was knocked thousands of light years away to the other side of the galaxy. It's stuck in uncharted, sometimes very hostile territory, and it's going to take something like 75 years to get back home. With supplies, not to mention the crew, in very limited supply, you can imagine the ship is going to take quite a beating on its way back home. Well, you'd be wrong. No matter what happened in any given week, and I mean no matter what, you could be sure that at the start of the next week's episode, that ship was going to look like it had just rolled off the assembly line. At the end of every episode, the show hit a reset button, and every bad thing that had happened to the ship was magically undone. More than a little annoying. And really ruined whatever stakes the show may have had at its start.
Downton Abbey has got its own reset button, although they manage to hit it with a little more style than Voyager did its own. Some big things happened on the show this year. Bates' wife came back. Matthew, Thomas, and William went off to war. Matthew loses the use of his legs. Matthew and Mary both got engaged. Cora came down with the Spanish Flu. That's a lot to shake up the status quo. And by the end of the season, almost all of that had been swept under the rug. Mrs. Bates kills herself. Matthew, Thomas, and William come back to Downton (although William doesn't stick around for long**). Matthew's legs get better. Lavinia dies. Cora recovers. Mary is still engaged, but now that the show has jumped through so many hoops to free up Matthew, I can't imagine that's going to last much longer.
(**And I know some will point to William dying as real and lasting change. But really, does anyone give a crap about William?)
I don't think the show needed to take a bat to everything that made it so great in the first place. I do think it spent a lot of credibility keeping everyone within arm's length and more still when you consider the fact that in two seasons we've covered seven years). And I wish it would take a few more chances with its characters. If next season, Sybil and Branson get married but have found some way to stay at Downton, the show may be beyond hope as far as all that stuff goes. In the end, it's okay. Let's remember the show we're talking about, and how much better it is compared to so much else out there. And, if in season 3, Matthew and Mary finally get married THEN ALL IS FORGIVEN.
---