Posted: January 19, 2012
Filed under: FX, Justified
| Tags: Elmore Leonard, entertainment, FX, Joelle Carter, Justified, Natalie Zea, Nick Searcy, television, Timothy Olyphant, TV, Walton Goggins
1 Comment »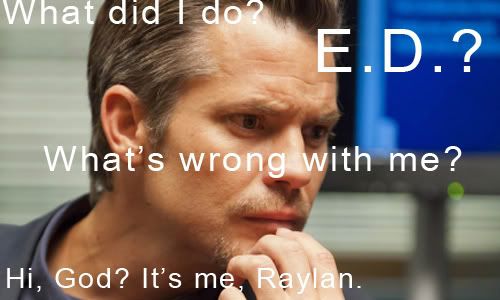 A lot's happened in Harlan, Kentucky since last we saw our intrepid hero. Well, not much has happened, actually. Which is just as well, since aside from Margo Martindale showing up out of nowhere and stealing our hearts as Mags Bennet, matriarch of the Bennet clan, there's not much we remember. It's been three weeks since Raylan was shot, and he's spent that time trying to recuperate. Spending hours down at the shooting range, shooting everyone but the target, then giving the empty room the shifty eye, making sure no one's around to see how off his game he is. But whether Raylan's shooting bullseyes or nothing at all, it's just nice to have Justified back in our lives.
This was a show that really tried catering to the casual viewer in its first season. While those first few episodes focused on the bad guy of the week, the show eventually threw all that stuff out about halfway through the season to focus on a more serialized story it had quietly been laying track for in the background, focusing on the fight between Raylan and Boyd we all knew was coming. It turns out that Justified the serial was way better than Justified the procedural, and it's been a happy marriage ever since.
"The Gunfighter" set up another long arc we'll see play itself out over the course of the season. This time the baddy is being played by Neal McDonough, Hollywood's favorite albino, best remembered for his role as that guy who died in Star Trek: First Contact. What's interesting about his character is, well, we don't really know. At this point we just see him as that all-knowing, all-powerful businessman. He has connections, money, and BIG plans for Harlan County. And with his smooth talk, ruthlessness, and crazy James Bond gun up his sleeve, Raylan looks to have met his match.
Just as interesting, maybe even more so, is the man McDonough's character is Fletcher "Icepick" Nicks — who you may recognize as professional dick Joey Quinn from Dexter — another shadowy underworld type set on Raylan's trail. Nicks makes the mistake of so many TV bad guys before him: not killing his victims right at the start. He's got a game he likes to play, setting his gun down between him and whoever he's come to kill, counting down from 10, giving them the chance to go for it, right before stabbing their hand with an icepick, taking the gun and shooting them in the head. Rookie mistake, and it doesn't work on Raylan. When confronted with the game, Raylan simply pulls the table cloth, and the gun, toward him and shoots Nicks in the chest. I honestly don't know if it killed him. I hope not, because I'd like to see him come back at some point in the season. Although I guess the only way he could do that now would be from prison. Hmm.
Anyway, Raylan, his manhood confirmed, is ready to get down to business. F*** this bleeding hole in his side. He's got bad guys to catch.
There was something special about Margo Martindale on this show that we may never see again, but McDonough — and Icepick, if he sticks (R.I.P. COMEDY) around — look like they're going to deliver a story as good as anything we've seen on the show so far. After only one episode, things are still a little murky, but after two seasons, I think we can trust the show to deliver the goods.
And let's not forget that McDonough and whatever he's doing is only half of the show. Walton Goggins is back for more, which is as it should be. After throwing Raylan through a glass window for not handing over Dickie Bennet to him last season, he's sent to big house to wreak all sorts of havoc. Boyd's fight with Raylan may have been a little over the top, just trying to get the character back in prison. But if being back in jail means Boyd will get to spend some more time with Dewey Crowe, I can look past it.
And of course, the women. Natalie Zea (my old girlfriend) is pregnant. And I doubt she'll approve of Raylan running all over the state, getting shot in the stomach. And how many times can a girl be taken hostage before she gets the hell out of that relationship? Ava's back, too, taking the reigns of Boyd's fledgling and maybe-over-before-it's-begun weed business. As much as I love these ladies, it sometimes seems like the show keeps them around just to class up the joint. They both had more interesting things to do last season than they did in season one, so hopefully that trend will continue.
I'm sure there's some chess metaphor that applies to all the pieces the show is setting up right now, but it doesn't really seem to apply for a show set in Kentucky. So… a hootenanny? A hootenanny. And hard apple cider. Nothing? Nevermind.
I won't be reviewing Justified every week. But I'll be poking my head in a few times this season to see how things are shaping up.
My One Gripe With This Episode:
DOES THE ENTIRE EFFING PLANET KNOW ABOUT TOMMY BUCKS???!!!
---