Posted: September 22, 2011
Filed under: 2 Broke Girls, CBS
| Tags: 2 Broke Girls, Beth Behrs, Brooke Lyons, CBS, entertainment, Garrett Morris, Jonathan Kite, Kat Dennings, Matthew Moy, Noah Mills, television, TV
Leave a comment »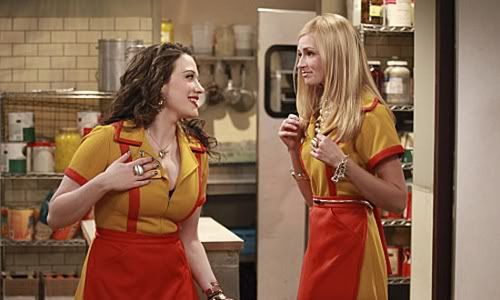 I am one of the rare heterosexual American males who will gladly admit his affection for Sex and the City. What was not to like? Four richly developed characters spouting quick, oftentimes witty, dialogue about life and love and sex in the Big Apple. This is why I was excited to learn of 2 Broke Girls.  One of two new sitcoms from creator comedian Whitney Cummings and the only new network show by frequent scribe and producer of Sex and the City, Michael Patrick King. Unfortunately, my excitement didn't last past the opening scene.
Max (played by the scowling Kat Dennings) is a plucky, self-aware, cupcake baking waitress at a diner in Brooklyn. After a fellow waitress, a "Soviet hooker" is fired for, well, hooking in the stockroom, the owner of the diner is forced to hire a new waitress. And in walks Caroline (played by the appropriately adorable Beth Behrs), a former Upper-westside socialite whose assets have been frozen because of her father, a man who "ripped off the entire city."  Thus, begins a beautifully mismatched friendship sure to draw in women of both uppercrust and wrong-side-of-the-tracks upbringings. Right? No, not convinced? Me neither.
From the opening scene, 2 Broke Girls seems to be more concerned with establishing the pitch for the show than with giving us characters as people whose lives we want to watch. More concerned with convincing the audience of the worth of its dirty dialogue, or the wacky situations the two girls find themselves in, than telling us a story. Everything about this mess screams contrived. Despite the fairly promising performances of the two leading females, one gets the feeling that both Ms. Behrs and Ms. Dennings wished they had a bit more to work with, or a lot more. Their wish for something more is one the audience sorely shares.
But there isn't more, just stacked clichés delivering one-liners over an obvious laugh track. (A laugh track that successfully kills any notion of actual laughter from its home audience at the few actually funny parts) From the wise-cracking older black cashier at the restaurant, to the well-toned, cheating boyfriend Robbie and his dimwit rock band buddies, to the unbelievably boring sets, and lazy lighting of the show. Contrived. I've heard it said lighting often makes or breaks sitcoms. The bright, spacious diner (so obviously not in Brooklyn, but on a brightly-lit soundstage) only exacerbates the un-believability factor of the show.
A totally manly side note here: One of the things that I liked about Sex and the City was, although it was a female-centered show, the existence of believable male characters was an important element. 2 Broke Girls has not one interesting or believably human male character anywhere.
The pilot proceeds through 22 grueling minutes of introducing possible developing storylines. Max's impending break-up with Robbie after finding out he's cheating on her (news Max just can't accept when coming from the caring and honest Caroline), the two girls moving in together, and Max's other job as a Nanny for a totally different New York heiress (and her two children Brad and Angelina). Ugh. I would comment on this, but seriously, who cares? The final scene finds Max and Caroline sitting on Caroline's horse in Max's tiny backyard (you know, like wacky completely opposite people/best friends do) discussing a truly wonderful, and in no way contrived, idea. Caroline loves Max's devil's food cupcakes so much that she's devised a plan to open a cupcake shop. They'll need $250,000 dollars startup money.
The show ends with an unexplained amount of money (around $300) flashing on the screen before the credits. I guess this is how much the girls decided to put up for the cupcake shop this week. That seems like a lot of money for two broke girls. I couldn't help thinking they should've flashed another number, like the number of episodes aired before they shut this disaster down. My guess is 3.
---