Posted: August 31, 2013
Filed under: Deadwood, television
| Tags: Deadwood, entertainment, HBO, Ian McShane, television, Timothy Olyphant, TV, W. Earl Brown
2 Comments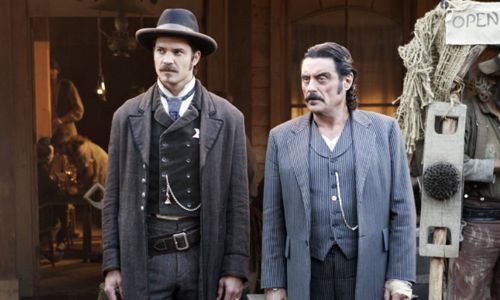 For years I've said that Deadwood was the best television show in the history of television and shows. Whether you were comparing it to The Wire, The Sopranos, whatever, it went unmatched in scope, in voice, in the sheer effing weight of the thing. The funny thing was, up until last night, I had never actually finished it.
I had almost finished it. Out of its three seasons, I had watched through episode five of season three, "A Two-Headed Beast." I had seen Dan and Captain Turner take each other on in the camp's thoroughfare. I had seen Captain Turner beat Dan within an inch of his life, and at the last minute, Dan pop the good captain's eye out of its socket. And then I stopped watching. When it was originally airing, I didn't have HBO. I had to drive over to my grandparents and watch episodes they had taped (shudder) for me. I was a huge fan of the show, but around that time life and school and getting married were more than enough to keep me busy, and the show got put on the back burner. I'm not proud of it.
In the seven years since the show was canceled, I tried rewatching the whole thing, always with the intent of finally finishing it. Several times, actually. For whatever reason, I never made it past the end of season two. And that was okay, because I could go back and watch what I hadn't seen anytime. After a while that turned into my joke: As long as there were episodes I hadn't seen, I always had new Deadwood to look forward to. But this summer, after making it about halfway through my long rewatch of The Sopranos (after hearing the news about James Gandolfini, may he rest in peace), something in me said, "It's time," and I broke out the Deadwood blu-rays. I toyed with the idea of not watching the finale, just so I could hold onto that "one more episode" idea, but ultimately decided against it. The fact that the show was taken from us before its time, much like John F. Kennedy, has been the source of much heartache for me. Despite that fact, I decided to meet the finale head on, although its impending arrival filled me with a sense of dread every time I crossed another episode off the list. Much like a car wreck I was watching in slow motion, or some other accident I was equally powerless to overcome.
And the verdict, now that it's over? I'm more sure now than I ever was before that this is the single most important television show ever made. And not just because of the dialogue or the characters. Breaking Bad, Boardwalk Empire, any show can do those things. There was a larger story Deadwood was telling. A story about society and the way civilization rises out of the muck, and the roles that elements both good and bad play in that. That the show gave us actors like Timothy Olyphant and Ian McShane in the roles of a lifetime was really just icing on the cake.
Other shows that I've liked have, obviously, been canceled before. Dealing with those has always been easy enough. I go through a few weeks of, "That sucks," but quickly get over it. Deadwood is the one that still hurts. And my biggest fear going into the final season was that, once all was said and done, the whole thing was going to feel like a story without an ending. It's bad enough that I've had to listen to David Milch drop bits and pieces in interviews of what he planned to include in the show's (presumably final) fourth season. It was bad enough knowing that we got so close before HBO f**ked up the endgame. But if what we did get was just going to sit there like a limp dishrag, well, that was really going to suck. But, after watching the finale, I have to say the thing works.
"No law at all in Deadwood." That's the premise of the show we hear in the pilot from Clell Watson shortly before he's hanged. For two seasons, Swearengen and Bullock and everyone else had tried to legitimize this place that was founded outside of the United States. They're successful, and are rewarded for their work with the arrival of George Hearst, whose relationship with the camp and its inhabitants is summed up by a conversation he has with Richardson in which he says, "This place displeases me. I'm taking measures to bring it down." If the show had gone on another year or five or ten, there would have been others like Hearst, because he's representative of power and the corruption that is part and parcel of the establishment. He's a constant. And although it's infuriating to see him ride out of camp having gotten absolutely everything he wanted from the place, that story couldn't have ended any other way. The line we hear as we watch Swearengen clean one more bloodstain from the floor of his office — this one coming from the whore Jen — just after sending Johnny away: "He wants to hear something pretty," might as well have been directed at us. We'd like a happier ending. We would have liked to have seen Hearst's brains splattered against the wall, but that ending wouldn't have been true to the show.
It's a shame the show was canceled. Milch had before said that he had story enough to carry these characters through another twenty-five years, and I would have happily watched every one of them. But if I can't have that, I'm glad that I at least got these three. And while I'll put it away now, I'll enjoy breaking it out a few years down the road and watching the whole thing all over again. Even though it'll open up all the same wounds. Really sucks the show got canceled.
PS: I'll just leave this here for the fans.
---