Posted: December 31, 2011
Filed under:
Best Of
| Tags: ABC, Alphas, AMC, American Dad, Archer, BBC, Boardwalk Empire, Breaking Bad, CBS, entertainment, FOX, FX, Game of Thrones, Happy Endings, HBO, Homeland, Luther, Showtime, Syfy, television, The Good Wife, TV
Leave a comment »
Before we get things started I feel like I should say that these "Best Of" lists tend to become more bloated year after year. With everyone weighing in on everything, they start to turn into "Things That Exist" lists. So it goes without saying that this is completely subjective, and shouldn't be taken as any sort of final word. So, without further ado, I present to you…
Why didn't I include your favorite show? Well, the biggest thing I look at when putting together a list like this, aside from the writing and the acting, is how much I enjoyed it. Sure, you could probably make the case that a show like Louie has more artistic merit than American Dad. But American Dad makes me laugh in a different way than Louie does. Anyway, you probably won't agree with everything I've got here, but such is life. Onto the list!
Breaking Bad (AMC)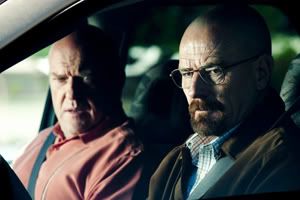 What is there to say about Breaking Bad that hasn't been said already? So few shows make it up to that rarefied atmosphere, populated by the likes of Deadwood and The Wire. But even those that do still can't help but get their milkshake drunk by Breaking Bad. I'm sure anyone who listens to NPR will have heard some story or other about America's love affair with the antihero (they run at least one a month). And that's a description that certainly seems to fit Walter White much better than it does the likes of Tony Soprano or Dexter Morgan. Just like Walt can't seem to admit to himself that the things he's doing are destructive and hurt those around him, we can't admit to ourselves that Walt's a bad guy, and stop ourselves from cheering him on. This season, we saw Walt finally go to war (and, spoiler alert, win) with Gus Fring. And its finale — if AMC hadn't have been able to get their act together and bring this show back for the fifth and last season it deserves — would have served as a decent end to the series. Although not as bloody as people probably expect. We may be a little iffy on the details, but we know the story of Walter White isn't going to end well.
Archer (FX)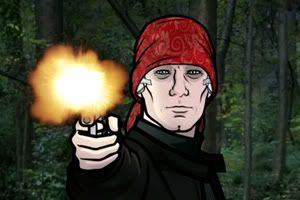 For some reason, I was under the impression that people hated Archer when it first came out, and there wasn't much of a chance that it would get picked up for a second season. Also, that it had only gotten a seven-episode first season. So, after watching "Skytanic," I remember staring out the window for a long time, having a good cry, and thinking that Archer was a show I would always cherish and mourn, like a beloved pet who had died before its time. I've been wrong about things in the past (only a few), but never was I so happy to be wrong about something as I was about that. If for no other reason, Archer would have made it onto my Top 1o list for "Placebo Effect," the episode you see pictured on the left, when Archer discovers the chemotherapy drugs drugs he's been taking to cure his breast cancer (I know. I love it, too) are fake, and goes on a bloody rampage to punish those responsible. Archer's second season also expanded the show's world. It delved deeper into the characters' backstories, made Gillette a main character, and gave us the wee baby Seamus. This isn't a show I can watch with my mom. Most of the time I can't watch it with my wife. But I keep trying. And if one day they understand even a fraction of its greatness, I'll have done my job.
Luther (BBC)
I know, I know. The world has seen more than its share of tortured cops, fighting the darkness around them which looks eerily like the darkness inside them, but I wouldn't mind listening to my only child's death rattle if it came out in a British accent. I don't know if I've ever seen a show moodier than this one. You hear so many pretentious film-snob types talking about this or that show using Chicago or New York City as a character, so it's with some sadness that I say Luther is a show that turns London into one of the most oppressive, depressing characters I've ever seen. And with that in mind it's easier to see John Luther as a kind of necessary evil that a city as dark as this one, with suck dark characters in it, has birthed. There are a lot of cops out there who skirt the law, walk a fine line between the good guys and the bad guys, but aside from Vic Mackey (and there was some crazy stuff going on there) Luther may be the only one I've seen who doesn't pay any attention to it at all. For him, the badge and the job only pave the way for the things he does to the bad guys. Also, he's Idris Elba and British.
Boardwalk Empire (HBO)
What originally started out as The Sopranos in old-timey suits quickly turned into something so much more. In fact, I'd go so far as to say that Boardwalk Empire isn't even about Prohibition anymore. This is a show about power, the things we do to get it and the things we do to hold on to it. Season 1 was good. At times it was great. But season 2 went out and bought us all hats, then told us to hold the f**k on to them. It's a show that, especially in its second season, has taken some huge risks, and definitely isn't one to take its characters right to the brink, and then pull them back at the last minute so the status quo can be maintained for the next season (again, I'm looking at you, Dexter). It's big. It's expansive. And if it could find a way to erase the picture of a naked Paz de la Huerta from my brain, it could be one of greatest TV shows of all time.
Game of Thrones (HBO)
There have to be thousands of nerds all over the world right now, sitting in their parents' basements, angrily painting their Warhammer 40K game pieces, pissed off that mainstream pop culture has taken yet another one of their children, made it its own, and is now walking around showing it to everyone like it was the first one to pull it off some dusty library shelf. But, to be honest, if it weren't for HBO's adaptation of George R.R. Martin's Song of Ice and Fire, a sprawling fantasy series about family, politics, ice monsters and rough sex, we'd still be passing this one over for the likes of Harry Potter and Twilight. If you'll allow me to jump up on my "it's all about the characters" high horse for a second, it's shows like this that show us terms like "fantasy" or "science fiction" are just constructs we impose on ourselves. Dragons, gigantic ice-walls and nomadic horse people or no, you can still tell a smart, grown-up story. And that whole thing with Ned getting his — SPOILER! — head chopped off really blew my effing mind.
The Good Wife (CBS)
A CBS drama in my Top 10? Surely these are the end times. I'm genetically predisposed to be suspicious and unkind to procedurals. But what I love about The Good Wife is that it's a smart show that's only masquerading behind a procedural. The court cases give us something to glom onto. Something that, if we've been away for a few weeks, makes it easier to jump right back in. But there's a great drama being played out behind all that. One that's outgrown the premise the show set for itself when it began all those… two years ago. Where the show began, telling the story of the titular good wife, a woman who had decided to stay by her man in the midst of a sex scandal, it's now grown into something more, moving between the goings-on at Gardner-Lockhart, to the States Attorney's office, to family problems to the two men in Alicia's life. On top of all that, the show does a great job of slapping Matt Czuchry whenever he gets that douchebag grin on his face, which I'll always owe it for.
American Dad (FOX)
The hell? Now, I know what you're all thinking. But hear me out. Remember back in 2002 when we all reluctantly admitted to ourselves that The Simpsons' best days were behind it and that Family Guy had taken its spot as the funniest cartoon on TV? Well, it happened AGAIN! Family Guy will always have a special place in my heart, and the show's still very good, but while it hits when it hits, when it misses, it really misses. That's not a problem I really see on American Dad. This is a show that kind of lives in the shadow of its big brothers, Family Guy, The Simpsons and South Park, and because those shows are so big, American Dad is kind of free to do whatever it wants, and never becomes the victim of people's expectations for it, because I'm not sure there really are any. And aside from Archer — which takes the top spot for best animated show on the air right now — American Dad is the only cartoon that always makes me laugh. Even its bad episodes are pretty good. And that's a very rare thing.
Happy Endings (ABC)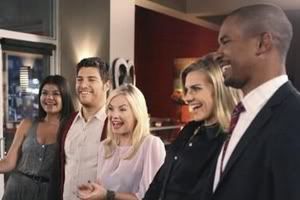 Oh, how I love this show. There are plenty of funny comedies out there (and more than a few painful ones), but you can count the number that are as well-oiled as this one on one hand. Like The Good Wife, this is a show that eventually moved beyond its premise. Although you'd probably be better off comparing this one to Cougar Town. When it became clear that the relationship troubles between Zachary Knighton and Elisha Cuthbert just weren't doing much for audiences, and remembering that it had an embarrassment of riches in a funny cast that had genuine chemistry with each other, it did exactly what it was supposed to do: it turned into a show about people hanging out with each other, and it makes me laugh more than Modern Family, which I had to get special dispensation from the pope to write on this blog. For those of you waiting for NBC to reinvent Friends, they've finally done it. And by "they," I mean ABC. Sorry, NBC. You're gonna be on the bottom for a while yet.
Friday Night Lights (NBC)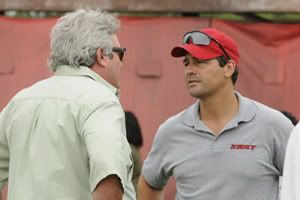 It's been almost a year since this one went off the air, and I have no idea how long it'll be before we see another one like it. Maybe never. And that makes me sad. There are plenty of realistic dramas out there. I have no problem believing that shows like Mad Men, Breaking Bad or Luther are realistic enough portrayals of things that actually happen. But never have I seen a show as genuine as this one. And as a native Texan who lives in the shadow of that towering behemoth known as high school football (along with the football my dad duct-taped to my hands) I can attest to how right the show got almost everything it touched. Sure, the actual football may have never been that great, but the drama was the important thing. Also, the show gets major kudos for the marriage between Coach and Mrs. Coach, otherwise known as the best marriage in the entire TV universe. Clear eyes, full hearts blah blah blah but I miss those two so much it hurts.
Homeland (Showtime)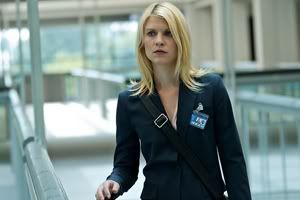 TV is SERIOUS BUSINESS, you guys. So there's nothing I hate more than to see good shows trying to pander to as broad an audience as possible. Too often that sort of thing doesn't work. You can't please everyone, so why dilute good storytelling by trying? Luckily, you don't see too much of this on cable shows, and in the case of Showtime's freshman drama Homeland, I dare say (daren't I?) you don't see it at all. For me, the best word to describe this show would be "uncompromising." There was no finding its footing. This is a show that knew what it was doing right from the start. And it didn't make things easy for the viewer. Homeland piled so much crap on top of Claire Danes and left on such a cliffhanger that I genuinely have no idea where its going to go next season. Talk about shaking up the status quo. This show gagged it and drowned it in a river. But with great power comes great responsibility. Homeland could come back every bit the great show it was this season, or it could fail spectacularly. It probably won't, but it could. It won't.
That's all, folks! I imagine next year's list will look a bit different from this one. 2012 heralds the return of Mad Men. And there are some great new shows on the horizon, like HBO's Luck and…well, others. And who knows? Maybe The Killing will get its act together and pop up on this list next year. Hahaha! Just kidding!
---