Posted: August 15, 2011
Filed under: Falling Skies, TNT
| Tags: Bruce Gray, Colin Cunningham, Connor Jessup, Drew Roy, Eight Hours, entertainment, Falling Skies, Maxim Knight, Moon Bloodgood, Mutiny, Noah Wyle, Sarah Carter, Seychelle Gabriel, Steven Spielberg, television, TNT, TV, Will Patton
Leave a comment »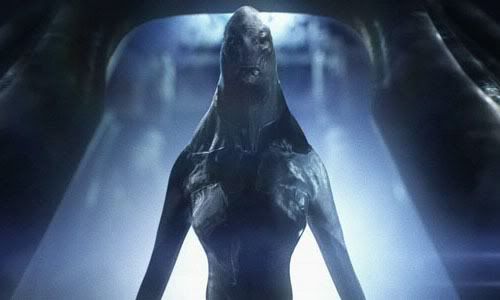 "Mutiny" opened on our ragtag group of survivors (who have somehow still managed to go unnoticed in this school, despite the fact that they're constantly coming and going, half of them are living outside, and they use generators to power the place) gathered in the gym, laughing uproariously at a cartoon of a… dancing flower? Whatever it was, they were getting a pretty big kick out of it. And I couldn't help but roll my eyes. I don't know what I was expecting, but I shouldn't have been surprised that the show would take one last opportunity to try and make us, the viewers, feel a bit of forced sentimentality. Yes, we've been witness to these people's journey for a couple of months now. We've seen their joy and their sorrow, but we haven't really seen their sorrow. It's the end of the world, but it still feels a little bit like camp.
Tensions between Tom and Captain Weaver have been rising since the start of the season, and now they've shot through the roof so we can at least half-believe that Tom would lose faith in Weaver as a commander, and that Weaver would have Tom put under house arrest (SECRET house arrest!) once he challenged his authority. And all this is coming at the worst time possible — as these things often do — because the 2nd Mass. is gearing up for their big push against the Skitters. We're told that conflict is the essence of drama, and this is about as textbook an example as you could get.
Falling Skies is, above all else, a show that wants you to believe in the veracity of the human spirit. We may argue and bicker among ourselves, but when the going gets tough, we fight back, we survive (and celebrate our INDEPENDENCE DAY!). And because all of what this show does is in service to that premise, you get a lot of people making stupid decisions they probably wouldn't make otherwise. In this case we've got two. The first is that Weaver has become a drug addict, or so we're led to believe. The second is that Tom doesn't tell anyone about it. He's got a good reason for this. He tells Hal that if he goes off half-cocked and makes accusations without proof, it'll tear the regiment apart. And that's bad because, before guys like Porter and Weaver came and united everyone, their lives resembled some sort of McCarthy-esque nightmare where all they did was carry the fire and try to keep away from roving bands of cannibals. But later, when Tom's confronted Weaver and he's ordered Lt. Danner (WHO'S BEEN THERE THE ENTIRE TIME SHUT UP) to take his weapons, Tom still doesn't say anything. You think that if he started yelling, "This man self-medicates!" that people might stop and listen. Luckily his imprisonment doesn't last long, as he's got enough friends in the camp to come and bust him out. This paves the way for Tom, Hal, Anne, Jimmy and others to confront Weaver and let him know that they want him to lead them, they just need a reason to believe. Then they all start clapping, and that brings the dying Tinkerbell that was Weaver's command back to life.
So everyone's on good terms again. And that's good because now that they know Porter and the other regiments have been attacked and probably won't be there to help when the 2nd Mass. goes up against the structure that's sitting in downtown Boston, they're going to need to work together. And these people working together is exactly what we've come to expect from the show. And for an episode that gave us exactly what we've been given before, "Mutiny" was one of the seasons stronger episodes. The only thing I can really attribute it to is that, despite the schmaltz, the episode focused primarily on the mission at hand. And even though we got our feelgood moment with Weaver and the gang, everything leading up to that was much more action-oriented, and was quite well done.
Which brings us to "Eight Hours." For most of the season we've had to deal with Rick — the creepy kid with the dead eyes– and all his cryptic sh*t about not being human and wanting to go back to the Skitters. Now that he knows Scott and Ben have found a way to disrupt the Skitters' communication, he makes a break for it. That entails some Spiderman-like acrobatics and stealing the vacuum tube which is a vital component of the broadcasting doohickey which does the actual disrupting. I'm glad Rick spent so much time thinking all of this through, and that there was no chance there was another working vacuum tube inside Scott's workshop for them to use. Anyway, Rick finds the Skitters, who promise to take him back as long as he tells them everything he knows about the 2nd Mass, which he does, and then who promptly leave his ass behind once they've got its location. Lucky for Rick, Tom and the others are more than forgiving and readily accept him back into their fold. And Rick even admits that he misses his dad! I guess the human spirit really is indomitable.
This sets the stage for the humans' final (of the season, anyhow) fight against the Skitters, which all felt a bit anticlimactic, and didn't make a terrible lot of sense. Even with Pope's new mech-buster ammo, they're not exactly mowing the Skitters down. Taking out a mech still takes a bit of effort, and that's with everybody firing at it. With that in mind, I didn't understand why they retreated immediately after their communications were disrupted. Did they need to be in contact with each other to fight back? Anyway, the humans cheer and will live to fight another day. It doesn't need to make sense, because it's just pushing things offstage to make room for the crème de la crème.
When Hal returns to the school and tells Tom that Porter and the other regiments never showed up and that Weaver went into Boston with just a few men, Tom of course goes after him. By the time he gets there, Weaver and Pope are the last men standing and the Skitters are regrouping. Tom takes out one of the Skitter ships with a mech-buster rocket launcher which crashes into the structure, and before he and Weaver even have a chance to slap each other on the back and congratulate themselves on a job well done, they're confronted by Karen. You remember Karen. She was Hal's hot girlfriend who was taken by the Skitters early in the season. She tells them that the Skinnies, the other aliens we met in "What Hides Beneath" WHO WATCH THE WATCHERS, would like a word with Tom. You see, in all their years of attacking alien races, they've never met anyone as VORACIOUS and INDOMITABLE as humans. So, you know, they want to talk about it. Get inside Tom's head. In exchange for this, they'll free Ben from the process that's slowly turning him into a Skitter. Which is itself a little confusing, because I thought the Skitters were a separate alien race who were subdued and harnessed, and were in turn doing the same to human children. But it seems that they started life as something else, and the Skitter body we've seen grew around them. Hmmmmm.
So Tom agrees, and as the episode ends we see him being led by the end into the Skinnies ship, which is effing gigantic yet somehow managed to surprise Tom and Weaver when it dropped out of the sky. What does it all mean? Shows like Lost and Battlestar Galactica had very distinct feelings from season to season, and I'm wondering if we may see the same thing in Falling Skies. When everything is said and done, this may not be a show about the survival of the human race. With the introduction of the Skinnies and the revelation that, from their perspective, they're helping us, we've discovered there are bigger mysteries out there that go past the simple conquest of an alien race. And now that Tom has been escorted onto one of their ships, I have a hard time seeing them drop him off just so he can continue fighting the fight. How Anne and the rest of the 2nd Mass. will figure into that is still a mystery we'll have to wait until next summer to see answered.
In its first season, Falling Skies proved to be an incredibly frustrating show. It's flirted with greatness from the very beginning and obviously wants us to have a deep, emotional connection with its characters, but has been mostly unwilling to stray into darker territory to achieve that goal. BUT, SO FAR, the story has been compelling and surprising enough to keep me interested. And despite my problems with the show, I've really enjoyed these last few episodes. So I'm looking forward to the next season, and am ready to write lengthy reviews which no one will read. But if I have to hear Tom tell me one more time that the children are our future or that history is FILLED with examples of small, poorly equipped rebels fighting off larger and more highly skilled invaders, well, I'm just going to snap.
---