Posted: April 4, 2011
Filed under: HBO, The Wire
1 Comment »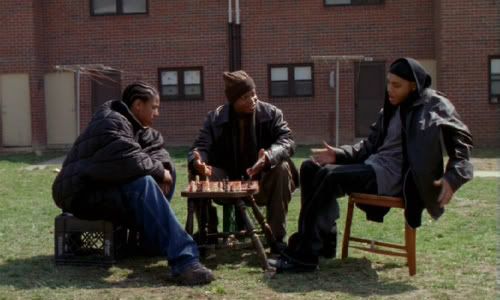 "Slingin' rocks be just like chess, yo!"
— D'Angelo Barksdale
Okay. You can shut up now. I finally started The Wire. And while I know writers who are much more talented than I am have provided the world with an endless supply of commentary and analysis, I'm throwing my thoughts into the mix anyway, because, you know, whatever. If you're a newcomer to the show, maybe you'll find some of this illuminating.
Treme was my gateway into the world of David Simon, although I found this to be much more accessible to the casual viewer, which I attribute to the fact that we're all familiar with cop shows and gang culture on some level. Looking at both shows, you can clearly see Simon's evolution not only as a writer but as a storyteller. While Treme telegraphs a sometimes very obvious statement to the world, I find it to be more than anything else a snapshot of life in New Orleans. The characters in that show suffer through their own hardships, yet we're constantly reminded of their — and the city's — vibrancy and their ability to come back from the massive pile of s**t life has placed in front of them. The Wire does the same thing, only not at all and backwards. While it may be the most authentic show I've ever seen and definitely gives us a very clear picture of life in Baltimore, the show is all about the message. Simon is talking to us about police work and he's talking to us about how politics is often unable to affect meaningful change. But I think most importantly he's telling us that all of this has happened before and all of it will happen again.
The show is never action-heavy and in a way that's good. The great stone wheel that is the plot takes its time moving forward so we're given the time to get wrapped up in the characters who populate this world. Jimmy McNulty's frustration with his bosses' obsession with stats. D'Angelo Barksdale's increasing disillusionment with his uncle's organization. Stringer Bell's attempt to make himself a better businessman and through that a better drug dealer. The larger picture of life in Baltimore wouldn't be possible without these smaller, more intimate moments. This larger picture is also helped by the fact that the show gives us access to everybody, not just the cops going after the bad guys. McNulty and his detail are trying to build a case against the Barksdale organization, a major power player in the local drug trade, although their superiors aren't interested in big arrests so much as they are in quick fixes that will make them look good to the public. Avon Barksdale is the man pulling the strings on the other side, although he's smart enough to keep himself divorced from the day-to-day of his business. His people know not to talk shop in cars or other places where they may be recorded and have systems worked out to make things harder on cops or anyone else who may have their eyes on them.
On the fringes of these two groups we see the people they affect. Bubbles, a heroin addict who helps supply information on the Barksdale gang after they beat his friend Johnny half to death. Omar Little –who I can only describe as the show's feel-good character, meaning every time he pops up you kind of want to pump your fist in the air — is a free agent who spends his time robbing drug dealers.  All of these people are part of an ecosystem, part of what Omar calls "the game." Some of them are where they are because of the choices they've made, some of them through unfortunate circumstance. It's all kind of amazing to see how the pieces fit and work together and I think you can only appreciate it fully from a distance, taking it all in as a whole.
One season in and it's obvious how deserving the show is of all the praise that's been heaped upon it over the years, although I wouldn't go as far as to name it the best television show in the history of television (or shows). Speaking strictly from an entertainment perspective I thought it had its share of problems. The show gets off to an incredibly slow start and I wonder if I feel that way because I'm watching almost nine years after it originally premiered. One of the reasons The Wire was so groundbreaking was because it was a pioneer of long form storytelling on television. It was telling a single story (more or less) over the course of an entire season. It was something new and when a show takes a month to really get its story going it can be a little off-putting and of course The Wire was never a ratings giant. Fast forward to 2011 and there's no shortage of serialized shows out there, so The Wire seems a little less groundbreaking when compared to shows like Deadwood and Breaking Bad.
I said before that David Simon was using the show to make a statement and a part of that is a long dissertation on the intricacies of detective work. This can be both entertaining and sometimes painfully dull. In "Old Cases," we see McNulty and Bunk revisiting an old murder scene while dropping about 50 F-bombs on top of us. It's thorough and methodical, but the interplay between the two makes it the best part of the episode. Later in the season, Lester Freamon schools everyone in money tracing and cross-checking campaign contribution records, then he schools them and schools them some more. That may be a little too dry, although the scene itself may not surprise you, given Simon's background as a journalist. Special attention is given to several aspects of detective work, not the least of which is the titular wire McNulty and the gang use against Barksdale. Again, I'm watching the show years later, so my first thought is, "What the hell's so special about a wire?" I mean, I understand its importance, but haven't these been around for a few years already? The characters are acting like if only they could get this crazy new thing, all crime would crumble in the face of it. Then again I'm not a detective, so maybe I should just shut up.
So where am I right now, and where does this show sit on my list of all-time great TV shows? After watching the first few episodes I was a little surprised at all the hype I had heard from friends and people I follow online. The show was interesting, but it wasn't doing anything I hadn't seen before and I could name a few shows that did what it was doing just as well, maybe better. But as the season went on I slowly became more involved in the story, began to care about the characters a little more and gradually got more hooked. I can't really say where the entire thing sits for me until I've finished all five seasons. I would say that about any show, but I think it's particularly true here. The Wire isn't an episode by episode show and I think it may not be season by season, either. Each piece is part of a larger panorama and if any one is taken away then it's incomplete. Like I said before, the show needs to be taken in as a whole. Simon's painting a big picture here that will only be added to in later seasons.
I have some thoughts on where The Wire sits in relation to other great shows, and other great cop shows, but I think I'll save those until my season five review. I have one season behind me, but a few more under my belt and I may consider the show the second coming of television. If this is one you've avoided for whatever reason, I definitely recommend jumping on board. Come for the entertainment and stay for the message. Because as much as people whine and complain about others who jump on their soapbox, the message is important, too. Messages affect change, and if there's one thing to take away from The Wire, it's that some things need changing. And who's to say that a TV show can't be a part of that?
---