Posted: May 19, 2011
Filed under: CBS, The Good Wife
3 Comments »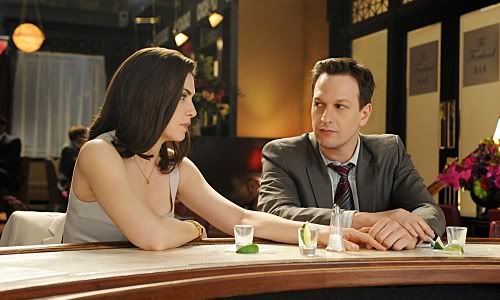 Such were my words to my own wife (who's pretty good!) when she asked what I thought about the CBS legal drama. I went on to say that a show doesn't need to be original to be good. It doesn't need to be a fresh spin on an old idea. As long as it's well-written and the characters are interesting, we can ignore the fact that we've been watching the same legal dramas for the past 60 years (they had TV in the 50s, right?).
One of the biggest problems we're seeing with shows today — which are under more pressure than ever to separate themselves from the pack — is that they establish premises for themselves that really aren't sustainable past a couple of seasons, if that long. In The Good Wife, Julianna Margulies plays a woman who's prominent husband's sexual indiscretions become public. For now, she's standing by him, although the future of their marriage is definitely up in the air. To start, this is great. But eventually she's going to have to make a decision. Of course, if the show is successful and picked up for additional seasons, she'll decide to stay with him. But Alicia and Peter and a happy marriage seems somehow antithetical to what the show is about. She's sticking by her man, which is good. But while he's in prison she's forced back into the workplace, which goes against the more traditional definition of a "good" wife, which I believe is suggested by her willingness to stay with a cheating husband.
In its two seasons the show's found ways of shaking things up just enough to change the dynamic, without having to change what is it about the show that really works. And the last few episodes of this season brought some big changes that will continue to shake things up in season 3. After discovering that Kalinda slept with Peter when she was with the state attorney's office, Alicia's kicked him out of the apartment. And even though nothing's final, it looks like divorce is on the horizon. This comes along with Peter being reelected as state's attorney and the news that Eli Gold is setting up a political consulting firm within Lockhart Gardner, with Alicia working immediately beneath him.
And, lest we forget, the will-they-or-won't-they relationship between Alicia and Will, which took a big step forward in last night's finale. After that scene in the elevator, and the awkward fumbling around outside the PRESIDENTIAL SUITE, I found that I didn't care whether or not they ended up together. Because now they'll have at least slept with each other, so maybe they'll finally be able to make a decision one way or the other. And after all the back and forth following the phone call and Will's message at the beginning of the season, a decision's all I really want. I don't care that there's no real romantic chemistry between the two, just do something.
However it turns out, it was a great ending to a season that was already a big improvement on the one before it. I particularly enjoyed where they've taken Kalinda this season. I admit that I've never been a huge fan of the character. She's always seemed a little one-note to me, and unfortunately that one note feels like a rip-off of Lisbeth Salander. So I was glad to see Alicia confront her about about sleeping with Peter, if only because it broke through her shell and forced her to act like a human being. I was a little surprised to see her and Alicia on much more cordial terms in the finale. I imagined that they'd repair their relationship at some point but I didn't think it'd move along so quickly. I don't know if I have strong feelings one way or the other on the revelation that she's bi-sexual. This is something that so many shows have done before that I think it's moved past being a simple stunt. Although I will say that the women Kalinda gets in bed with are all incredibly attractive. Coincidence? HUH?!
Not everything we saw on screen worked as well as it may have sounded in the writers room. It took all of two minutes before Grace as a born again Christian ran its course, if for no other reason than those stupid YouTube videos she kept watching. And speaking of technology and the prominent role it plays in this show, why can they use Facebook in one episode and then call it Facepad or some such nonsense in the next? And speaking of Facebook, did The Social Network really have to exist alongside whatever their fake Facebook movie was called? Shows like The West Wing have found interesting ways to incorporate real-world events into their own mythology, but "Net Worth" was more a lesson on how not to do it. And that's because the Mark Zuckerberg and Aaron Sorkin stand-ins were such pale imitations of their real-world counterparts. And everything that came out of Bizarro Sorkin's mouth — which very closely resembled statements Sorkin's made in the past — only served as a reminder of how poorly written it all was in comparison with what Sorkin actually said.
But all of this is one low point in a season that really hasn't had too many of them. I like how complicated these relationships have become, and I like the fact that, in spite of this, the show is thoughtful enough to give us our fist-pump moments (I'm thinking specifically of Bond being forced out of the firm earlier in the season). I'm glad to see that the show's coming back next season, even if they never bring my beloved Jill Flint back. Just like the titular good wife, she's pretty good!
---