Posted: March 9, 2011
Filed under: NBC, The Event
Leave a comment »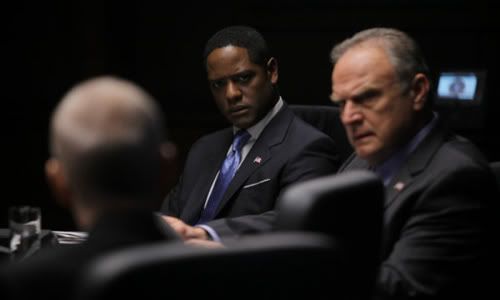 I'll give anything a shot, so over the past few days I've been catching up on NBC's The Event. I'm automatically weary of any show that smugly assumes it's going to be the next Lost. I have to be. The television battlefield is littered with the bloated carcasses of shows like FlashForward and Heroes; shows that in the beginning promised greatness, but delivered only unanswered questions, contrived plot devices, bad acting and Hayden Panattiere. So, taking TV's track record with these sorts of shows in the past, plus the so-so reviews The Event has been getting, I'll watch, but with reservations. But after the first ten episodes, I have to say I kind of like it. And I don't. Know. Why.
With the exception of the time jumps, the pilot isn't too shabby. And the time jumps here don't work not because they're flashbacks and shows tend to use them in all the wrong ways, but because there's no rhyme or reason to them. Here, we learn a little more about this character's backstory. There, some aspect of the overall plot is fleshed out a bit. In the next one, well, that one was thrown in just for the hell of it. In Lost, which I think owns the patent on flashbacks now, they were used not only to flesh out the characters, but also to show how they were all connected, which would later become an important theme in the show. There was a cohesiveness to it where in The Event it's just a gimmick. This seems to be a problem the showrunners have recognized and backed off from — at least to a certain degree — as they've been used less and less in subsequent episodes. And that's good. That means that the show's learning from its mistakes, and in the chance it gets a second season (it won't), it could eventually shape up into something pretty good.
But there are still a lot of problems the show has to overcome in addition to the flashbacks. The Event is a perfect example of why no one should ever use the President of the United States as a character (unless that person is Aaron Sorkin). We forget that the president is the leader of the free world, and as such he has cereal business to attend to. In The West Wing, the show was about government, so the president was able to attend to such matters. The Event isn't about that, it's about aliens who used to live on Earth but were forced off and are coming back now — I think. I don't really know. Anyway, it isn't about government. That means the only things we see the president doing relate directly to the show. We see him interrogating aliens. We see him in a hospital, being shown victims of an alien plague. We see him keeping company only with the Director of National Intelligence, who had been covering up the aliens for years before the president got involved. I mean, doesn't he have anything else to do? Fundraisers or speeches or taking pictures with women's basketball teams? There has to be something. At least I assume so. I've seen the president on TV, and he's always doing stuff. But on the show he feels more like a police chief than anything else. And when you add that to the character's general lack of depth, there's just nothing believable there.
Lack of depth is something most of the characters suffer from. The only character who generally gets any sort of emotional response from me is Sophia, and that's only because of how much I hate her. The writers have tried hard, getting us to care about these characters. But the only one they've only half-succeeded with is Jason Ritter, and I think that's most because he's a genuinely good actor and seems like a nice guy. Other things the writers have thrown in there to make the characters more relatable, more human, are downright laughable. Vicky was a cold and calculating government assassin, until the day her superiors asked her to ASSASSINATE A BABY! Really? Other characters are so singular-minded they quickly become parodies of themselves. If I hear the president or Sophia talk one more time about saving innocent lives, or Željko Ivanek talk the danger posed by everything to the security of the United States I think I'm going to put my fist through a wall.
I obviously have big problems with the show. So why am I still watching? As of last night, twelve episodes have aired, and that's a time commitment. Despite its shortcomings, I think this may be the best of the post-Lost shows. Part of that may be because I've been able to sit down and watch one right after another. I truly believe that since Lost and Battlestar Galactica have come and gone, audience's patience for shows with huge, sprawling mythologies may have run out. They want all the answers right then and there, which obviously isn't going to happen, not while you're watching the show live and especially not with a show like The Event. There's so much packed into every episode, it seems almost as if every five or so is a season. And rather than asking questions that require answers and payoff, the show's still trying to figure out where it's going. Which, if reviews and ratings mean anything, is straight to a "Complete Series" DVD.
---