Posted: June 6, 2011
Filed under: FX, Sons of Anarchy
Leave a comment »
For years I worked in public schools, and the one thing I grew to hate even more than the Texas education system was the prison mentality that so many kids have these days. That is, show everyone how badass you are so no one will mess with you. All I wanted was to show kids how a healthy understanding of William Faulkner would help them to better function as an adult. Instead, I was told to piss off because no one wanted me in the ATX. I confess, my heart was broken, my optimism shattered.
It was that mentality that kept me away from Sons of Anarchy for so long. I had tried watching it before, but only made it through the first three episodes (which I admit may be the worst three to start off with). But even before watching the show, I knew who Kurt Sutter was. Even if you only pay casual attention to the world of television, you've probably heard of Kurt Sutter. The writer/producer has made a name for himself, usually around award season when Sons of Anarchy doesn't get the recognition he feels it deserves (not to imply that it doesn't). For an afternoon or two, his internet rants and tirades against critics fill one's Twitter feed, replacing stories about NBC's poor ratings and Alex O'Loughlin's complete lack of charisma.
My point is that, even when it's bad, Kurt Sutter's the guy who's going to convince you that it's good, whether you like it or not. He's got that same prison mentality my kids did, and it made it seem like the show was trying way too hard to be edgy and in your face. Almost right from the start, Sons of Anarchy was a show that had the potential to be great. There was this rich world laid out right in front of it. The problem was that it took a while before the show really knew what to do with it. Sons is the kind of show that begs for serialization, but not in the way a show like The Sopranos was serialized. Sons is much closer in tone to The Shield (not surprising), and seems to work best with season-long arcs. Without the serialization, you just have a bunch of thugs running guns and beating people up, and considering those first episodes, I'm not sure how long that would have been sustainable.
When it premiered, there was a lot of talk about Sons of Anarchy being a modern-day take on Macbeth. I think that, at least for most of the first season, that was a description that hurt more than helped the show. The reason being that as it began, Sons was Shakespeare boiled down to its base elements: a son becomes unhappy with his father.
It wasn't Shakespeare enough to be considered Shakespeare. So those comparisons — which invariably become attributed to Sutter himself (falsely or otherwise) — make it seem like the show's huffing its own sh*t, and more than a little over-pleased at the work its putting out.
But that theme, like the show itself, grew into something much more sophisticated over its first season. Sophisticated enough to the point that it no longer needed to say it was inspired by Shakespeare, or that it was riffing on Macbeth. Sure, those flavors were there, but by the end of the season the show was running like a well-oiled machine. It was telling its own story. Nobody ever looks at a great show and says, "Wow! You sure are doing a great job recycling Shakespeare!" When a show tells its story well, it gets the credit. When it does it poorly, and makes claims to have been inspired by a literary classic, it looks like it's using the comparison to prop up sub-par work.
Like I said before, the show's first episodes weren't that good. The dead Mexican women in the pilot, the guy getting the ax in the head in "Seeds," the rapist being castrated and left to bleed out in "Fun Town." There came a point where you're left saying, "Okay. We get it. You're edgy. You know this is killing your mother, right?" The show had to set up the world it was living in. I won't begrudge them that. And in many respects it did a great job, it's just that some of the creative flourishes rubbed me the wrong way. If you were watching and you loved it, good on you. Variety and differing opinions blah blah blah. I don't think everything the show was throwing at us was a bad choice. One thing I will say I loved was the end of the pilot, the end montage with Bobby singing "Can't Help Falling In Love" may be one of the most brilliant things I've ever seen. So, there.
The show really started to pick up in "Patch Over." When the MC went to Nevada to bring the Devil's Tribe in as another chapter of the Sons, we saw that SAMCRO was only a piece of a much larger machine and that the clubs were really a culture unto themselves. Bringing other groups into the story like the Nords and the ATF, rather than just rival gangs like the One-Niners and the Mayans turned Sons into a big picture show. While all the action was playing out in small town Charming, the stakes in the overall story had been raised. Against this backdrop, the show chose (wisely, in my opinion) to play out a few (and only a few) personal dramas. Although Jax is the show's leading man, I think the first season was as much about Opie and Tara as it was about him. Opie, as someone who's still connected to the Sons but — at the start of the season at least — is making an attempt at an honest living. Drowning in debt and unhappy in his job, Opie is someone who sees himself as powerless without the Club. With a family to support, little education and nothing you could really call marketable job skills, work with the Sons is the only thing that's going to keep his head above water. Donna, his wife, doesn't approve, but when the choice is between survival and arguing with your wife, you just tell yourself and take comfort in the fact that, eventually, she'll get over it.
Opie's feelings of powerlessness relate to more than money. Later in the season we're introduced to ATF Agent June Stahl, who tries turning him informant, forcing the illusion of cooperation by paying his bills and all of his outstanding debt. She promises to protect his family and put them all into Witness Protection. Opie still turns her down, as he sees hiding for the rest of his life as no answer for him or his family. Of course, at this point, the damage is done and, just as Stahl intended, the Sons see Opie as a rat. And we know how all of that turns out.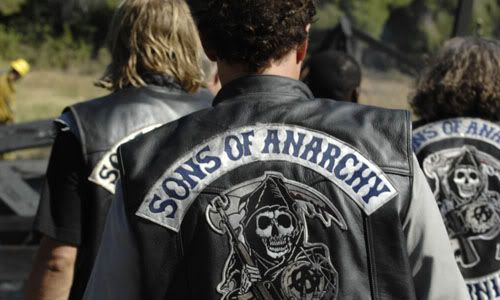 Tara's story provides an interesting contrast to Opie's, and in many ways is even more important. As a doctor and someone who was able to get out of Charming for a time, she has the most to lose. She has a normal life, and turning away from that only puts her in direct confrontation with the law and all the unsavory crap the Sons are mixed up in. While Opie turns to the Sons to keep from being powerless, Tara turns to them because of the power it offers her. Those two things may look the same when written down on paper, but in practice are very different. There's an undercurrent of teenage rebellion in her relationship with Jax, but there are other things there, too. When Agent Kohn attacks her in her house, Jax kills him. And not only does he kill him, he gets away with it. He operates outside the law, and while for Jax that's a matter of course, it's an entirely new world for Tara, and one she's not able to resist. Opie and Tara's stories both amp up quite a bit in season two, so I'll wait until that review to discuss them further.
But aside from everyone else, and as I said before, Jax is the show's leading man and plays no small role in the fortunes of the MC. If Jax is meant to be the savior of SAMCRO, then "The Revelator" takes that religious imagery and beats us over the head with it. More thoughtful people than I might point out the resurrection and New Testament overtones of the crypt Jax wakes up in front of after spending the night in the graveyard. As everyone gathers for Donna's funeral (dressed in black) we see Jax approach, with his white shirt and blonde hair. The creature of light to Clay's creature of darkness. He takes his cut from Tara, almost as if he's reclaiming his birthright. As he stands in front of his father's grave, Piney gives him a second copy of The Life and Death of Sam Crow, saying, "Time for a change." As in your face as the entire thing is, it's probably here that the show first lives up to all the Shakespeare comparisons, and as a close-out to its first act, the episode works incredibly well. Changes are coming, but don't expect the showdown between father and son to come too soon. The Shield went on for seven seasons. With all its success, it'd be nice if Sons of Anarchy could pull off something comparable, so we'll see how long they can stretch it out.
---