Posted: May 6, 2012
Filed under: AMC, Mad Men
| Tags: Aaron Staton, AMC, Christina Hendricks, Elisabeth Moss, entertainment, January Jones, Jared Harris, John Slattery, Jon Hamm, Lady Lazarus, Mad Men, Matthew Weiner, Rich Sommer, Robert Morse, television, TV, Vincent Kartheiser
Leave a comment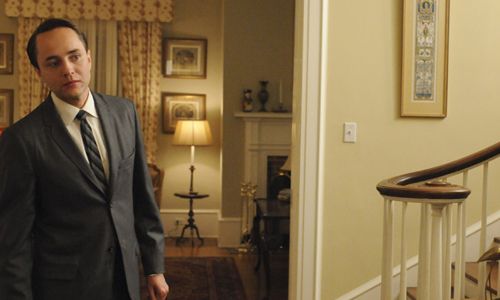 The times, they are a'changin'. For Mad Men as well as all the characters in it. I'm a huge apologist for all the shows I love, so it's easier for me to say that the show's just as good as it's always been, it's just telling different stories than we're used to. I know there are a few people out there who wouldn't agree, but whatever.
Don's getting older, and if all the bright colors and loud music the kids are so into these days weren't enough of a reminder of that, he's got Megan in the kitchen cooking IN HER BARE FEET to really drive the message home. In a conversation about pop culture, Megan tells Don that everybody's trying to catch up to it because it's always changing. That's probably something Don's more likely to roll his eyes at and walk away from, like we see him do at the end of the episode while listening to The Beatles' "Tomorrow Never Knows." Still, that knowledge — or fear, rather — that the world is beginning to move more quickly than Don's able to keep up with is ever-present. That's what that empty elevator shaft symbolized, in case you were wondering. Staring into the abyss. Into a world that has no place for him. All that good stuff.
Again, we find ourselves contrasting Don's relationships with Betty and Megan. When he and Betty were still married, we saw that Don had kind of adopted a "there's the door" policy any time Betty found that she was unhappy with her station in life. Regardless of whether or not Betty was justified in being upset, Don didn't really care.** But now, with Megan, I really think Don's recognizes there's a possibility that she could leave him. So whenever she wakes him up in the middle of the night and says that she doesn't really want to go into advertising, he says "mazel tov," wishes her luck on the acting scene, and really swallows his feelings about the whole thing.
(**Although, to be honest, you have to know and understand what's going on before you can choose to care about it or ignore it. I don't think Don ever really took the time to understand the things Betty was going through.)
But Don's anger follows the Law of Conservation of Mass. That is, it can neither be created nor destroyed. And if Don isn't going to yell at Megan for leaving the biz, he's sure as hell going to take it out on Peggy, because she never gave Megan a chance and everyone at the office is petty and blah blah blah. Peggy's not having it, and when she tells Don to shut up, well, I did a little victory lap around my sofa. Peggy Olson, how far you've come.
Peggy's come a long way with all of her relationships at SCDP. She yells at Don. A few weeks ago she wasn't afraid to tell Bert that she was leaving the office in the middle of the day to go to the movies. This week, when Pete stumbled by her office with his arms full of skiing equipment, she needles him, asking if he's a really good skier. Like, famous good. This doesn't really have any huge relevance to the episode, but it's a nice reminder of how much Peggy's grown as a character.
Speaking of Pete, things really aren't going well for him. Well, let's qualify that. Professionally, things are looking up. People know his name and want to work with him. They're sending him expensive skis. Roger seems happy with the whole things and is content to sit on the sidelines while Pete does the real work. At home, it's a different story. But I don't think the show has done as good a job as it did with Don showing the audience why Pete would be so unsatisfied with life with Trudy. What little we've seen points to him feeling emasculated for some reason. Don coming in life effing Superman and fixing his sink while Trudy, Megan, and Alex Mack jump up and down, dripping wet, and cheering. He's been rebuffed by the girl from his driver's ed class and, in tonight's episode, by Rory Gilmore. This is a side of Pete's life we're only really starting to get into, so who knows where it'll go. But right now, Pete looks like he's ready to drive off a cliff.
What was I talking about? Right. Don and Megan. Their relationship is fundamentally different than his and Betty's. Gabbing in the breakroom — as the fairer sex is wont to do — Joan talks Megan up as if she and Betty, and Don's relationship to both of them, is the exact same thing. Megan's leaving the company to pursue acting. Don met Betty at a photo shoot, etc. Peggy's the one who says that isn't the case, and that Megan is the woman Don's always been looking for. And because of that, he's willing to do a lot more for her than other women he's shared a bed with. That includes trying to navigate the world Megan still travels in. Although that's easier said than done. Halfway through "Tomorrow Never Knows," (I wonder how much the show paid to use the song) Don shuts the record off and walks out of the room. I guess finding his way there is going to take Don some time.
---