Posted: February 6, 2012
Filed under: FOX, Touch
| Tags: Danny Glover, David Mazouz, entertainment, FOX, Gugu Mbath-Raw, Kiefer Sutherland, television, Tim Kring, Touch, TV
Leave a comment »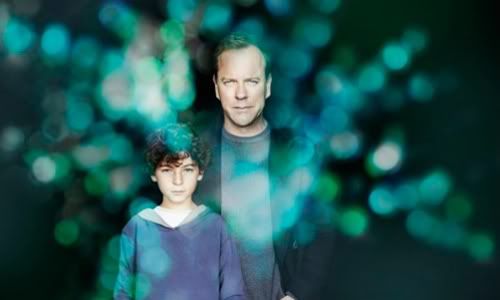 As someone who's worked with autistic children, I can speak firsthand to the challenges they face every day, the kindness of those who live with and teach them, and the utter dread that stabs through our hearts once we realize they've developed superpowers and want to enslave the planet.
Unfortunately, Touch, the latest from Heroes creator Tim Kring (who's on thin ice after that whole thing), isn't that exciting. There are no hordes of autistic children, attacking humanity with their telekinetic powers and vast knowledge of obscure baseball statistics. Instead, Touch continues the proud tradition of shows like Touched by an Angel, Highway to Heaven, and Quantum Leap. That is: there are a lot of people out there, and most of them are depressed or poor or something. And our main character(s), in this case Jake (played by David Mazouz) and his father Martin (Sutherland), go around, donating their time and not an inconsiderable amount of disposable income bringing them together, feeling their pain, and solving their problems. It's noble work. And to be honest, I'm glad shows like Touch still make it on the air. They bring some sort of karmic balance to a universe full of shows that mostly cater to a bunch of cynical jerks. I just wish that shows like these weren't so damn innacurate.
Are Touch and its ilk emotionally manipulative? Sure they are. They're supposed to be. But isn't there a way to portray these characters as anything other than baseline caricatures? I have to think there is. And unfortunately, this is a problem that runs through Touch from stem to stern, not only with the hapless souls we're introduced to every week, but also its main characters. Jake Bohm is autistic and sees patterns in everything. At one point in the pilot, Danny Glover hands Kiefer Sutherland a sheet of paper covered in numbers and asks him what he sees. When Sutherland says all he sees are the numbers, Glover says, "When Jake looks at this he sees the entire universe." And we're off to the races. Television has a bad habit of portraying autistic kids as a race of preadolescent supermen, and Touch isn't doing much to help the stereotype. Sutherland, plays the typical single underwater dad, working crap jobs to support his son and make ends meet. He loves him dearly and the fact that they can't connect on any meaningful level is one of the greatest tragedies of his life. He'd do anything to protect him, but things spiral out of his control when the city's forced to call Child Protective Services after Jake climbs up a cell tower. Clea Hopkins, Jake's CPS caseworker (played by Gugu Mbath-Raw) comes over and BEFORE SHE'S EVEN THROUGH THE DOOR is telling Martin to put Jake in care facility. And this father who loves his son, would do anything for him, after about five minutes is all, "Bake him away, toys." Wait. What?
Of course, Jake isn't going to spend the series stuck in a Boys' Home. Things are set up this way simply to get our female lead into the picture. And now that we've got our home base taken care of, we can get into the nitty-gritty of the show. Spoilers follow. Because Jake is autistic, he sees patterns in EVERYTHING. He's 11 years old and doesn't talk, but in a voice-over monologue he takes the time to educate us all about ancient Chinese myths about how everyone in the world is connected to everyone they'll ever cross paths with by string or destiny or something. And the pilot takes a few of these people and spends a good chunk of time showing us who they are and what problems they're facing. We meet a woman who wants to launch a singing career, a kid in Iraq trying to buy an oven for his parents, a 9/11 survivor, a couple of Japanese escorts, and a man who's trying to chase down some pictures of his dead daughter. Okay. Now, this is why I hate them (and to be fair, the show's got a lot to do in 42 minutes, so this isn't completely their fault)… the 9/11 survivor has for some reason left his family and has spent the last 10 years playing the same lottery numbers over and over again. Why would he do this? Guilt? At the end of the show he calls his wife and says he wants to come back home. Why did he leave in the first place? What's the lottery got to do with anything? Well, it turns out that on 9/11, this man carried Martin's wife out of one of the towers after it got hit. He abondoned her, telling himself she was dead, but has lived the past decade second-guessing himself, wondering if he could have done more. As you may have guessed, those lottery numbers he's been playing end up paying off, and he scores big. And he thinks that the woman he couldn't quite save would want him to donate the money to charity. It all makes a sort of sense, I guess. But I have the sneaking suspicion that lottery numbers were introduced because Jake is autistic, and he likes numbers. Phone numbers also figure prominently in this show, so go figure.
As for the other characters, the man chasing the pictures of his daughter is losing his mind because the ONLY PICTURES HE HAS OF HIS DAUGHTER ARE ON HIS CELL PHONE. So we're treated to plenty of scenes of him, calling his lost cell phone, looking pensive and dancing around why he needs it back. You see, after losing it, people have been mailing it around the world, snapping pictures and recording all sorts of stuff with it, because that's apparently a thing that you do. Whatever. I don't get kids. Anyway, a friend of the singer records her singing before sending the phone off to Japan, where it's stolen by one of the escorts, who sees the video and wants to start a fan club based solely off some shitty video shot in a bar. The phone ends up being used in Iraq as the detonator in a suicide vest by the kid looking for an oven, because ovens are expensive and if he blows himself up a group of terrorists will make sure his baker parents are taken care of. The singer, who works in a call center, calls the phone right before the bomb goes off while she's trying to help the guy who lost it track it down. And it just turns out he sells restaurant supplies and can get the kid's parents an oven. To top everything off, he's in Japan on business, wandering through a park when the two escorts start playing the singer's video on a giant Jumbotron, which for some reason starts playing the guy's pictures of his daughter over the music as a slideshow, which in itself doesn't make sense because the kid in Iraq had the phone and what the hell is going on here?
Soooo, my problem is that these people, while in a few cases having legitimate connections to each other, feel mostly like they've been hammered into place. They're connected to each other because the show needs them to be, so as long as we make it to the act break and things haven't completely fallen apart, who cares how we got there?
The episode has a happy ending. The guy gets the pictures of his daughter, and taken back in by his wife for some reason. The singer's video gets thrown up on YouTube and goes totes viral. The kid in Iraq doesn't blow himself up and gets the oven for his parents. And I assume the terrorists seek no reprisals against him for ruining their plans. The 9/11 survivor gets the absolution he was looking for, etc. etc. etc. And at the end of the episode, Jake's back on top of the cell tower, writing down another phone number that will lead to another group of people he, Martin, and Clea are supposed to help. I predict the show will go on for at least 10 seasons.
Why am I not looking forward to those 10 seasons? Well, not each episode can be some smarmy love-fest in which everyone gets exactly what they're looking for. And I don't think EVERY one will be. Just most of them. And I have a bad feeling that most of these episodes will be stand-alone. For a show about patterns and the interconnectedness of everything, I'd like to see some unifying arc emerge. But above all that, it's going to be a slog putting together a story like this once a week. Jake reminds us that there are almost 8 billion people in the world, but I can guarantee there aren't nearly as many ideas swirling around inside that writers room, and I wonder how long it'll be before these tertiary characters begin to feel repetitive. Heroes was into its second season before we all woke up and realized what a horrible show it was. If Touch goes downhill, I don't think it'll take us that long to realize it.
---
Posted: September 9, 2011
Filed under: 2011-2012 Television Season, FOX
| Tags: Alcatraz, Allen Gregory, entertainment, FOX, I Hate My Teenage Daughter, television, Terra Nova, The Finder, The New Girl, TV
1 Comment »
Every few months I make sure to get fired from whatever job I've got just so I can sit at home and catch up on all the TV I've missed. And with the Fall season upon us, I better find someone to harass or run over with my car or something. The networks are throwing a metric glut at us over the next few weeks, so consider this your scorecard. Something to help you decide on what you want to check out, and what you want to leave alone (most of it you'll want to leave alone).
The New Girl
You could also call this one FOX's Best-Kept Secret, because HEY DID YOU KNOW ZOOEY DESCHANEL'S GOT A NEW TV SHOW?? Now hear me out. I used to love Zooey Deschanel. She was the girl I would hold and tell that everything would be alright, because our love would get us through the hard times (Cotton's dropped her as their spokesperson in this scenario). That was until I saw (500) Days of Summer, the message of which was that women can do whatever the hell they want because they're cute and they "want to." It was enough to take me off the ZD train forever. At least I've always got The Hitchhiker's Guide to the Galaxy. But really, I'm just happy that FOX will continue to shove promos for this show down our throats until ratings tumble and they're forced to put it in the cold, cold ground.
Alcatraz
Alacatraz comes from J.J. Abrams, the man who brought us Six Degrees and Undercovers and who was minimally involved with Lost. So whatever happens, you know it's gonna be good. Besides the time travel, the island, and the already-thin plot FOX is going to drag out over the next several years, what I like most about this show is that it's got Sarah Jones as a police officer! What kind of topsy-turvy opposite day bulls**t is this! How about a show where Alex O'Loughlin doesn't play a complete charisma vacuum! How about Jim Parsons actually working for that Emmy! It's science fiction! Anything goes!
Allen Gregory
Allen Gregory is like one of those joke shows you see a commercial for on another show, with some ridiculous premise like, "When the baby drinks the mad scientist's brain juice things get a little craaazy! Brainy Baby! Sundays this Fall!" It also kind of proves my theory that a baby or small kid doing anything — as long as it's played straight — will be funny. Exhibit A! The E*TRADE babies! Exhibit B! Well, pretty much just the E*TRADE babies. Anyway, my logic is infallible. So, Jonah Hill as a cartoon Perez Hilton (without the ego or f***ed up hair) has a chance of going somewhere. And hey, people liked The Cleveland Show, so why not, right?
I Hate My Teenage Daughter
I thought it was pretty considerate of FOX to cut out all those shots of Jaime Pressly and Katie Finneran looking at the camera, winking and trying to hold back their laughter at how over-the-top and just plain ZANY their show is. You know, just so we could stay in the world. What makes I Hate My Teenage Daughter such a slam dunk is how relatable it all is, because kids, right? And what's great is that it'll be just as true after eight seasons of the same joke as it is now!
The Finder
The Bones spin-off America's been clamoring for is finally here in The Finder, with Geoff Stults playing the titular finder. What I've always enjoyed about these shows — and we could be talking about cops, doctors, firemen, lawyers, whatever — is all the little bits of knowledge you pick up about the profession. For example, did you know that most hulking black men moonlight as lawyers? I didn't. Also, did you know you could solve murders just by staring at a bunch of poster clippings and s**t taped up on somebody's ceiling? It's true. THAT'S how they caught Jeffrey Dahmer. It wasn't those bodies in his freezer. Also, there's a direct correlation between personal and professional success and the amount of pure, unadulterated sex you exude in the presence of others. Well, that one happens to be true, but I'm still sick of TV shows being written around it.
Terra Nova
This is a show that's been so hyped-up it'll either be a huge success or a spectacular failure. One or the other. There can be no middle ground. This isn't a show like Fringe that's relatively cheap to produce and will be kept around even with low ratings. And with the next-to-nothing numbers Fringe is pulling in every week, the demise of Dollhouse, The Sarah Connor Chronicles and Firefly (which I'm still angry about and adding on this list for some reason, just kidding, I've never seen it), I've got a feeling that things are gonna break BIG for Avatar-With-Dinosaurs. And I'm sure that people won't even realize that the show makes no sense.
Coming up next, a bog, a log, and a… frog? Nope. It's NBC.
---