Posted: September 22, 2011
Filed under: 2 Broke Girls, CBS
| Tags: 2 Broke Girls, Beth Behrs, Brooke Lyons, CBS, entertainment, Garrett Morris, Jonathan Kite, Kat Dennings, Matthew Moy, Noah Mills, television, TV
Leave a comment »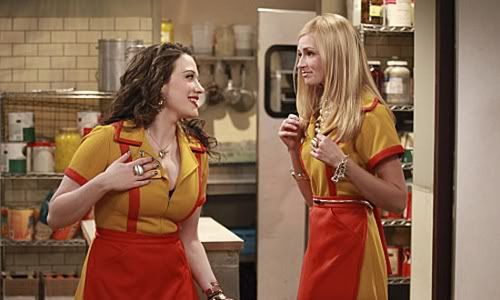 I am one of the rare heterosexual American males who will gladly admit his affection for Sex and the City. What was not to like? Four richly developed characters spouting quick, oftentimes witty, dialogue about life and love and sex in the Big Apple. This is why I was excited to learn of 2 Broke Girls.  One of two new sitcoms from creator comedian Whitney Cummings and the only new network show by frequent scribe and producer of Sex and the City, Michael Patrick King. Unfortunately, my excitement didn't last past the opening scene.
Max (played by the scowling Kat Dennings) is a plucky, self-aware, cupcake baking waitress at a diner in Brooklyn. After a fellow waitress, a "Soviet hooker" is fired for, well, hooking in the stockroom, the owner of the diner is forced to hire a new waitress. And in walks Caroline (played by the appropriately adorable Beth Behrs), a former Upper-westside socialite whose assets have been frozen because of her father, a man who "ripped off the entire city."  Thus, begins a beautifully mismatched friendship sure to draw in women of both uppercrust and wrong-side-of-the-tracks upbringings. Right? No, not convinced? Me neither.
From the opening scene, 2 Broke Girls seems to be more concerned with establishing the pitch for the show than with giving us characters as people whose lives we want to watch. More concerned with convincing the audience of the worth of its dirty dialogue, or the wacky situations the two girls find themselves in, than telling us a story. Everything about this mess screams contrived. Despite the fairly promising performances of the two leading females, one gets the feeling that both Ms. Behrs and Ms. Dennings wished they had a bit more to work with, or a lot more. Their wish for something more is one the audience sorely shares.
But there isn't more, just stacked clichés delivering one-liners over an obvious laugh track. (A laugh track that successfully kills any notion of actual laughter from its home audience at the few actually funny parts) From the wise-cracking older black cashier at the restaurant, to the well-toned, cheating boyfriend Robbie and his dimwit rock band buddies, to the unbelievably boring sets, and lazy lighting of the show. Contrived. I've heard it said lighting often makes or breaks sitcoms. The bright, spacious diner (so obviously not in Brooklyn, but on a brightly-lit soundstage) only exacerbates the un-believability factor of the show.
A totally manly side note here: One of the things that I liked about Sex and the City was, although it was a female-centered show, the existence of believable male characters was an important element. 2 Broke Girls has not one interesting or believably human male character anywhere.
The pilot proceeds through 22 grueling minutes of introducing possible developing storylines. Max's impending break-up with Robbie after finding out he's cheating on her (news Max just can't accept when coming from the caring and honest Caroline), the two girls moving in together, and Max's other job as a Nanny for a totally different New York heiress (and her two children Brad and Angelina). Ugh. I would comment on this, but seriously, who cares? The final scene finds Max and Caroline sitting on Caroline's horse in Max's tiny backyard (you know, like wacky completely opposite people/best friends do) discussing a truly wonderful, and in no way contrived, idea. Caroline loves Max's devil's food cupcakes so much that she's devised a plan to open a cupcake shop. They'll need $250,000 dollars startup money.
The show ends with an unexplained amount of money (around $300) flashing on the screen before the credits. I guess this is how much the girls decided to put up for the cupcake shop this week. That seems like a lot of money for two broke girls. I couldn't help thinking they should've flashed another number, like the number of episodes aired before they shut this disaster down. My guess is 3.
---
Posted: September 18, 2011
Filed under: 2011-2012 Television Season, CBS
| Tags: 2 Broke Girls, A Gifted Man, CBS, entertainment, How to Be a Gentleman, Person of Interest, television, TV, Unforgettable
Leave a comment »
Are your grandparents around? Do you think you could send them a link to this? Or maybe just give them a call and read it to them. Because we all know that the only people still watching CBS are the elderly and whatever unholy alliance keeps giving Jim Parsons Emmys. In short, people who enjoy the unrelenting slog of the utterly predictable. On to the shows!
2 Broke Girls
I might be more receptive to a show like this if I didn't think it was built on a lie. Kat Dennings is the snarky, been-there girl. She's a little world-weary. This isn't her first rodeo. Whatever. Beth Behrs is the uptown socialite who's never done a hard day's work in her life. You put the two together and modern day odd couple hijinks ensue. So what's Behrs doing looking for work in a diner? Wouldn't she use her high-powered connections to get a job in a law firm or something? I mean, even being driven slowly insane by the loss of her fortune and murdering hobos would be more believable than this. And how come she's always ready with a witty remark? I'm gonna have to check up on this one, CBS. But it's not looking good.
How to Be a Gentleman
Hey! It's that guy! And that guy! Now, normally I'm opposed to multi-cam sitcoms on general principle, but almost against my will I found myself laughing more and more the longer this one went on. Although that may have been more because of Mary Lynn Rajskub, Rhys Darby and Dave Foley more than anything else. And honestly, I might watch this one just for them. Johnny Drama and Cricket hanging out in a gym and dating and women troubles seems a little too ADHD for me. I've got Glee for that.
Person of Interest
I like Person of Interest almost in spite of myself. It's got Jesus. It's got Ben Linus. And both of those guys have been in other things I liked. And a show about a hobo murdering people (take note Beth Behrs) is certainly up my alley. What turns me off about it is the typical CBS procedural format. When Michael Emerson tells Jim Caviezel, "We've got another name," and Caviezel's voice drops a few octaves to respond, "When do we go to work?" I'm kind of snapped back to reality. This isn't The Bourne Identity, this is The Bourne Touchdown, or whatever the hell book they're on now. If this turns out to be the same story every week, I'm going to be disappointed. Murdering hobos can only carry things so far.
A Gifted Man
Sometimes I think about the TV shows we had back in the 80s and 90s and I'm overcome with a great sadness. Where are the Highway to Heavens? The Early Editions? They just don't make them like they used to. But, as I watched the trailer for A Gifted Man, I realized that this was the modern-day incarnation of shows like Touched by an Angel. Now, the feelgood think-about-the-children stuff isn't going to appeal to everyone. But for others, it'll transport them back to a bygone era. A simpler time when our TVs weren't clogged with shows about hobos killing each other.
Unforgettable
Why does Poppy (really?) Montgomery have to be a cop! I was happy just to see her using her weird memory thing to gamble, make fat stacks and take out hobos mafiosi. I think this show is like Person of Interest in that it's got a really novel concept that could really go somewhere if given room to grow. It's unlike Persons of Interest in that I don't think it's going to be able to do that. The characters are too flat. The dialogue too predictable. And that thing where she keeps throwing what happened on that one day ten years ago in people's faces is going to get old really fast. And that's okay. The Highway to Heaven stuff I kind of miss. The tough cop stuff I'm beginning to hate.
Well, that's it. Except it's not. There's still more than enough shows coming from HBO, AMC, Showtime and others over the next few months to convince us that television, much like America, is an empire in decline. You might hate it, but you'll still watch. We'll all still watch.
---
Posted: May 19, 2011
Filed under: CBS, The Good Wife
3 Comments »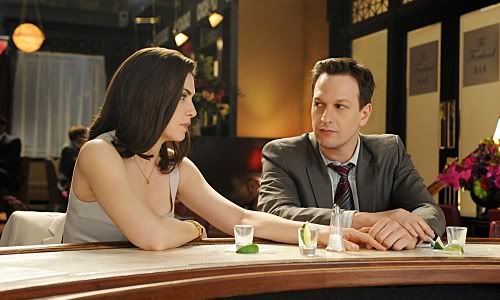 Such were my words to my own wife (who's pretty good!) when she asked what I thought about the CBS legal drama. I went on to say that a show doesn't need to be original to be good. It doesn't need to be a fresh spin on an old idea. As long as it's well-written and the characters are interesting, we can ignore the fact that we've been watching the same legal dramas for the past 60 years (they had TV in the 50s, right?).
One of the biggest problems we're seeing with shows today — which are under more pressure than ever to separate themselves from the pack — is that they establish premises for themselves that really aren't sustainable past a couple of seasons, if that long. In The Good Wife, Julianna Margulies plays a woman who's prominent husband's sexual indiscretions become public. For now, she's standing by him, although the future of their marriage is definitely up in the air. To start, this is great. But eventually she's going to have to make a decision. Of course, if the show is successful and picked up for additional seasons, she'll decide to stay with him. But Alicia and Peter and a happy marriage seems somehow antithetical to what the show is about. She's sticking by her man, which is good. But while he's in prison she's forced back into the workplace, which goes against the more traditional definition of a "good" wife, which I believe is suggested by her willingness to stay with a cheating husband.
In its two seasons the show's found ways of shaking things up just enough to change the dynamic, without having to change what is it about the show that really works. And the last few episodes of this season brought some big changes that will continue to shake things up in season 3. After discovering that Kalinda slept with Peter when she was with the state attorney's office, Alicia's kicked him out of the apartment. And even though nothing's final, it looks like divorce is on the horizon. This comes along with Peter being reelected as state's attorney and the news that Eli Gold is setting up a political consulting firm within Lockhart Gardner, with Alicia working immediately beneath him.
And, lest we forget, the will-they-or-won't-they relationship between Alicia and Will, which took a big step forward in last night's finale. After that scene in the elevator, and the awkward fumbling around outside the PRESIDENTIAL SUITE, I found that I didn't care whether or not they ended up together. Because now they'll have at least slept with each other, so maybe they'll finally be able to make a decision one way or the other. And after all the back and forth following the phone call and Will's message at the beginning of the season, a decision's all I really want. I don't care that there's no real romantic chemistry between the two, just do something.
However it turns out, it was a great ending to a season that was already a big improvement on the one before it. I particularly enjoyed where they've taken Kalinda this season. I admit that I've never been a huge fan of the character. She's always seemed a little one-note to me, and unfortunately that one note feels like a rip-off of Lisbeth Salander. So I was glad to see Alicia confront her about about sleeping with Peter, if only because it broke through her shell and forced her to act like a human being. I was a little surprised to see her and Alicia on much more cordial terms in the finale. I imagined that they'd repair their relationship at some point but I didn't think it'd move along so quickly. I don't know if I have strong feelings one way or the other on the revelation that she's bi-sexual. This is something that so many shows have done before that I think it's moved past being a simple stunt. Although I will say that the women Kalinda gets in bed with are all incredibly attractive. Coincidence? HUH?!
Not everything we saw on screen worked as well as it may have sounded in the writers room. It took all of two minutes before Grace as a born again Christian ran its course, if for no other reason than those stupid YouTube videos she kept watching. And speaking of technology and the prominent role it plays in this show, why can they use Facebook in one episode and then call it Facepad or some such nonsense in the next? And speaking of Facebook, did The Social Network really have to exist alongside whatever their fake Facebook movie was called? Shows like The West Wing have found interesting ways to incorporate real-world events into their own mythology, but "Net Worth" was more a lesson on how not to do it. And that's because the Mark Zuckerberg and Aaron Sorkin stand-ins were such pale imitations of their real-world counterparts. And everything that came out of Bizarro Sorkin's mouth — which very closely resembled statements Sorkin's made in the past — only served as a reminder of how poorly written it all was in comparison with what Sorkin actually said.
But all of this is one low point in a season that really hasn't had too many of them. I like how complicated these relationships have become, and I like the fact that, in spite of this, the show is thoughtful enough to give us our fist-pump moments (I'm thinking specifically of Bond being forced out of the firm earlier in the season). I'm glad to see that the show's coming back next season, even if they never bring my beloved Jill Flint back. Just like the titular good wife, she's pretty good!
---