Posted: December 15, 2011
Filed under: awards, NBC
| Tags: entertainment, Golden Globes, Hollywood Foreign Press Association, NBC, television, TV
Leave a comment »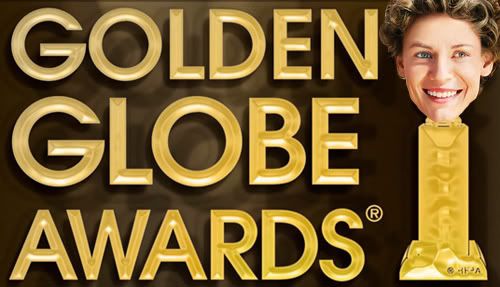 The Golden Globe nominations were announced this morning, so I thought I'd throw my opinion down the bottomless pit of commentary you'll be hearing over the next day or two. As most people will tell you, the Golden Globes are silly little ragdolls who are involved in all sorts of nonsense, so these sorts of rundowns aren't good for much beyond bitching at the Hollywood Foreign Press Association about what they left out, and giving them the odd kudos for what they got right. On to the outrage!
Actress in a Supporting Role
Jessica Lange, American Horror Story
Kelly MacDonald, Boardwalk Empire
Maggie Smith, Downton Abbey
Sofia Vergara, Modern Family
Evan Rachel Wood, Mildred Pierece
For reasons unknown, the Hollywood Foreign Press Association — the shadowy cabal behind the Golden Globes — lumps TV shows and miniseries together in these supporting categories. So there's not much we can do besides just kind of stare, slack-jawed at what a hodge-podge group they've slapped together. We've got Kelly MacDonald, who's done some great work on Boardwalk Empire this season, and then we've got Sofia Vergara, who boobs and Colombia. And, um… what was I saying? Jessica Lange is kind of an interesting choice. Although I'd argue that the girl from American Horror Story with Down syndrome is doing just as good a job as she is, maybe even better.
Actor in a Supporting Role
Peter Dinklage, Game of Thrones
Paul Giamatti, Too Big to Fail
Guy Pearce, Mildred Pierce
Tim Robbins, Cinema Verite
Eric Stonestreet, Modern Family
Was Paul Giamatti in Too Big to Fail? I don't remember him. Anyway, I'm happy to see Peter Dinklage getting all this recognition for his role on Game of Thrones, but I'd happily trade him for Aaron Paul. And instead of sticking the guys from Modern Family in these categories every year, why don't we spread the love to people like Zachary Knighton or Adam Pally from Happy Endings, which is seriously showing up its fellow ABC comedy in the funny department this season.
Actress in a Comedy
Laura Dern, Enlightened
Zooey Deschanel, The New Girl
Tina Fey, 30 Rock
Laura Linney, The Big C
Amy Poehler, Parks and Recreation
My family keeps asking me if I'm watching The New Girl, so I'm thinking of faking my death and moving to Europe. Listen, if Tina Fey wins this one for the rest of 30 Rock's run, I'd be perfectly happy. And having her in this category is a sort of universal constant, like the tides or Michele Bachmann's facelift. The HFPA gets big ups for nominating Amy Poehler, which may be the most consistently funny comedy we've seen these past few years. However, their kudos are kind of canceled out with the addition of Laura Linney, who is not funny, and never has been. The contention that The Big C is a comedy is one of the greatest lies ever perpetrated on the American people.
Actor in a Comedy
Alec Baldwin, 30 Rock
David Duchovny, Californication
Johnny Galecki, The Big Bang Theory
Thomas Jane, Hung
Matt LeBlanc, Episodes
Again, Baldwin's nomination reminds me that there is a God and that he loves us. But the addition of Johnny Galecki reminds me that there is also great evil in the world — on the level of Sauron or Voldemort — and that that evil watched The Big Bang Theory. Like The New Girl, this is a show I'm morally opposed to. Does anyone else feel like LeBlanc is a dark horse for the sake of having a dark horse in the race? Has anyone ever seen Episodes? Can we confirm that this is, in fact, a real TV show?
Best Television Series – Comedy Or Musical
Enlightened
Episodes
Glee
Modern Family
New Girl
This category may be the show's single biggest mess. Modern Family is a good show, despite the fact that I've found it becoming a bit derivative (of itself, of all shows) these past couple of years. But The New Girl? Glee?! Although I suppose having Glee nominated in a comedy category — and yes, that's why it's here, not because it's a musical — is some weird meta joke in and of itself.
Actor in a Drama
Steve Buscemi, Boardwalk Empire
Bryan Cranston, Breaking Bad
Kelsey Grammer, Boss
Jeremy Irons, The Borgias
Damian Lewis, Homeland
Steve Buscemi and Bryan Cranston sitting atop this category is as it should be. As is the absence of Michael C. Hall. There's a lot of talent crowding the field here — it's nice to see Homeland and The Borgias getting some recognition — and you have to consider the return of our blessed Kelsey Grammer, so I see it as wide open.
Actress in a Drama
Claire Danes, Homeland
Mireille Enos, The Killing
Julianna Margulies, The Good Wife
Madeline Stowe, Revenge
Callie Thorne, Necessary Roughness
Homeland may be the best new show this season, so Claire Danes winning for her role as Temple Grandin seems like a lock. But award shows seem to have some strange fascination with Julianna Margulies, so her pulling off some sort of upset isn't a completely inconceivable possibility. I was happy to see Mireille Enos pop up here, despite the fact that The Killing finale almost gave me an aneurysm. She won't win, but her role in the show deserves to be recognized.
Drama Series
American Horror Story
Boardwalk Empire
Boss
Game of Thrones
Homeland
Boardwalk Empire, Game of Thrones, Homeland, all great shows. Do Boss or American Horror Story belong here over shows like Breaking Bad (which exists on a level with other great shows, like Breaking Bad and the AMC drama Breaking Bad)? Probably not, but three out of five ain't bad. And considering Lange's nomination for supporting actress, I imagine that, along with The New Girl, the HFPA sees American Horror Story as one of this year's Shiny New Things.
Why do we watch the Golden Globes? For Scarlett Johansson and her hot dresses. It definitely isn't because they're the end all and be all of what's good on television. I'm not even sure you could accuse them of snubbing good shows, since at times they seem to be so completely unaware of them. It is what it is. Watch the show. Enjoy Ricky Gervais pretending like he's so above the Hollywood fray, and we'll see you all again next year.
---