Breaking Bad – "Gliding Over All"
Posted: September 2, 2012
Filed under: AMC, Breaking Bad
| Tags: Aaron Paul, AMC, Anna Gunn, Betsy Brandt, Bob Odenkirk, Breaking Bad, Bryan Cranston, Dean Norris, entertainment, Gliding Over All, Jesse Plemons, Jonathan Banks, RJ Mitte, television, TV, Vince Gilligan
Leave a comment »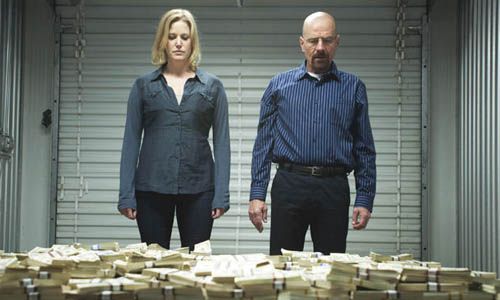 Listen closely. Do you hear that? It's the sound of millions of Breaking Bad fans sobbing into their pillows at the realization that they'll have to wait ten months before the show returns to wrap up its fifth season, or what will undoubtedly be referred to as Season 5, pt. 2 (*shudder*) once the Blu-rays are released.
No fun, but it is what it is. So now we'll settle in and spend the next year wondering what exactly we're going to see when the show comes back. And wonder who else will be left dead once all is said and done.
And it could be anyone. It's shocking how unshocking it's become to see people die on this show, and now that things are wrapping up, there isn't much to hold the writers back. And considering where we saw Walt at the beginning of this season – don't forget the flashforward where he was getting ready to go all Scarface on somebody – I wouldn't be surprised if these next eight episodes are the bloodiest yet.
And if we're all going in on the "Who Goes First" pool, I want to go ahead and reserve Hank now for my top spot. "But wait," you say. "Would Walt really kill his brother-in-law?" I think he would. I'm not saying he wouldn't feel bad about it. I think he'd cry, maybe sit by his pool for a while and stare off into the middle distance. But in the end he'd get that hard look in his eyes and say that it had to be done. In this episode alone, Walt had all of Mike's guys taken care of, and was even ready to get rid of Lydia once she gave Walt their names. And every time, Walt's been able to justify it because "there was no other way." So, yes. I think that if Walt saw Hank as the only thing standing between him and freedom, he'd definitely kill him.
But even in light of that, I found that I was still rooting for Walt to win. As I watched Hank taking a dump (where some of the best work gets done, by the way), grab Walt's copy of Leaves of Grass and read Gale's inscription to him inside, I realized that I didn't want him to catch Walt. That despite all the lives Walt had ruined, just so long as he could make a name for himself as a meth dealer, no matter how many friends he lost, or people he left dead and bloodied along the way, just so long as he could make a name for himself as a meth dealer, no matter how many friends he lost, or people he left dead and bloodied along the way… I still wanted to give him a pass. Why is that? I've rooted for anti-heroes in the past. Tony Soprano, for one (who, by all measures is much worse than Walter White). Al Swearengen. Newt Gingrich. But this season I had come to see Walt as someone who was beyond redemption. And the first half of "Gliding Over All" didn't exactly do much to dispel that. The beautifully shot montage of all those guys in prison getting shanked to death and set on fire (and after watching Oz, I'm convinced that prison is the scariest place on the entire planet) showed Walt at his drug-kingpinniest (whenever someone makes a phone call and says only, "it's done," are they ever referring to something good, like "I just delivered the flowers"?). But we also caught a glimpse of Walt the husband and father, and Walt the guy who isn't constantly being a dick to Jesse.
Walt had told Jesse that he wasn't in the meth-cooking business or the money-making business. He was in the empire business, which was kind of a distinction without a difference. Walt was out to "build an empire" because of the money he felt he was cheated out of when he left Grey Matter, the company he co-founded with Elliot and Gretchen. So when Skyler comes home and asks Walt to take a ride with her, then shows him the EFFING GIGANTIC pile of money he's put together and tells him it's more than they can spend in ten lifetimes, something clicks and thoughts of empire go right out of Walt's head. This money is what he's worked for. Whether he lives or dies, he's provided for his family, so when Skyler asks him to walk away from the meth business, he sees that and is able to say yes.
And it's like a huge weight lifts off his shoulders. He brings Jesse his share of the money (which doesn't look like very much when compared to what we saw) and the two share a few awkward moments reminiscing about old times, when they were just two crazy kids cooking bootleg meth, living on a hope and a prayer. Walt's too proud to say he's sorry, but he was probably sorry for the way he treated him. Although if the choice were between hearing someone say they were sorry or giving me five million dollars, I'd probably choose the cash (but that's just me). After visiting Jesse, we see Walt eating dinner on the back porch, with Skyler, Hank, and Marie, the whole thing a very different scene from their dinner just a few weeks ago. Walt was happy! He and Skyler smiled at each other! The future was looking good, and it looks like it's all going to be shot to hell because Hank's legs may be getting better, but his sphincter's shutter speed still has a way to go.
I thought this was a good place to end the (half) season. Emotionally, I responded to it, and whether that response is something I like or dislike, it's all I can really ask from good television. My only concern is that the show is just looking for places to go in its last few episodes. Walt hooking up with Gus, then moving against him all felt very organic. It felt like that was where the story was supposed to go. Much of what's been introduced this season – Landry, Landry's uncle, setting part of the business up in the Czech Republic – has seemed like two or three seasons condensed into four or five episodes. We've spent four years lifting Walt up, and only one tearing him down. It's felt different from what's come before, and I just hope it feels like one piece once the dust's settled. Then again, the writers have yet to disappoint me, so maybe I should just shut up about it. Okay. What was I talking about? Right. Hank.
Heisenberg may be Hank's white whale, so there isn't much question whether or not he'll go after Walt if he truly believes he's the man who killed Gus Fring. And like I said, I have no doubt Walt will look to head him off if he thinks Hank's onto him. So maybe Walt's promise to Skyler wasn't all it seemed. It could be that a year from now, we'll see that Walt was never really able to walk away.
In the meantime, Boardwalk Empire's third season begins Sunday, September 16th.
---