True Blood – "Gone, Gone, Gone"
Posted: August 12, 2012
Filed under: HBO, True Blood
| Tags: Alan Ball, Alexander Skarsgard, Anna Paquin, Chris Bauer, Deborah Ann Woll, entertainment, Gone Gone Gone, HBO, Nelsan Ellis, Rutina Wesley, Ryan Kwanten, Sam Trammell, Stephen Moyer, television, Tina Majorino, True Blood, TV
Leave a comment »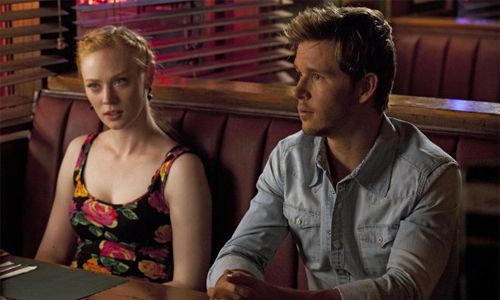 Tina MajoriNOOOOOOOOOOOO!!!!!! A Molly/Eric team-up would've been so freaking awesome. I feel robbed.
But I got over it almost immediately because Gay-Vampire-American Reverend Steve Newlin's reaction shots are brilliant. His doe-eyed innocence and out-of-proportion enthusiasm are delightful, as was his double entendre-packed interview.
Overall, this episode was kind of downer… which I guess is to be expected at this point in the season. Things have to be darkest before the big climax… our characters have to be down and properly kicked before their triumph.
For Eric, that meant watching his beloved Godric ripped to pieces by Lilith and his apparent conversion to her coven of crazy.
For Hoyt, Jessica and Jason, it meant a clean wipe of their complicated personal histories in a series of scenes that I thought were particularly well-paced, well-written and well-acted, even by Ryan Kwanten, who is rarely as strong as he was in this episode.
For Pam and Tara, it meant possibly abandoning Fangtasia, which was only slightly less emotional than Jessica's glamouring of Hoyt. And by the end of the episode, Tara has taken a page out of Pam's book of badassery… I'm hating her less and less, especially for the awesome line "I don't know nothin' 'bout birthin' no baby vampires!"
I was overwhelmingly underwhelmed by most everything else in this episode… with one major exception I'll get to in a minute. In general, it was a lot of exposition and stage-setting for the big showdown. We got just a little bit of progress on several fronts, but not much to comment on with the exception of a few standout scenes.
Sam and Luna are hot on the trail to retrieve Emma from Gay-Vampire-American Reverend Steve Newlin, which wasn't much except for the intensely twisted scene where Newlin chastises Emma for returning to her human form.
Jason and Sookie enlist the help of the fairies to uncover the mysterious language from the scroll under the bed, and I got a relatively satisfactory answer to my question about how the fairy lineage gets passed along. But more importantly, did anyone else catch that the pregnant fairy is the same one Sheriff Bellefluer got freaky with in the field last season? That fact, combined with the "happy couple" scene between him and Holly is a great big not-so-subtle hint that the Sheriff's world is about to be rocked…. And not by Holly.
Finally, Jessica is summoned to Bill's side at the AVL and is now in a position to evaluate and ultimately question Bill's new affiliation, and because he brought her to the AVL, I'm further convinced that he's not pulling some kind of long con here, and that makes me nervous. Because he's not glamoured… he's not under a spell… he's just converted. And how do we get our old Bill back after that? Or our old Eric, for that matter? There has to be some magical maguffin that transforms these two back into the characters we've known for almost five seasons, but I honestly don't see how that can happen.
But I think Jessica's strategic position inside the AVL will turn out to be key in this season's ultimate confrontation, and even more significant will be the role Russell plays in that confrontation. Because wow. This was the exception scene I referenced earlier… his full-blown, wheels-off, German-accented, violent, megalomaniacal temper tantrum condemning the Authority's sanctimonious conservative agenda in favor of the "fun" parts of being a vampire and the ultimate goal – day walking. Incredible.
I wouldn't be surprised if a schism developed by Authority members taking sides on the fairy blood issue turns out to be the unraveling of the Authority's… well, authority.
---