True Blood – "Everybody Wants to Rule the World"
Posted: August 5, 2012
Filed under: HBO, True Blood
| Tags: Alan Ball, Alexander Skarsgard, Anna Paquin, Chris Bauer, Deborah Ann Woll, entertainment, Everybody Wants to Rule the World, HBO, Nelsan Ellis, Rutina Wesley, Ryan Kwanten, Sam Trammell, Stephen Moyer, television, Todd Lowe, True Blood, TV
Leave a comment »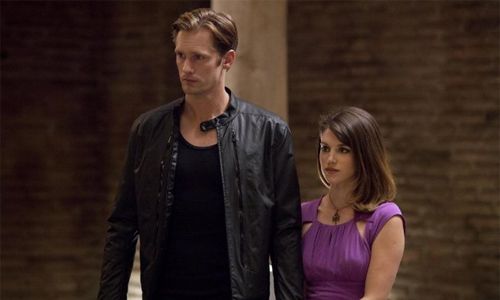 I wouldn't say I curse like a sailor, but let's just say I know my way around a four-letter word. So as a lover of language, and especially colorful language, I appreciate it when a show uses the right balance of bad words and uses them in the right places.
Now, I don't think it's necessarily true to the Southern setting (especially in small town Bon Temps) to have so many c-words and f-words and t-words and r-words flowing, but I DO think that it's true to the characters. Case in point, Tina Majorino (yay!) telling Eric "we're totally fucking fucked. " It's just one of a number of scenes where the bad language really does add something – whether it's humor or intensity or, in this example, desperation.
Next scene – Lafayette in Sookie's bathroom. I could go on and on about how entertaining the Lafayette character is when he's feeling flippant, something that's been sorely lacking in the last season or so. But I think there's a more important point to make with this scene.
There are a few themes I revisit over and over again with True Blood. One is its self-awareness and the liberties it can take because of that self-awareness (more on that in a minute). Another is the acting. Because damn. In the scene between Lafayette and Sookie, the juxtaposition of Nelsan Ellis' acting ability and Anna Paquin's is astonishing. Now, for the record, I do believe Anna Paquin is a good actress, but go back and watch that scene again from when she says "put it on my tab…" Tell me it doesn't sound like dress rehearsal at a Bon Temps High School's drama club meeting. Not convinced? Check out the very beginning of the scene with former sheriff Bud Dearborne later in the episode. I don't know if the character of Sookie (and Arlene… and Jason…) is someone who is overly deliberate in her actions and words, which comes off bad-actressy. This could be the case, because Paquin is more or less CONSISTENT in her portrayal of Sookie, but it could also be that Paquin just doesn't fit quite right into this role, even after all these years.
Wherever you land, I think there are some instances where the very best of the True Blood actors (e.g. Nelsan Ellis, Deborah Ann Woll) are in scenes where either their acting ability or their characters' natural charm clash so obviously with their scene partner (e.g. Rutina Wesley, Anna Paquin, Ryan Kwanten) on those same criteria, that it becomes distracting.
But I digress. So, Gran is happy that the fairies are looking after Sookie? That seems to be so antithetical to last season's opener – are we ever going to fully understand what makes a good fairy and a bad fairy and what the fairy political and social agenda is?
So, remember when I said we'd get back to the self-awareness theme later. It's later. During the scene with Lafayette and Sookie in her bedroom, I thought to myself how ridiculous it is that Sookie's grandmother would speak in "riddles" about the answer to the supernatural hate group being under Sookie's bed. I mean, if she can say "you're sleeping on top of it," why can't she say, "Dearborne is the supernatural-hating sex puppet of a vengeful, square-dancing bitch?" Is being dead like Twitter? You only get so many characters?
Anyway, so that kind of irritated me, but I get that an outright answer doesn't exactly lend itself to building additional dramatic tension. BUT no sooner had I written my bitchy little comment than the True Blood writers acknowledged that very issue when Lafayette asked why the dead must always speak in riddles. So, props to the writers for recognizing a plot hole and addressing it without letting themselves off the hook completely OR sacrificing good storytelling.
I've always been a fan of Alan Ball. American Beauty is one of my all-time favorite movies, and I think what's kept True Blood tolerable (for the most part) despite being so over the top is that the writing staff is smart – the kind of folks who could be writing for a serious drama but choose to write for something a little more indulgent and fun.
Now, I haven't seen Game of Thrones or Boardwalk Empire, but I'm going to go out on a limb and speculate that the writers for those shows, while no less talented, don't get to write dialogue like this:
"Just 'cuz we drank a bitch together does not make us Oprah and Gayle. Get the fuck back to work." "Suck me, Vampire Barbie!"
What's great about it is that the ridiculousness doesn't preclude the writers from playing in the nuanced political arena either, and man can they have fun with it. I mean, truly, how ballsy is it for them to use Obama masks and (once again, directly address any rabble-rousing detractors) by saying outright, via the loveable goof Sheriff Andy Bellefleur, "No, the President of the United States is not actually in Renard Parish shooting and kidnapping people?"
I may be reading into the political imagery too much, because really, it has innumerable real-world interpretations. But there was something about this week's categorization of the "Obamas" as backwards, hate-filled discriminators rallying against "perversion and conversion" that made me think that the political parallel being drawn is along the lines of human sexuality. I might be wrong. Like I said, there are a LOT of political undertones to this season's storyline, which means it can be applied on either side of the aisle to any number of issues. But the "Obamas" sub-story is the one that, to me, has the most apparent and direct real-world reflection, and it was this episode that convinced me of that.
In any case, it's how easily the True Blood writers move between the surreal and the "serious" that makes the show fun for me. Or maybe I'm just rationalizing.
Okay, two more quick notes on dialogue, then we'll move on.
First, I thought that Eric's statement "We'd better get back to slaughtering people in the name of God" was very, very telling because it's only the last part that Eric really has a problem with. His recent exchanges with Bill are indicating a level of friendship and history that I'm not sure we've seen to date, and I think Eric feels more betrayed and bewildered by Bill's sudden faith than by the actions manifested by that faith. I am curious to see what set of circumstances will eventually be the catalyst for the return of the old Bill and how his relationship with Eric (and Sookie, for that matter) will change at that point. There is a small part of me that wonders if Bill is pulling the long con, but I think that's just wishful thinking.
Second, it's not laugh-out-loud funny, and it's not a traditional zippy one-liner, but I just loved Jason's comment in the station that maybe the "Obamas" are wearing masks "'cuz they don't want to get recognized." I mentioned this a few weeks ago, but it's so great when a show can strike a balance between pushing its characters into new situations that shape and change them and still having familiar callbacks to their original character profiles… in this case, Jason as the archetypal "dumb blonde."
Credit where it's due – I didn't see the Bud Dearborne thing coming at all.  It would be interesting to go back now and review his interactions with supernatural folks in the earlier episodes. I kind of doubt this twist has been planned for that long, but it would be fun to think so.
This episode actually surprised me a lot. I started writing out why I thought Scott Foley's character (I've been so disengaged with this storyline I haven't even bothered to learn his name) would be killed indirectly or accidentally by Terry in order to lift the curse because I didn't think the writers would be willing to sacrifice Terry's "innocence" by having him kill his former commanding officer outright. I even wrote this "…but it would be truly badass if Terry just did the balls-out thing and shot Scott Foley in the head." And then he did! And it was awesome! And not only did I love the scene and still love Terry, but I was thrilled – THRILLED – that this dumbass storyline was finally concluded. Rest in peace, Felicity's boyfriend.
Wrapping up… Emma is in the hands of Russell Edgington, which is somewhat terrifying, but again – just one more great indication of the lengths True Blood is willing to go to keep viewers engaged. No one is safe. Nothing is sacred. Anything. Can. Happen.
In the climactic showdown, naked pig-man Sam saves the day (did anyone else thing "Willow" or "Hannibal" during the pig scenes?). I know I'm beating this horse to death, but one last time – props to the writers for not trying to find a too-clever-by-half way to clothe Sam and Luna before they started with the day-saving. Shifters are naked when they shift, so when they shift back to humans and start kicking ass, well, they're naked for that too. I know HBO doesn't shy away from nudity (or bad language, for that matter), but I just really admire how both are incorporated into this show in a way that's not overly deliberate or sensational – just as a matter-of-fact when it's part of the natural flow of the story.
A lot of this season's storylines were wrapped up with this episode, which I think is probably clearing the way for some pretty awesome drama in the final few episodes, most likely centered around an epic Authority showdown. Can't wait.
Quick final thoughts
How adorable was the scene where Sam and Luna admitted they love each other?
Alcide aged well… Debbie apparently peaked at 14
---