True Blood – "Somebody That I Used To Know"
Posted: July 29, 2012
Filed under: HBO, True Blood
| Tags: Alan Ball, Alexander Skarsgard, Anna Paquin, Chris Bauer, Deborah Ann Woll, entertainment, HBO, Nelsan Ellis, Rutina Wesley, Ryan Kwanten, Sam Trammell, Somebody That I Used to Know, Stephen Moyer, television, Todd Lowe, True Blood, TV
Leave a comment »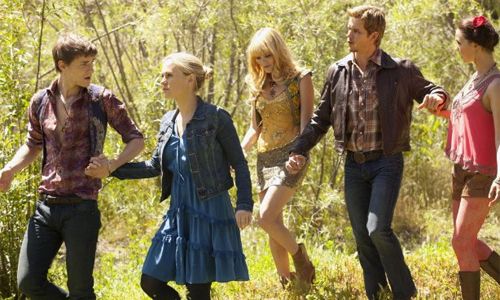 This was my stream-of-consciousness note-taking during the cold open:
What the hell was with that opening scene? Luna is Sam? Sam is Luna? Huh? Sam isn't a skinwalker, is he? We know Luna is, but Sam didn't actually kill any member of his family, did he? Okaaay… so Luna turned into Sam so that she could carry out her plan for revenge.
Yeah, that about sums it up. By the end of the episode we still don't know HOW it happened that Luna shifted into Sam (unless she did it on purpose, which is possible, I guess, but it didn't seem like it was played that way) or at least WHY she wasn't able to shift back, but props to Sam Trammell for doing a hell of a job channeling Luna's character into his physical body. That was fun to watch and as un-cartoonish as is possible in the True Blood universe. Looks like Luna might be in trouble though; their scene together on the couch was touching and very well done.
Between the vision of Godric and that fact that he's Eric, it's not surprising that Eric is the first to come down off the Lilith(?)/vampire-blood high and back to sobering reality – he's the one who is most obsessed with control – a concept antithetical to "drug" use.
It's good in moments like that to see these characters in their current circumstances reflect those we came to know in the first few seasons (case in point – the return of attitude-for-days Lafayette). I thought it was a nice call back to the original Sookie/Bill relationship when Jason confronts her about dumping her powers.
But it seems we may be losing Bill to the dark side; is his "evolution" going to trigger this season's climax when it comes into conflict with preserving Sookie's well-being? Bombing True Blood factories? Pretty cold and calculating, Mr. Compton. Tsk tsk tsk.
We learned a lot about Bill in this episode – including insight (via flashback) into an interaction with one of his children after he become a vampire, triggered by Salome's invitation for Bill to join her for a "snack" of a young mother.  When Salome asked why he didn't change his kids, we find out that Bill believes immortality to be a curse. Is Salome changing his mind? Does Bill have more residual humanity because he's "younger"? Is that a consistent characteristic throughout the vampires we've seen?
The scene between Hoyt and Jessica was heartbreaking (and as always, Deborah Ann Woll just kills it – in a good way) and also a really honest depiction of a "normal" relationship that has fallen apart (albeit skewed for the True Blood universe). Oh! And Mrs. Fortenberry is Dragon? Oh shiiiiiiiiiit.
I was about to be so disappointed in Pam for not coming to Tara's aid against that high school slut, but of course, my girl Pam does not disappoint. If Tara's character's purpose is to serve as a catalyst for Pam's struggle to form a new bond with someone in Eric's absence, then I'm almost on board…. almost, and only because Pam is pulling it off so awesomely.
In less awesome news, I just wasn't feeling the werewolf storyline this week. I thought they were going to fight, not hunt – wasn't that what the training was all about? Wasn't JD already villain enough after he tried to give Emma V – was it really necessary to have him suggest hunting a human? It doesn't seem that JD would be strategic enough to anticipate that Alcide would forfeit rather than hunt the kid, and JD also seems to be confident enough (especially when he's on the V) to think he could beat Alcide in a heads up competition (hunting and tracking or otherwise). That was just strange… and stupid.
My favorite scene this week had to be the séance, which is strange considering how much I despise that storyline and most of the characters involved with it. But that scene just shifted beautifully from hilarious to intense – thanks in large part to Nelsan Ellis, who is just extraordinary.
What kind of bond do the Claud-fairies have with Sookie's family, exactly? And why did Sookie switch to the vampire's point of view? Is it because she has a stronger connection with Bill than she does with her mother? Is the vampire in question actually Bill? Or is "Warlo" a new character? That seems like a cop out, but maybe the writers will make it worthwhile.
I guess I was left with more questions after this episode than anything else. Who is Warlo? Who pulled the gun on Hoyt? WTF was in Sookie's bathroom (another moment, like last week's Lilith vision, when I got a very distinct vision of the Fonz on water-skis)? Answers to these questions… and more… on next week's True Blood!
Best lines:
"Lilith wants me to eat a baby."
"Now you're a member of two minorities!"
"My mad face and my happy face are the same."
"Hooker, I ain't in the helping bidness no more. I'm in the fuck off while I smoke a blunt bidness… and bidness 'bout to pick way the fuck up."
---