True Blood – "In the Beginning"
Posted: July 22, 2012
Filed under: HBO, True Blood
| Tags: Alan Ball, Alexander Skarsgard, Anna Paquin, Chris Bauer, Deborah Ann Woll, entertainment, HBO, In the Beginning, Nelsan Ellis, Rutina Wesley, Ryan Kwanten, Sam Trammell, Stephen Moyer, television, Tina Majorino, Todd Lowe, True Blood, TV
Leave a comment »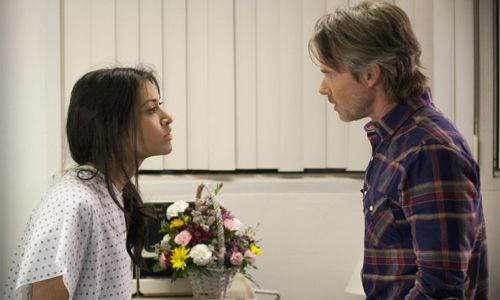 Amid all the chaos of the opening scene, what stood out to me was Bill calling out Eric's name. I get that they have a history – you might even call them frienemies (ugh), and yes, they're each others' only allies while in the Authority facilities, but still – I heard from Bill an awfully desperate cry for Eric's safety. Hmmm.
I also find myself wondering why Jason doesn't have any kind of fairy powers – the writers have never given us any indication that he and Sookie aren't biological siblings, have they?  And Lilith help us all if the fairy Claud-sister's reference to additional fairy powers is a harbinger of more convenient super powers trotted out when they further the plot. Groan.
We got a little of the superhero storyline trope in this episode (admittedly, acknowledged by the writers) when Sookie finds out that she might be able to live a normal life again, but as Sam (Raimi?) reminds us… with great power, comes great responsibility. As usual, Sam asks the everyman questions, and gives the everyman answers. He's the audience surrogate, and I love him for it. But the episode ends with Sookie eschewing his advice and the honorable course in favor of a life more ordinary, but something tells me Jason's recent streak of nobility is going to have him convincing her to hold on to her powers. (Oh, and why would he and/or Sookie have thought that Jason was responsible for their parents' death? Did I miss something there?)
Sam's certainly embracing his powers – how funny was it watching him roll around on the floor of the weapons shop? I'm wondering who this mysterious "Dragon" is – how funny would it be if it turns out to be the slack-jawed drawling deputy? He doesn't seem hateful, but the interesting thing about hate is how easily it disguises itself.
While I'm finding the politicizing a little heavy-handed, I will say that I watched the interactions among the members of the "hate group" with interest. The rhetoric they use – while not intentionally manipulative – is pretty persuasive when you put yourself in the shoes of a character as sympathetic as Hoyt, which, of course, is the MO for any group with a similar agenda.
And speaking of agendas, I do kind of like where we're going with the Sanguinista movement. Who woulda thunk that Bill would turn out to be the one the Sanguinistas may have successfully recruited? We've always known that Eric had a pretty ironclad set of principles, but Bill has always been kinder, especially to humans. But he's got an edge to him, too. We know he had an agenda when he first pursued Sookie, and I always found his dismissal of her after she returned from fairyland a little off-putting, but I am still hoping he's just caught up in the "enthusiasm" of the new Authority council and that he'll snap out of it soon.
That "enthusiasm" led to one of the more memorable scenes in True Blood history – an Authority-led massacre of a wedding party in a New Orleans karaoke bar, preceded by a pretty hilarious group stroll through Bourbon street (Bill's admonition of the taxi driver was especially fun). A few weeks ago, I said I was ready for less character and plot positioning and more action, and true to form, the re-emergence of Russell Edgington has brought forth the action.
His character is so much fun; how great was his sultry and smug delivery of "Edgington" on the karaoke stage? I have trouble buying that Salome or Nora believe that he's truly, genuinely invested in the movement or the principles behind it. Surely they see his mocking glances and over-exaggerated gesturing for what it is? Blatant mocking of their religion. And look, I get that Russell is an awesome character, and the writers had to find some way to bring him back, but I have a hard time believing that among the entire vampire race, he was the only vampire Salome could think of who was more powerful than Roman and able to take him down.
It was interesting to see, though, how quickly the chancellors all changed their mainstreaming tune when they saw how far those now in power (Russell, Salome and Nora) are willing to go to enforce compliance with their new regime. Not that it's surprising, necessarily, but it clearly indicates that among the vampires, there is no Authority greater than power and personal survival, which makes Eric's conflict between commitment to his principles and his self-preservation all the more exciting to watch. Even the seemingly devout Nora is pretty flippant with her "she does" when Russell calls on Lilith's forgiveness for murdering the dissenting chancellor.
Also, I'm sorry, but is there a budding romance between Russell and gay vampire-American Reverend Steve Newlin? Because…. Awesome.
Oh, and I guess I have to acknowledge Lilith. Well, she's a naked chick who rose out of blood, may have been a hallucination, and seems to inspire enthusiastic blood lust in her followers. What else is to be said? I'll admit that the phrase "jump the shark" floated across my mind when she first came on the scene, but then I remembered that I'm watching True Blood and quickly disposed of those silly "standards." I'm wondering, though, if "seeing" her might legitimize Russell's (or the other recently converted chancellors') commitment to the religious principles of the movement.
I guess I have to talk about that disgusting scene with Lafayette's mouth getting sewn closed while Jesus' loco tio tries to take back his family's magic. Not sure why tio's baby mama got all murdery on him, but it sure was good timing. I wonder if she killed him before or after he transferred Jesus' braja magic from Lafayette to the unborn loco-tio-spawn – nah, actually, I don't really care.
Also still don't care about Terry's inner (and outer) demons, but I did think it was appropriate that Arlene shared her issues with Holly. As a Wicca, Holly is at least open to the idea of supernatural forces, though it's ridiculous that after all she's been through, Arlene is still resistant to the idea that – in the town of Bon Temps – something supernatural could be effing with her life.
I did enjoy the wedding video for the chance to revisit past happy couples and characters. I got a little sad at Hoyt and Jessica, and I loved the interaction between Lafayette and Jesus (though I remain glad Jesus is gone as a regular character). Oh, and Godric was back and so was former Sheriff Bud Dearborne was back – and he's a dirty old man! Loved it! I've said it before, but it bears repeating – Andy Bellefleur's exasperated exclamations and ham-fisted attempts at police work have slowly but surely become one of my favorite parts of this ridiculous show.
Okay, final thoughts. First, Alcide's already moved on to a new wolfskank, which I guess is fine, but it really devalues the "love" the writers made us believe he had for Sookie (/goes to edit last post where incorrectly predicted this relationship would be one-sided). Like Eric, Alcide's character is steadfastly principled, and it seems inconsistent for his character to go from committed to Debbie to Sookie to wolfskank in a matter of days. But, you know… men.
Second, I feel like the relationship between Jason and Jessica is meandering without much of a purpose, but I enjoyed their confrontation primarily for the awesome line about Jason remembering every cow he's ever eaten… and secondarily for how 0 to 60 this show goes in terms of cranking up the drama. These two go from having an argument to her biting him and him SHOOTING HER IN THE HEAD. Yeah, I know she's a vampire with super-healing powers, but I still feel like going straight to SHOOTING SOMEONE IN THE HEAD is slightly drastic. Call me old fashioned.
Finally, Tara still sucks, but it was hilarious to see her "minister's wife" mother dressed in her Sunday best and making her way through the crowd in Fangtasia just to disown her vampire-stripper-bartender-cagefighter daughter. It's also telling that while this is the best Tara's looked… ever, Pam still steals every single scene with just the slightest raise of the eyebrow or shifted glance. In case you haven't figured it out yet, I have a raging girl crush on Pam. Homegirl can ROCK the CRIMP.
Line of the week, from Gay-Vampire-American Reverend Steve Newlin: "I'm like a tree in the wind. I'm just so happy to be included."
P.S. Dear True Blood writers, Tina Majorino is being underutilized. Please remedy.
---