Breaking Bad – "Live Free Or Die"
Posted: July 15, 2012
Filed under: AMC, Breaking Bad
| Tags: Aaron Paul, AMC, Anna Gunn, Betsy Brandt, Bob Odenkirk, Breaking Bad, Bryan Cranston, Dean Norris, entertainment, Giancarlo Esposito, Jonathan Banks, Live Free Or Die, RJ Mitte, television, TV, Vince Gilligan
Leave a comment »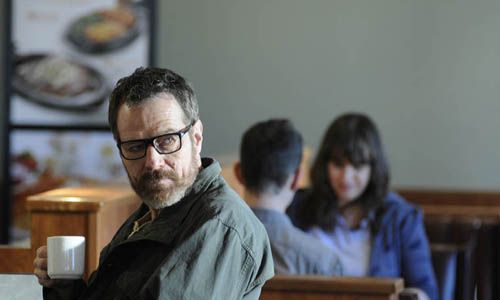 YES. Really, what more can I say? We've finally come out of the desert and into television's Promised Land. I love Game of Thrones. I love Mad Men. But those two shows are like the secret family I keep hidden in Canada. In the end, Breaking Bad is the woman I come home to every night.
Tonight we begin Walter White's endgame. Now, there are only fifteen episodes left, and I don't know whether it's a crazier ride not knowing where Walt and Jesse are going to end up, or knowing that Vince Gilligan doesn't know either. You may have noticed that tonight's premiere opened up about a year ahead of where we are in the show's timeline. And at first, I thought we were going to go back to what the show did in its second season, where it slowly meted out the fate of Wayfarer Flight 515 over the course of the season's teasers. But in an interview with ZAP2it, Gilligan says that it may be some time before the show circles back around to this particular thread (think next summer). So, it may be a while before we get hard answers, but there's a lot I think we can safely conclude from what we saw tonight. If Walt's on the road, using a fake ID, different hair and glasses and a full beard, buying some pretty heavy ordnance off Deadwood's Jim Beaver (remember his appearance in season 4?), it looks like the king (as it looks like Walt is, with Gus out of the way) may have been knocked off his throne.
And assuming the saga of Breaking Bad ends badly for Walter White, which I think is the consensus out there, can any of us really claim to be surprised? I've been reading a lot about the mafia and the Mexican drug cartels recently, and the one thing I've seen pop up again and again is that the guys on top end up either dead or in prison. There are several reasons for this. Greed, carelessness, getting taken out by some young'n who wants your job. So these guys have already got a pretty bad track record, and when you add that the effing horror stories you see coming out of places like Juarez, you wonder why anyone would go into this business (well, I guess the money is pretty good). All I can hear is Tobias from Arrested Development saying, "But it might work for us." Anyway, it doesn't seem like Walt is interested in learning the lessons of his fallen comrades. Like he told Skyler, he won, and he won by being really smart, so he's just gonna sit back and soak it in for a while.
But like Biggie reminded us, more money equals more problems (direct parallel, nailed it), and even though Gus is out of the way, Walt and Jesse aren't home free. A lot of tonight's premiere was about tying up loose ends. Walt has to get rid of the bomb-making materials lying around his kitchen. And just as he's done that we see him run back outside to dispose of the Lilly of the Valley plant he used to poison Brock. Mike's still out there**, as pissed off and cranky as ever. And it turns out that the Albuquerque police have got their hands on the hard drive Gus was storing all that camera footage of Walt and Jesse cooking on. So, you know, the to-do list is filling up.
(**And didn't Mike's reunion with Walt and Jesse feel a little clipped? I have a feeling we might see an extended cut of the premiere once the DVD comes out.)
And even though Jesse's the one who has the idea of using a magnet to wipe the computer's hard drive, Walt's the one who implements it. There are a few bumps in the road, but a plan that by all accounts should have failed miserably came off, which only served to puff up Walt's already over-inflated ego. As they're speeding away, and Mike asks what proof Walt has that their plan actually worked, Walt sits back all smug and says, "Because I said so." So Walt's changed.
And you know what? I think we can accept that, and even sympathize with it to a certain extent. Walt's plan to take out Gus was pretty brilliant, with the Hectorbomb and whatnot. And we're all fans of violence and stuff, so watching Gus with half his face blown off scratched an itch. But by the end of the episode I think Walt's well on his way to getting rid any goodwill he may have built up over the couple of episodes. He has his sit down with Saul, who recaps the entire Beneke ordeal and explains why Skyler gave away more than $600,000. So Walt goes home, hugs his wife who's so obviously terrified of him now**, and tells her that he forgives her.
(**Okay, a couple of things about Skyler. 1. Was she serious when she told Walt that with all the money they were making at the car wash last season that he could start thinking about an exit strategy from his cartel gig? If Walt's the cook for the entire Southwestern meth trade, to the point where he or Jesse taking a day off screws up business, then there is no quitting. He's got the job for life. And 2. I understand that Skyler might have a legitimate reason for being scared of Walt, now that she's finding out that in addition to cooking meth he may also be a stone cold killer, but I'm really getting sick of her bi-polar attitude toward him from season to season. She's already made the decision to stay with him, even help him, so I hope we don't see her relitigating that decision too much. Especially when we see how hard she turned in the scene with Ted, when he promised not to tell anyone what happened, because hey, he's got a family.)
I see Walt as Tony Soprano. Bad things that happen aren't his fault. In this case, the stuff with Ted really wasn't his fault, but he came at the situation as if he and Skyler weren't do things together. It was all Skyler. The thing that's interesting about the Walt/Tony comparison is that Tony grew up with organized crime. He's the boss so he's got the huge ego and sense of self-importance that goes with it, but I think he knew when to keep it under control. Walt's just getting a taste for this now after kind of being walked on his entire life, so he hasn't developed that control yet. And if he can't, if "The Life" is just too much for him to handle, then he's probably gonna join Gus and all those other dead cartel guys sooner rather than later.
---