True Blood – "Let's Boot and Rally"
Posted: July 8, 2012
Filed under: HBO, True Blood
| Tags: Alan Ball, Alexander Skarsgard, Anna Paquin, Chris Bauer, Christopher Meloni, Deborah Ann Woll, entertainment, HBO, Let's Boot and Rally, Nelsan Ellis, Rutina Wesley, Ryan Kwanten, Sam Trammell, Stephen Moyer, television, Todd Lowe, True Blood, TV
Leave a comment »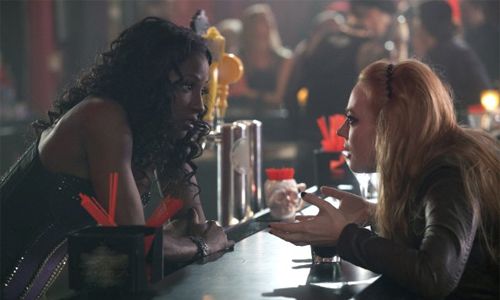 Terrible acting and ridiculous storylines… must be Sunday! That's not a knock against this episode, by the way. In fact, I really liked it, and "boot and rally" just happens to be one of my favorite expressions. The majority of the scenes, taken individually, were just "meh," but the ones that hit, hit big. Like that cold open. Oh my god, that was hilarious. There was something about the framing of vulnerable drunk Sookie in her pink bra, and Alcide shirtless and puked-upon juxtaposed with very cool, very in-control Bill and Eric all in black blocking the door – it was greatness.
Sookie was actually almost tolerable in this episode… and when she imagined the "boys" fighting like literal dogs, I laughed along with her. Maybe she should always be drunk. I guess it could be an indication that she's really taken Lafayette's criticism to heart, but we've thought that before with her and other characters, and it hasn't resulted in any long-term change in perspective. In any case, she was blunt and take-charge and had this great attitude that essentially said "fuck it, if I have no choice but to be an active participant in this supernatural freak show, let's get freaky, bitches." And I liked it.
The flashback/dream sequence scene with Jason in the Masters of the Universe footie pajamas was also too much fun to hate, despite the ick factor of his mother talking to him about blow jobs. Also icky? Tara and Hoyt. Is there some big redeeming moment coming for Tara? Because they are just sending her further down the hate-hole as far as I'm concerned. I liked where the Tara-and-Jessica-as-girlfriends story was going, but that was kaput  by the end of the episode. Tara's even bringing Pam down. Pre-Tara Pam would've come up with a much better comeback than "No, I want you to sit on your ass and play scrabble. Yes, I want you to bartend." WEAK.
But that scene did help me put my finger on one of the reasons I don't like Tara. Check out her delivery of these three lines:
"If I wanted to look like a drag queen, I'd have raided Lafayette's closet."
"The more things change, the more they fucking stay the same."
"I am many thangs, but sweet ain't one of them."
In the span of two minutes, she delivers three lines that are way too deliberate to be believable, even in the True Blood universe. Not only are the lines themselves weak – a little too nail-on-the-head – but her delivery smacks of intentional and measured pacing. It's all just too artificial and it bugs. Plus, her shoulders are too broad to pull off that corset.
Pam, on the other hand – can rock that trashy eighties style like nobody's business. I also like that Pam's clearly dealing with her release from Eric by pouring herself into her work. It's very clear what matters to Pam. She's motivated by loyalty for Eric (though it remains to be seen to what extent that's still true) and her dedication to Fangtasia, which is, in itself, a displaced loyalty to Eric. But anyway, I digress. The point is that right now, we're not clear on what motivates Tara – I mean, sure, she died for Sookie, but now that she's estranged herself from Sookie and Lafayette, what does she have to "live" for? And maybe that's why I'm struggling with her as a character – because she's struggling too. She's rudderless and purposeless… but I think that's kind of always been true for her; it's just more obvious now. Up to this point, she's served primarily as the go-to victim for the bad guys in the supernatural world and the go-to wrench in the good guys' plans to right things in that world.
This week, the good guys go hunting for the bad guys in an abandoned insane asylum… because, obviously. And there, they find new horrors around every corner including our long-awaited reunion with Russell Edgington. But first – does anyone think that there's any chance the woman who dug up Russell is NOT Salome? Because I don't. And if I'm wrong, well, it'll be a first… but also, it will be a huge credit to the writers who I feel have been foreshadowing that big reveal since the second episode. So, if it turns out to be Nora or the red-headed Texas chancellor or someone else, well, they'll have pulled one over on me.
I guess I have to address the smoke monster and Terry and Felicity's boyfriend and the crazy guy in the basement and Iraq and war and fire and the curse and zzzzzzzzzzzzzzzzzzz. In case my analysis is too subtle for you, I am not compelled by this storyline. Nor by the Lafayette demon/Jesus head situation, though it was, as always, awesome to see Alfre Woodard on the screen.
It appears we have an anti-supernatural hate crime spree going on in Bon Temps. Interesting that Jason is heading back to the anti-vampire mindset he had in season three (I think). He noted that vampires have been "getting away" with murdering humans and covering it up for centuries… it looks like the writers are setting it up to equate this revelation with his search for the truth about his parents' murder, but I wonder if he will swing back toward the less tolerant side of the fence during his investigation… or after. I won't be too sad if Luna dies, but I hope Sam pulls through. Something tells me he will.
Best lines:
"Apparently" and "I'm sorry to hear that." No one can say so much with so few words the way Eric Northman can.
Drew is goo!
Tinkerball! (Confession: I watched this episode five times, and I laughed at this line every single time.)
---