Posted: July 29, 2012
Filed under: AMC, Breaking Bad
| Tags: Aaron Paul, AMC, Anna Gunn, Betsy Brandt, Bob Odenkirk, Breaking Bad, Bryan Cranston, Dean Norris, entertainment, Giancarlo Esposito, Hazard Pay, Jonathan Banks, RJ Mitte, television, TV, Vince Gilligan
Leave a comment »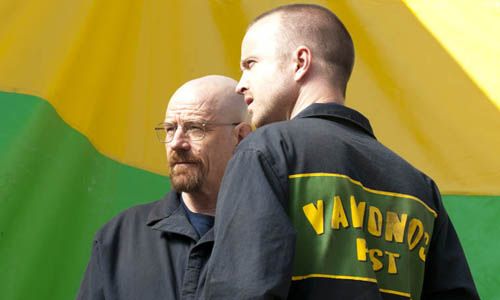 I know this one is coming late, so let's cut the crap! No preambles, on to the review!
Walter White is a bad dude, and a big part of his journey from good guy to bad guy was working with Gus. But Walt's work in the superlab is very different from his work with Vamonos Pest (love it) insofar as it impacts his character. Let me explain. Right from the start you could look at Gus as a predator, someone that Walt would have been ill-advised to screw around with. But, at heart Walt's a selfish person whose ambitions will only get bigger until his cancer or Mike or some other damn thing puts him in the cold, cold ground so you knew it was only a matter of time before these two guys went head to head. And they did, and we all know how that turned out.
But it wasn't all out war, guns blazing right from the start. Walt had to play it smart. But Gus was also playing it smart, so Walt had to learn how to play the game smarter. Which he did. And now that Gus is gone, Walt's entered a new phase in his career. A phase that is less about learning than it is about the being the boss. So, while the goings on at Vamonos are and will continue to be important to the story, I think they're less important than they were at the superlab. Does that make sense? I hope not.
Other thoughts…
1. These Women This Woman. Skyler is kind of driving me crazy this season. And a big piece of that is the complete 180 she's made since last season, when she was really gung-ho about laundering Walt's ill-gotten money. It's going to be a long season if most of what we see is Skyler trying to figure out what to do with her hands while staring off into the middle distance because she's worried about what Walt might do to the family. Or if we get any more scenes like Skyler and Marie at the car wash, which was like a perfect storm of crazy and all the things I hate about characters who are in the middle of a nervous breakdown (although I imagine most of you would say the same thing to Marie, given the chance). If one good thing came out of any of this this week, it was Walt telling Marie about Skyler's affair with Beneke, and showing that he's not above manipulating everything and everyone around him when the situation warrants it.
2. The End. I went back and forth on how to interpret this last scene with Walt talking to Jesse about why Gus killed Victor. Part of me thought it was a veiled warning to Jesse for offering to pay both his and Walt's share of Mike's legacy costs from his cut. Once he made the offer, there was no way Walt could just sit back and let him do it. He had to man up and offer to pay his share, too. Walt telling Jesse that Victor had "flown too close to the sun" may have been his way of telling him to sit the hell back and don't butt in when the adults are talking business. A friend suggested that this was Walt letting Jesse know that if Mike didn't change his cheating ways, it'd be him they were stuffing into a barrel. Upon much thought and reflection, I have to admit that seems the more logical of the two. Despite the horrible person he's become, I think Walt genuinely cares for Jesse, and isn't looking to get him out of the picture. At least not right now. While they're throwing back a few brews, waiting for their batch to cook, Walt at least gives Jesse the choice whether or not to drop Andrea, although he steers him in that direction. But anyway, yeah, Walt was probably talking about Mike.
3. Scarface. I'm surprised it took the show this long to reference the movie. We're all pretty sure this is where we're headed, right? We know that a year from now, Walt is meeting Jim Beaver in a Denny's bathroom, purchasing some pretty heavy firepower. So you'd think something bad is coming down the pipeline. Just remember what Walt says while watching the movie: "Everyone dies in this movie, don't they?"
4. Landry Clarke. Jesse Plemons joining the cast may be the best news I've heard all year.
---