True Blood – "Turn! Turn! Turn!"
Posted: June 10, 2012
Filed under: HBO, True Blood
| Tags: Alan Ball, Alexander Skarsgard, Anna Paquin, Chris Bauer, Christopher Meloni, Deborah Ann Woll, entertainment, HBO, Nelsan Ellis, Rutina Wesley, Ryan Kwanten, Sam Trammell, Stephen Moyer, television, Todd Lowe, True Blood, Turn Turn Turn, TV
Leave a comment »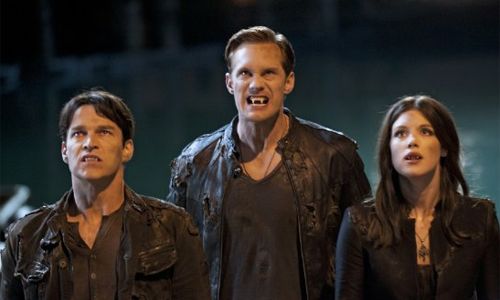 I'm suffering from severe television-induced cognitive dissonance. Like CB, TVCD is a serious and growing epidemic that can no longer be ignored. How can I go on rolling my eyes and scoffing at those who waste hours watching The Bachelor and Lizard Lick Dynasty of Extreme Couponers or whatever the hell is on these days and claiming that I… I watch quality television. Scripted, artistic, contributing-to-society television. Downton Abbey! Girls! Breaking Bad!
And then the summer rolls around and I am squealing like a fangirl when former anti-vampire league evangelist Reverend Steve Newlin proclaims to Jason Stackhouse that he is now "a gay vampire-American." Complete with *adorable head tilt*
I simply cannot reconcile the part of me that loves this trashy, ridiculous show with the part of me that is JUDGING. YOU. when you watch Toddlers and Tiaras. But here's my attempt at making peace with myself, and no, this is not a revelation, but it is a good reminder as we begin season five.
There may be no other show on television that is as self-aware as True Blood, and I have to respect that.
The writers know what will make the characters cringe and what will make the viewers applaud, and they dish it out in heaping spoonfuls every episode. No measured, palate-teasing pacing like on Breaking Bad. The French Laundry, this is not. True Blood is the late-night drunken binge at Golden Corral that you feel guilty for enjoying so much but you don't quite regret it.
So what did they dish out in the season premiere? Eric subservient to Bill, which is always entertaining. Badass Pam in a yellow bedazzled kitten sweatsuit from WalMart. Vampire-hater Tara turned… and turned against her best friend Sookie. A new sexual more pierced by the not-so-mildly incestuous relationship between Eric and Nora – "We fight like siblings, but we f*ck like champions."
Tell me that didn't raise your eyebrows and get your attention. Sidenote: Do you think Stephen Moyer is jealous that Lucy Griffiths (Nora) gets to speak in her natural British accent and he doesn't?
Okay, okay… on to the actual show. I felt the opening was a little jerky, but it was effective at getting us right back into the action. We were introduced to a few new characters… Nora, Martha, Salome, Patrick (to whom we had a brief introduction at the end of Season Four) and a few new mysteries, too. What is the history between Terry and Patrick? What happened in Iraq and what is the mysterious fire they're worried about? Why did The Authority attack their own people but leave Eric, Bill and Nora alive? Why does The Authority need them? And most importantly, when will Russell Edgington make his appearance and generally f*ck sh*t up!?!?
Character-wise, there's been some slight movement with a few of the principals (Jason admitting his player ways and rejecting the sorority girl), and honestly, the overall lack of character development would be a bigger issue if their inherent, consistent flaws weren't so damn entertaining. Lafayette continues to verbally reject his supernatural surroundings – "all werewolves do is piss off vampires; no more supernatural bullshit" but damn if he doesn't let himself get dragged right back into the fray when Tara's "life" is at stake. And Sookie may have dismissed her vampire love interests, but my prediction is that all this means is that this season's angst will be courtesy of Alcide. Hopefully Sookie's admission that she wanted to kill Debbie will actually lead to some interesting conflict and possible growth, but I'm not holding my breath.
Jessica is still acting out and exploring the boundaries of her new power – as a perpetually beautiful woman, as a vampire and as the progeny of the King of Louisiana.
Pam is still desperate for Eric's approval, even leveraging an agreement with Sookie's "super snatch" in order to repair her relationship with him. "What's to say she won't rise out of the ground tomorrow night completely and utterly f*cktarded?" Man, I have missed Pam.
Speaking of Pam's devotion to Eric, I wonder if she and Nora will be pitted against one another for Eric's affection and loyalty at some point this season. Seeing as how it would fulfill both standard True Blood writer requirements: make characters squirm, make audience rub hands with glee, I'm guessing it's inevitable.
Oh, and the gore is inevitable too. This week it was the packmaster's mother eating her decaying son's entrails….  to…. gain his… power as some kind of ritual? Maybe there will be broader implications to the "ritual," but mostly, I think it was just to fulfill the writers' viscera quota for the week.
Great lines from the season premiere:
"Don't call people names, you dumbass redneck!" Zing!
"I wish there was somewhere else to eat in this town." Zing! Zing! It's self-awareness within self-awareness. It's META-AWARE!
As a long-time SVU fan, I am so stoked about Detective Stabler's role as The Authority next week, but in the meantime, I'm going to see Dr. Leo Spaceman for treatment of my TVCD.
---