Game of Thrones – "Valar Morghulis"
Posted: June 3, 2012
Filed under: Game of Thrones, HBO
| Tags: D.B. Weiss, David Benioff, Emilia Clarke, entertainment, Game of Thrones, George R.R. Martin, HBO, Jack Gleeson, Kit Harington, Lena Heady, Maisie Williams, Michelle Fairley, Nikolaj Coster-Waldau, Peter Dinklage, Richard Madden, Sophie Turner, television, TV, Valar Morghulis
Leave a comment »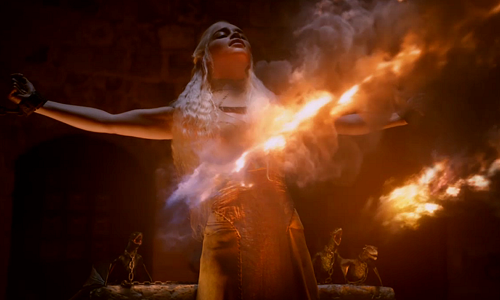 After each episode of Game of Thrones, I take a few hours to sit in my dark living room and ruminate on what I've just watched. And each week I can't help but think of all the Dungeons & Dragons players out there, sitting in the parents' basements, rubbing their hands together and saying, "Good. Gooood." I think once everything is said and done, once the final episode has aired, this show's greatest accomplishment will have been to turn all of its fans — all of us — into complete and total dorks. Hear me out.
The way the show's going about this is pretty smart. As a book series, the audience Game of Thrones was going to reach was always going to be pretty small. It'd be popular in certain circles, win some awards, but that's about it. As a TV series on HBO, everyone hears about it. Now, there are nerds out there, living among us, who look just like normal, everyday people. I know. It's disturbing, but true. These people have read the books, so when they hear news that the show is on its way, they can go to their unsuspecting friends and say things like, "Oh yeah. I heard about that. A friend of mine (remember, "friend of mine" is a lie) read it. She said they were pretty cool. We should check them out. Together." They'll calm any skeptical attitudes by saying, "Well, yeah. It's fantasy, but, like, realistic. There are no wizards or dragons or anything. And there are tons of boobs, so it's like, historical." Now their friends are interested. They're fears have been calmed, and it's time to close the deal.
The show looks amazing. It's full of hot people. And it's really good. Also, the very first scene's got zombies in it. It's a slam dunk, and by the time the first season wraps up and we see those dragons crawling over Dany's (naked!) body, we're hooked, and there's no going back. Now, in its second season, the show is free to have crazy smoke people running around killing people, warlocks and Houses of the Undying. We'll forgive all these trespasses. And by the time that final shot comes around, which I'll refrain from spoiling here, we're confidant that we've made the right decision. What's more, we don't even consider these things nerdy anymore. We take those kids we made fun of in high school, with their greasy hair and their eczema, hoist them on our shoulders and worship them as our new gods. What a strange new world we live in.
But anyway.
"Valar Morghulis" ended an epic, if a little unwieldy, season. If I'm being completely objective, I'd have to say that the show started losing its way somewhere around the midpoint of the season. There was just so much to keep track of. That in and of itself is fine. There was a lot to keep track of in the first season, and the show seemed to handle it alright. But I think there's a critical mass the show can't go past. When it tries it starts collapsing in on itself. Losing track of Stannis and Melisandre for as long as we did didn't do things any favors. And there at the end I was still trying to make sense of what was going on with Jon Snow. So, keeping certain characters out of the spotlight for weeks at a time, or trying to stretch a small arc over ten episodes can really hurt things.
Buuut, if the season was going off the rails just a little bit, tonight's finale — coming on the heels of "Blackwater" — capped things off very nicely. Very nicely INDEED. Last year's finale was more of a prologue for season two. Tonight's episode reminded me more of something we might have seen on Lost, showing most of our characters marching off toward the next big thing. So we'll go around the table and check in on a few of them.
Tyrion: Did anyone else shed a tear at Tyrion and Shae's reunion? It turns out her appraisal of what kind of man Tyrion is is pretty spot on. He's got the heart, but he's an imp so he feels like the only way he can get people to like him is to pay them. Shae's feelings toward him, especially now that he's got that giant gash down the middle of his face, throw him a little off his game. Now that Tywin's back and drinking his milkshake, things are going to get very lonely for Tyrion in King's Landing. He's been relieved as the Hand. Varys tells him it's going to be a while before they talk again. All of his power and influence have pretty much been taken away for him. And with Shae being assigned as one of Sansa's handmaidens, how much are they going to be able to see each other really? So, thus begins the long, dark night of Tyrion's soul.
Dany: I've already heard people complaining that the show such short shrift to Dany's time inside the House of the Undying. Such are the constraints of television, I guess. HBO can do only so much. Anyway. Dany, you've come a long way, baby. From everything she saw in her vision quest through the House of the Undying, the sight of Khal Drogo and her unborn daughter seem to be the things that could have kept her there, those objects of personal desire and happiness. But the defining characteristic of her journey over the past two seasons is her realization that she has a destiny, and how that has come to singularly dominate her focus. So, despite the touching reunion, she walked away from her family to reclaim her dragons (in an EXPLOSIVE sequence (nailed it)) and finally get the hell out of Qarth.
Joffrey/Sansa: So the Lannisters have won, so they're taking a little bit of time to bask in the glow of how awesome they are. Joffrey, who's a complete asshole, threw Sansa to the curb and pledged to marry Margaery Tyrell. So that should change the balance of power in the South some come next season (I'm talking out my ass, but poor Sansa, right?). Speaking of Sansa, was anyone else surprised to see her still in King's Landing? I thought she had taken off with the Hound.
Robb/Theon/Arya/Jon Snow/everyone else: What kind of separated Tyrion and Dany's storylines from these others was that where we're leaving them feels like a definitive end to a chapter. They will be in different circumstances when we find them again in season 3. For Robb and Theon and everyone else, it felt like we were saying goodbye to them on the road, in the middle of their journey. Theon's being taken back to the Iron Islands. Jon Snow's being taken to meet Mance Rayder. Robb just married his hot new wife. Who knows where it'll all end?
Going back to my original point, it seems like the show's getting ready to cream us all in the face with magic this next season. I say that for a few reasons. 1. We found out that Melisandre's smoke monster is actually living inside Stannis. 2. Pyat Pree tells Dany that with the birth of her dragons, magic had returned to Westeros once more. And 3. That little bit of business with Jaqen H'ghar and his changing face. So it seems like the most powerful armies aren't necessarily going to be the deciding factor in who's left standing once all this is over. So, in other words, the GAME is afoot (don't worry I'm going to kill myself as soon as I'm done with this).
And now we wait. Waiting almost a year until the next season is never an easy thing. Food loses some of its taste. Women aren't as beautiful. The sun doesn't shine as brightly. But then we remember that Breaking Bad is back in July, and we know that we're watched over by a caring and just God.
---