Posted: June 24, 2012
Filed under: HBO, The Newsroom
| Tags: Aaron Sorkin, Alison Pill, Chris Chalk, Dev Patel, Emily Mortimer, entertainment, HBO, Jeff Daniels, John Gallager Jr., Margaret Judson, Olivia Munn, Sam Waterston, television, The Newsroom, Thomas Matthews, Thomas Sadoski, TV, We Just Decided To
Leave a comment »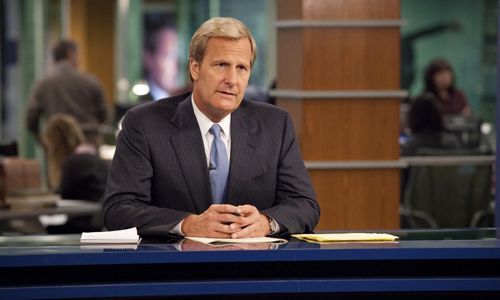 Earlier tonight, Keith Phipps, writer and editor for The A.V. Club, tweeted, "I haven't seen THE NEWSROOM yet so why does it feel like I have?" I'm going to go ahead and take that as a backhanded swipe at the show and creator Aaron Sorkin, but even so there's a lot of truth in the statement. The Newsroom marks Sorkin's return to television six years after the magnificent trainwreck that was Studio 60 On the Sunset Strip. And love him or hate him, there's no denying that Sorkin's voice is a unique one in the television landscape. So coming back to it, even after a number of years, feels like sitting on a couch, with nice, comfortable ass grooves worn into its cushions after years of use.
Why was Studio 60 such a spectacular failure? Well, Sorkin's always been very preachy. Politics, gender issues, who we are and where we're going as a country, THE VERY FATE OF HUMANITY, are the issues his characters pontificate on from week to week. And with a show like The West Wing, this worked really well. Sure, it could come off as a little too idealistic, overly sentimental, but these were the people who ran the country, people who loved their jobs and did them out of a genuine desire to serve. So if they couldn't be idealistic, then who could, really? Studio 60 was a different story. There you had fictionalized Andy Sambergs and Kristin Wiigs talking about things like hostage negotiations. And after watching a few episodes we realized we didn't give a shit what any of these people thought about the big issues. Add to that the fact that Studio 60, the SNL that all these people were working on, just wasn't funny, and the show died after its first season.
I can't imagine Sorkin ever doing a show that wasn't set behind the scenes somewhere**, and setting The Newsroom at a fictionalized cable news show allows his characters to deal with big issues without turning around and playing in "Fart Doctor" or sing Gilbert and Sullivan or whatever the hell they were doing on Studio 60. It's still a little idealistic. And there's a part of me that says that that much idealism doesn't play as well with audiences today as it did ten years ago, but I feel like it works here. It's believable. Say 85%.
(**Even the film scripts Sorkin's written: A Few Good Men, The Social Network, and Moneyball all have that behind the scenes feel to them. One a Marine trial, the next about the creation of Facebook, and the last about the Oakland A's 2002 baseball season. They all have the feel of something being put together, if that makes any sense.)
Even if you're not watching the show, even if you've only seen commercials, you probably have a pretty good idea of what happens in this first episode. Will McAvoy, played by Jeff Daniels, is kind of like Keith Olberman minus everything distasteful about Keith Olberman. He's described as the Jay Leno of new (and isn't it funny how we all just kind of know what that means?). There's nothing he'll take a solid position on. But eventually the dam breaks and when asked at a roundtable discussion to explain why he thinks America is the greatest country in world, he surprises the entire country (apparently) by saying that it isn't, the reasons for which he gives in typical Sorkin fashion. So while McAvoy goes on vacation to cool off, Charlie Skinner (played by Sam Donaldson, who you can tell is just having a hell of a time), the president of Will's network goes off and hired Will's ex-girlfriend Mackenzie MacHale (Emily Mortimer) to executive produce his show, in an attempt to "take back the fourth estate," as she puts it in one of the show's many Mr. Smith Goes to Washington moments.
Now, does it all work? Yes and no. Sorkin's dialogue has a very specific rhythm to it. And to be honest, much of the cast, most notably Daniels, feels like he's rehearsing it for much of the episode. This was to the point that it actually kind of surprised me. Scenes in which Will's fired up and yelling are a different story. It all goes away. But when he's just talking, it felt a lot like Don and Peggy trying to be the Cool Whip couple on Mad Men, failing miserably where Don had done so well with Megan. This seems like a problem that might crop up in any pilot. Actors need some time to get into their characters, and Sorkin's cadence seems like something that has to be learned. I enjoyed the rest of the cast, especially Donaldson, who like I said, looks like he's having the time of his life. Honestly, these are all great actors (Can we call Olivia Munn great? Give us a few weeks to see how she does), and whether or not they're going to be able to pull off the material isn't really a concern that I've got.
The biggest problem I see this show having is whether or not it's going to be a good enough vehicle for Sorkin to pull off his smartest man in the room act. And that might sound like an insult, but it's really not. Sorkin's a smart guy, and yes, he sets up arguments that he can win. I don't really understand the backlash against that. It's not as if he's the first writer to do it. And it's not like Sorkin's just sprung all this on us. This is the same style he's always been writing in (and ultimately, whether or not you like The Newsroom will depend upon whether or not you like that style of writing). People liked Sports Night and The West Wing, and I'm having a hard time figuring out what made those shows so different from The Newsroom. The only thing I can think of is that people didn't like Studio 60, and that wiped out any goodwill Sorkin had built up with the TV critic intelligentsia out there. A lot of this goes back to what I mentioned earlier about idealism playing as well with audiences as it used to, or at least idealism that's laid on as thickly as it is here. I think this might be written off by a lot of people, but audiences do change over time. You couldn't do The Andy Griffith Show or Dragnet today and expect them to work like they did back then. We've moved past those shows. They make us feel good when we catch them on Nick and Nite, but only because they remind us of that bygone era. Add that to the fact that people generally don't like being told they're not as smart as the person talking to them, and I think we're beginning to decode some of the negative reviews the show's gotten.
But let's see where things go. Maybe the show will be preachy to the point that not I can defend it. Maybe Daniels will never get the hang of Sorkin's dialogue. Maybe it won't find good enough ways to make use of its supporting cast (just about all of the pilot is spent establishing McAvoy's meltdown, the aftermath, and his relationship with Mackenzie). Or maybe it'll fix those things and turn into a really solid hour of television. It'll never be as complex as Mad Men. And I don't see that as good or bad, just different. It's Sorkin. And I'm glad to have a Sorkin show (that I'm enjoying (the writing was on the wall for Studio 60 right from the start)) back on the air.
---