Game of Thrones – "The Prince of Winterfell"
Posted: May 20, 2012
Filed under: Game of Thrones, HBO
| Tags: D.B. Weiss, David Benioff, Emilia Clarke, entertainment, Game of Thrones, George R.R. Martin, HBO, Jack Gleeson, Kit Harington, Lena Heady, Maisie Williams, Michelle Fairley, Nikolaj Coster-Waldau, Peter Dinklage, Richard Madden, Sophie Turner, television, The Prince of Winterfell, TV
Leave a comment »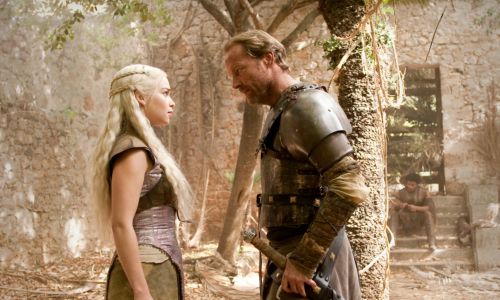 Huh? You guys can't wait for "Blackwater"? Yeah, me neither.
I've talked a lot this season about the chess game this show is constantly playing against itself. For anyone who had the misfortune of seeing Battlefield Earth, you know that adapting 1,000-page books for the screen is no easy task, and it only gets harder when your television season is ten episodes long. Last year, it seemed like the entire season was setting us up for the last couple of episodes, and with HBO using the Battle of Blackwater Bay to promote the show this year, I think it's safe to say the same thing is happening here.
This can be good or bad, depending on how you look at it. I, like any red-blooded American, saluted the flag when I saw the teaser for next week's episode. This is a cool show. And when I hear Tyrion Lannister say things like, "There are brave men knocking at our door. Let's go kill them," my blood pressure goes up and I, too, want to kill people. But, also like Tyrion, I'm enjoying the titular game in Game of Thrones much more than I thought I would. It isn't a hard thing for any of these characters to pick up a sword and kill someone, or set them on fire, or tear them limb from limb, or sex them to death (that's a thing that's happened, right?). But working things behind the scenes, like Tyrion and Varys and Petyr Balish takes skill, and when the show shows us that, it's just as captivating as all the blood and guts (don't judge me, hypocrites).
And from the look of things, there are enough politics and maneuvering to keep this show going for a long time yet. Even as King's Landing prepares for war, we see Tyrion having to deal with Cersei, who's taken Ros as prisoner, thinking that she was the "whore" Tyrion had been hiding. That was nice bit of business between the two of them, once Cersei brought Ros out. Ros followed Tyrion's lead and played along like she was his lover, but there was so much that wasn't being said, but the real action was in the subtext. Tyrion letting her know that she'd be alright, she just needed to play along for a little while longer**.
(**I think it's worth asking why she was playing along at all. If someone came and started punching me in the mouth and accusing me of being someone's lover, I imagine I'd tell them that it wasn't the case. Assuming, of course, that it wasn't the case. Is Ros expecting something from Tyrion in return for her silence?)
Tyrion comes out as soon as Ros is taken away and tells Cersei that one day he'll make her pay for everything she's done. He's kind of forced to shove it off to the side for right now. Too many irons in the fire. Too many other things to worry about. While walking along the castle walls with Varys, discussing the game and how much fun it is playing it (and shouldn't we hate the game and not the player?), Varys tells Tyrion that he's recently received word that Daenerys is in Qarth, and she's got three dragons with her. They're babies now, but when those things get older, man, they're all f***ed. One game at a time, Tyrion tells him. Right now, King's Landing is busy getting ready for Stannis. And speaking of, this week we were finally introduced to Stannis Baratheon, Robert's brother and (as he says) the rightful heir to the Iron Throne. Wait, what? Stannis has been around the entire season? Ooooh. It only felt like he had been gone for 50,000 years.
Speaking of irons in the fire, this week finally saw the coming together of Robb and Talisa, which, let's be honest, we were all really looking forward to. I'm not ashamed to admit that I had my Kathy Geiss moment, where I was screaming, "KISS!!" at the television screen. Oona Chaplin's (yes, that Chaplin) a great actress, and I have to say I'm enjoying her performance here much more than I did in The Hour. But while their love affair warms the cockles of my heart, I can't help but think that the entire thing is going to end in tears. Robb's tough, but he's too nice a guy. I don't think he'd be one to blunder into getting his head chopped off, but he's got too much of his dad in him. I just don't think rulers like him are very long for a world like Westeros. Maybe Robb's more cunning than I'm giving him credit for. And perhaps, when the time calls for it, he can be more ruthless. It's just that entire garrison of prisoners he's got, consuming his men's resources that makes me say that's not the case.
This week, we finally got some traction on the Jon Snow storyline. With Ygritte and her posse taking him to the King Snow-worshiper, or King of Bones or whatever the hell he's called. In an unexpected twist, they take him and trudge off into the Icelandic wastes. Brave storytelling is what you call that. Can't wait to see where it goes.
Just to close things out, I'll say that because I'm a complete idiot, I imagine Game of Thrones taking places on a planet that humans crash landed on at some point in the future, and through time and whatever else, lost their technology and most of their history. Astronauts are the First Men and so on. It's stupid, I know, but whatever. So it got my spidey senses tingling this week when Sam and Gren found that cloak buried in the snow, filled with spears made of "dragonglass," and we hear Sam say, "The maesters call it obsidian." I really thought that if they just kept digging, they'd find an Apple store and a Jamba Juice.
---