Mad Men – "Tea Leaves"
Posted: April 1, 2012
Filed under: AMC, Mad Men
| Tags: television, TV, entertainment, AMC, Mad Men, Jon Hamm, Matthew Weiner, Elisabeth Moss, Vincent Kartheiser, January Jones, Christina Hendricks, Aaron Staton, Rich Sommer, John Slattery, Robert Morse, Jared Harris
1 Comment »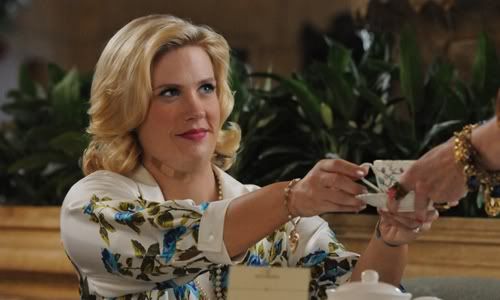 Come on. You knew Betty was going to finish Sally's sundae.**
(**And can we take just a moment to appreciate Betty's fat suit? Betty joins and elite group of actors who have donned a fat suit to better illustrate the rut their character has sunk into. Can you think of many more than Lee Adama from Battlestar Galactica and Mad Men's own Peggy Olsen?)
Toward the end of the tonight's episode, Roger asks Don, "When are things going to go back to normal?" I think Don's probably asking himself the same thing. You get the sense that overall, his marriage to Megan is happier than his marriage to Betty was. And I don't think that's a superficial happiness. I think it's genuine. There have been a few moments between the two of them where you see Don swallow his anger more quickly than he might have with Betty. He was right in saying however many seasons ago that living with Betty was like living with a little girl. And using that same comparison, living with Megan is like living with a 26 year old (they said she was 26, right?). She's smart, mature, and becoming increasingly independent. Betty was high-maintenance. Megan isn't.
Still, there's a level of comfort in Don's relationship with Betty that, even after the nastiness of their divorce, never really went away. Like ass-grooves worn in a couch after years of use, they'll probably be there forever. And Betty calling Don up after her doctor found a lump in her throat that was possibly cancerous was a nice moment between the two of them.** Don telling Betty that everything was going to be alright actually made her feel like maybe things weren't as bad as they seemed, that she'd actually be alright. I don't know if that familiarity made Don feel better, but it definitely reminded him that this is a woman who he, on some level, still has feelings for.
(**Although Betty's line about Don saying what he always says does kind of reinforce that little girl thing.)
Anyway. How does all this relate back to what Roger said about things getting back to normal? Well, even though Don has a good thing going with Megan, something healthier than his relationship with Betty was, I think there's something in the back of Don's head that wants to go back to that, even though there's something else right beside that that knows how destructive their relationship had become.
That feeling's only made stronger by the fact that there's something about Don that can't help but look at Megan like she's his daughter. And it's not an overt thing. It's just something that's there. Something that makes him more aware of the divide between him and young people. While he's backstage, talking to the groupie who'll just do anything to impress the Rolling Stones, you see how concerned he becomes whenever he finds out just how far she'd go to impress them. Whenever she tells Don that people like him just don't want people like her having any fun, he tells her that actually it's because people like him are concerned for people like her. So I think Don's generally overcome by this feeling of nostalgia, and probably looking back on his life with Betty through rose-colored glasses. There's a chance she's really sick, so he can kind of only remember the good times the two of them had together.
What's going on with Roger is much more self-pitying than Don's thing. This thing between him and Pete has been brewing up for a while now and it's finally worn him down. You saw before — last week's premiere was a good example — that Roger was happy to play the game with Pete, showing up to client meetings uninvited, things like that. Pete sees what he's doing, recognizes the fact that he's trying to keep himself relevant to the company, and when Mohawk Air officially comes back to SCDP, very publicly makes a move to protect his flank. Don follows Roger when he stomps out of the room and tells him that, yes, it was disrespectful, and that's about all he says. Almost like what he wasn't saying was, "What the hell are you going to do about it?" People like Pete are the future, and will be there long after Roger's in the cold, cold ground. And I think that attitude kind of informs his conversation with the groupie at the concert. When he told her that people like him were concerned for people like her, that's all it was. It wasn't angry. It was like he was telling her just so she'd know, because Don knows that in the end, people like her are going to do whatever they want. Kind of like Pete. And I think  that may be the reason you don't see Don getting mad and Megan the way he'd get mad at Betty.
But — and this is a big but — it's early days, and there's all sorts of time for Don to go back to his cheating ways, and be as big a dick to Megan and everyone else as he's ever been. So, look out for that.
A few other things:
All things considered, Henry's a better husband than Don. But I still enjoy the thumb Betty sticks in his eye when she calls Don after finding out she might be sick.
Why didn't Henry's mom every take diet pills? Betty says things other people only think!
How long until Peggy and Michael Ginsburg are pushing all their work off the table and getting busy?
Did anyone else catch the George Romney reference? He's the clown Henry doesn't want Nelson Rockefeller standing next to. Apparently, the show name-checking his grandfather was something Tagg Romney didn't take very kindly to. Still trying to figure out how AMC is part of the liberal media.
Again, you knew Betty was gonna get ALL UP IN Sally's sundae.
---