Game of Thrones – "The North Remembers"
Posted: April 1, 2012
Filed under: Game of Thrones, HBO
| Tags: D.B. Weiss, David Benioff, Emilia Clarke, entertainment, Game of Thrones, George R.R. Martin, HBO, Jack Gleeson, Kit Harington, Lena Heady, Maisie Williams, Michelle Fairley, Nikolaj Coster-Waldau, Peter Dinklage, Richard Madden, Sophie Turner, television, The North Remembers, TV
Leave a comment »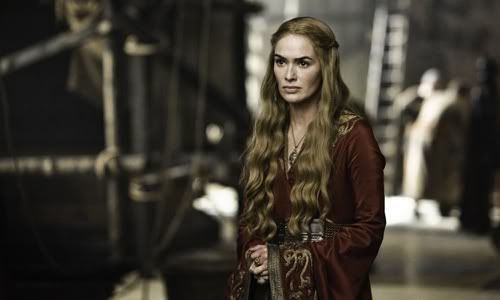 Even Breaking Bad — that high-water mark of quality television to which all contemporary dramas are eventually compared — took time growing into its big boy shoes. But finding itself is a problem Game of Thrones never had. It was good right from the start. If there was one thing fans could complain about, it was that the show took a while setting itself up. A story as sprawling as this one has its share of moving pieces, and explaining the characters' various and sundry alliances took most of the first season.
Well, the first season is gone! Long gone! And now we're free to enjoy the bloody free-for-all — not to mention all the boobs — our American heritage demands. Well, almost. The show boasts even more characters this year than last, so a good amount of time this week is spent checking in with everyone and catching us up on what's happened since last we saw them. Joffrey is in King's Landing, sitting on the Iron Throne and being just as big a prat as we imagined he'd be. He's just sort of enjoying things right now, sitting back, everyone around him scared shitless that he's going to snap and have them killed for some perceived slight. Life is good for Joffrey, until Peter Dinklage shows up, ready and willing to take his place as acting Hand of the King and drink his nephew's milkshake.
Peter Dinklage is without a doubt the show's breakout star. And I think that if HBO could find some way to market the damn thing as The Peter Dinklage Show, they'd probably do it. And I think most people would be okay with that. He's the breakout star for a reason, after all. Within five minutes of his appearance at Joffrey's Name Day, he's already marginalized the little bastard, and if he hasn't established himself as the power behind the throne, then definitely the power completely detached from the throne's authority. There's a nice moment he shares with Sansa, paying lip service to Joffrey's decree that Ned Stark and the rest of the Stark brood are traitors while silently commiserating with the young girl's loss. Then, moments later, taking his leave, telling Joffrey, "So much work to do." His entrance into the Little Council is even better, with him laying out to Cersei every boneheaded move Joffrey's made since taking over and why it's going to cost them in the Lannister's war with the Starks. It's a reminder that the politics of the show are every bit as satisfying as the fighting.
After King's Landing, we're taken across the Narrow Sea, to the Red Waste, where Danerys Stormborn — who at the end of last season we saw standing in the middle of a smoldering funeral pyre, with three baby dragons strategically placed around her naked body (if you listened carefully, you could hear the sound of a million fanboys gasping**). Right now, Dany's doing the whole Moses thing, leading her people through forty years in the wilderness. They're short on food and supplies, and really don't know where the hell they're going, which is all the more disappointing after we saw those dragons and heard Dany's promises of enemies dying screaming and fire and blood and all the rest of it.
(**Also interesting is the fact that, in the days following the season finale, Wal-Mart and Target reported record sales on tube socks.)
We're taken to Winterfell, where Bran has taken over in the absence of his father and brothers. I imagine that he'll turn out to be a more adept ruler than Joffrey is. Beyond the Wall, we follow Jon Snow and the Night's Watch as they try and figure out what exactly what the hell is going on beyond the Wall. Robb, the King of the North, as his followers have taken to calling him, continues his war against the Lannisters.
A new addition to the show is Stannis Baratheon (Stephen Dillane), Robert's elder brother and the throne's technical inheritor. Stannis is joined by Melisandre (Carice van Houton), a priestess of the "Lord of Light" and one of Stannis' advisors. And just like there's some sorcery evident with Dany and her dragons, we see some crazy voodoo working on her. When one of Stannis' priests, after trying to convince him that following this heretic was a mistake, tries poisoning her with a glass of wine, we see blood pour out of his nose before he collapses, dead. So. Good luck with all of that.
Joffrey, Bran, Rob, Stannis, Dany, Jon. All of them are now leaders or are learning valuable lessons about leadership. Tyrion tells Cersei that one of hardest things about fighting this war is going to be the fact that all of the Lannister's enemies hate each other almost as much as they hate them. And Joffrey really isn't doing anything for that image. Killing people for offending his delicate sensibilities is enough. But at the end of the episode, when we see all of Robert's bastard children being killed off, we know that King's Landing and the rest of the Seven Kingdoms are really in a bad way. Joffrey isn't a leader, he's a despot who rules like he read about it in, well, A Game of Thrones.
Dany and Robb have both met with a measured degree of success, and as things get tougher for them will have to hold together the alliances they've built. Jaime Lannister was right when he told Robb that three victories didn't make him a conqueror. And with no end to the Red Waste in sight, Dany is going to have trouble holding together what from the outside looks only like a ragtag group of survivors with no real strength behind them. Jon and Bran are learning how to follow and how to deal with people they don't particularly want to deal with. Jon with the Wildings and Bran with the residents of Winterfell.
Season 2 looks like it's come in, ready to tell season 1 to sit on it, Potsie. It definitely has a way of making you want to pump your fist in the air, and makes fantasy fans out of us all. Bring on the blood, the backstabbing, the politics. And if we have to sit through a few gratuitous boob scenes along the way, well, whatever.
---