Mad Men – "A Little Kiss"
Posted: March 25, 2012
Filed under: AMC, Mad Men
| Tags: A Little Kiss, Aaron Staton, AMC, Christina Hendricks, Elisabeth Moss, entertainment, January Jones, Jared Harris, John Slattery, Jon Hamm, Mad Men, Matthew Weiner, Rich Sommer, Robert Morse, television, TV, Vincent Kartheiser
Leave a comment »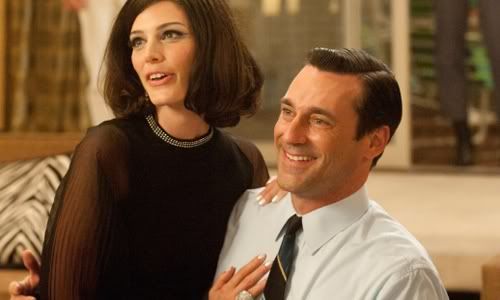 "More people feel the way I do than feel the way you do." – Don
At the start of Mad Men's fourth season, we found ourselves in the swanky, space-age offices of Sterling Cooper Draper Pryce. Everything was so shiny and new, it was like the start of a new age! Sure, Don had made some mistakes, but he had been baptized in a sea of new opportunity and chrome furniture, so the future was a blank slate. Sure, anything could happen. But we were sure that whatever it was, it was going to be good.
Well, an indeterminate amount of time has passed. And things, well, they don't seem to have turned out the way we thought they would. "Well, how did you expect them to turn out?" you ask. Well… we're not sure, exactly. But they weren't supposed to turn out like this.
Since the show began, our characters have all been chasing different things. Women, of course, but also opportunity, money, and status. If you're more of a romantic, you can wrap those things up in lame platitudes like "happiness" and the "American Dream." And after years and years of hard work, a convincing case can be made that they've found those things. But now that they've got them, the novelty of the chase, the conquest, is gone, and well, what the hell was the point of it all?
And what struck me most about tonight's opener (AFTER SEVENTEEN EFFING MONTHS), was that this seemed to be everyone's affliction. Pete, Roger, Lane, and even Don (despite that smile he kept plastered to his face for most of the two hour) seem to be suffering from a kind of malaise. You've got Roger, who's finally come to terms with the fact that he's married a teenager. You can draw certain parallels between Don and Roger in the women they've remarried, but putting the two up side by side, you can at least argue that Megan's got ambition. And although she's still getting sorted out on the creative side of the advertising business, she's still working at it. It seems like the only thing Jane ever wanted out of life was to marry rich. And while I imagine Don could carry on an intellectual discussion with Megan, Roger's given up all hope of ever doing the same with Jane. He still loves her, and tells Don that she's "a good girl," but no one Roger could ever look at as an equal. And Jane's feelings toward Roger seem to be equally ambivalent.
Down the hall you've got Pete, who's moved up in the world. He's bringing in a large chunk of the firm's business. He and Trudy have a baby. But at the same time, he's depressed that his wife isn't taking care of herself like she used to, and did anyone else notice that he's getting a bit of a paunch and losing his hair? Anyway, that smooth-as-a-baby's-ass smile he's worn for the past four years seemed to have dulled some these past SEVENTEEN EFFING MONTHS. Pete's upset at the fact that, despite pulling in so much business, his office isn't really equipped to accomodate it all. Or rather, that it wouldn't make a good enough impression on the clients he'd potentially be bringing into the office. While you can sympathize with these guys on one level or another, the only one you really feel sorry for is Lane. After going through a wallet someone left behind in a cab, Lane finds a picture of Dolores, who he calls and works some of that British magic on on the phone. His story isn't as big or as deep-rooted as our other characters, but it does serve to illustrate the man's unhappiness in his current situation, which does more closely parallel the others. His wife's come back to the States, and (on the surface) they seem to be happy with each other. At least he's not chasing tail at the Playboy Club.
Pete's not the only new parent on the show. Joan's had her baby, and perhaps unsurprisingly, isn't as enamored with the enterprise as she thought she'd be. That's in part due to the fact that her asshole husband (see "The Mountain King") is off in Vietnam and the only help she's got at the moment is her mother, Gail. After watching them go back and forth for a few minutes, you can see why Joan's so full of piss and vinegar.
But at the top of this totem pole built of tears and broken dreams is Don Draper. When Don proposed to Megan at the end of the last season, throwing the much smarter and much stronger Dr. Faye to curb in favor of this kid, I think the show's collective audience let out a big WHAT THE HELL MANG??! For an entire season we thought that maybe, just maybe, Don was going to get his act together, fly straight. But this sort of destructive, impulsive decision seemed like it would rank toward the top of Don's all-time bonehead moves. But here, seven or eight months since the events of last season, Don can't seem to wipe that grin off his face. He and Megan wake up and from then on it's twelve hours of pawing at each other and trying to get busy without anyone catching them. Don's not supposed to be this happy. Well NEWSFLASH sports fans: He's not. And the cracks in Don's carefully constructed veneer begin to show themselves at the surprise birthday party Megan's planned in his honor.
At the party, we see Megan laughing with a group of young 20-somethings who wear bright colors and are much more lithe than they have any business being. Don's 40, and the scene he sees before him only drives home the fact that he and this woman really come from two different worlds. She hangs out with a different group and laughs at jokes he doesn't get. She cleans the carpet in her sexy "underthings" with a boundless energy he just doesn't possess anymore. Later that night, when all the guests have gone home, and Don's free to let the grumpus come out, he tells Megan never to pull a stunt like that again. He couches it someone more diplomatic language, telling her not to waste money on such things. But Megan smiles and says she paid with everything out of her own pocket and Don doesn't have any say over what she spends her money on. Huh? That's not supposed to happen. And it only goes to further illustrate the fact that the American Dream means different things to different people. And that happiness for Don may not necessarily be happiness for Megan. The question is whether or not Don has grown enough as a person to accept that, and if he'll let his selfishness overcome what might otherwise be a very good thing. Their relationship is still young, but nowhere near as strained as his marriage to Betty (although he hasn't had as many opportunities to sleep around I imagine). And we see that when the Don, Megan, and the kids (we're on what, Bobby #7 now?), they all work much better as family unit than they did with Betty toward the end there. I think that, on a base level, these are all things Don realizes. But, like so many things, it's what he does with that knowledge that matters.
As a nightcap, let's not forget that after four years, Mad Men has finally decided to add black people to its rich milieu. SCDP's finger in Y&R's eye has some unintended consequences, which I think sit alongside the episode's larger points rather nicely. While lying in bed, Don tells Megan, "More people feel the way I do than feel the way you do." Now, we know that's probably not the case. It's far more likely that this is coming from a piece of Don that feels more and more irrelevant every time he looks out the window and sees a world trending younger. And not only younger but more diverse. Obviously, the Civil Rights movement goes hand in hand with that. And while Don may be able to choose how he conducts his marriage, he really can't control — or dictate the terms — the face SCDP will have to present to a world that's rapidly changing.** That really could, of course. But in a world changing this quickly, that would mean being left behind. And Don and everyone else on the show would gladly trade a little happiness if it meant staving off irrelevancy.
(**And we know that, living in the 60s, Don and the rest of them have a lot of changes to make yet. But at the time, they would have thought the world was turning on its head.)
---