Posted: March 25, 2012
Filed under: AMC, Mad Men
| Tags: A Little Kiss, Aaron Staton, AMC, Christina Hendricks, Elisabeth Moss, entertainment, January Jones, Jared Harris, John Slattery, Jon Hamm, Mad Men, Matthew Weiner, Rich Sommer, Robert Morse, television, TV, Vincent Kartheiser
Leave a comment »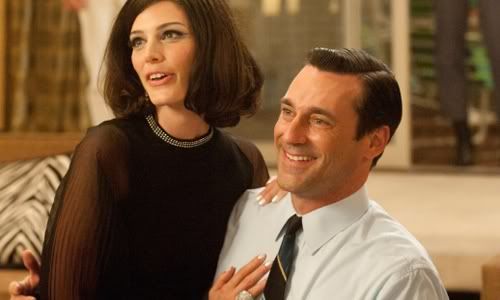 "More people feel the way I do than feel the way you do." – Don
At the start of Mad Men's fourth season, we found ourselves in the swanky, space-age offices of Sterling Cooper Draper Pryce. Everything was so shiny and new, it was like the start of a new age! Sure, Don had made some mistakes, but he had been baptized in a sea of new opportunity and chrome furniture, so the future was a blank slate. Sure, anything could happen. But we were sure that whatever it was, it was going to be good.
Well, an indeterminate amount of time has passed. And things, well, they don't seem to have turned out the way we thought they would. "Well, how did you expect them to turn out?" you ask. Well… we're not sure, exactly. But they weren't supposed to turn out like this.
Since the show began, our characters have all been chasing different things. Women, of course, but also opportunity, money, and status. If you're more of a romantic, you can wrap those things up in lame platitudes like "happiness" and the "American Dream." And after years and years of hard work, a convincing case can be made that they've found those things. But now that they've got them, the novelty of the chase, the conquest, is gone, and well, what the hell was the point of it all?
And what struck me most about tonight's opener (AFTER SEVENTEEN EFFING MONTHS), was that this seemed to be everyone's affliction. Pete, Roger, Lane, and even Don (despite that smile he kept plastered to his face for most of the two hour) seem to be suffering from a kind of malaise. You've got Roger, who's finally come to terms with the fact that he's married a teenager. You can draw certain parallels between Don and Roger in the women they've remarried, but putting the two up side by side, you can at least argue that Megan's got ambition. And although she's still getting sorted out on the creative side of the advertising business, she's still working at it. It seems like the only thing Jane ever wanted out of life was to marry rich. And while I imagine Don could carry on an intellectual discussion with Megan, Roger's given up all hope of ever doing the same with Jane. He still loves her, and tells Don that she's "a good girl," but no one Roger could ever look at as an equal. And Jane's feelings toward Roger seem to be equally ambivalent.
Down the hall you've got Pete, who's moved up in the world. He's bringing in a large chunk of the firm's business. He and Trudy have a baby. But at the same time, he's depressed that his wife isn't taking care of herself like she used to, and did anyone else notice that he's getting a bit of a paunch and losing his hair? Anyway, that smooth-as-a-baby's-ass smile he's worn for the past four years seemed to have dulled some these past SEVENTEEN EFFING MONTHS. Pete's upset at the fact that, despite pulling in so much business, his office isn't really equipped to accomodate it all. Or rather, that it wouldn't make a good enough impression on the clients he'd potentially be bringing into the office. While you can sympathize with these guys on one level or another, the only one you really feel sorry for is Lane. After going through a wallet someone left behind in a cab, Lane finds a picture of Dolores, who he calls and works some of that British magic on on the phone. His story isn't as big or as deep-rooted as our other characters, but it does serve to illustrate the man's unhappiness in his current situation, which does more closely parallel the others. His wife's come back to the States, and (on the surface) they seem to be happy with each other. At least he's not chasing tail at the Playboy Club.
Pete's not the only new parent on the show. Joan's had her baby, and perhaps unsurprisingly, isn't as enamored with the enterprise as she thought she'd be. That's in part due to the fact that her asshole husband (see "The Mountain King") is off in Vietnam and the only help she's got at the moment is her mother, Gail. After watching them go back and forth for a few minutes, you can see why Joan's so full of piss and vinegar.
But at the top of this totem pole built of tears and broken dreams is Don Draper. When Don proposed to Megan at the end of the last season, throwing the much smarter and much stronger Dr. Faye to curb in favor of this kid, I think the show's collective audience let out a big WHAT THE HELL MANG??! For an entire season we thought that maybe, just maybe, Don was going to get his act together, fly straight. But this sort of destructive, impulsive decision seemed like it would rank toward the top of Don's all-time bonehead moves. But here, seven or eight months since the events of last season, Don can't seem to wipe that grin off his face. He and Megan wake up and from then on it's twelve hours of pawing at each other and trying to get busy without anyone catching them. Don's not supposed to be this happy. Well NEWSFLASH sports fans: He's not. And the cracks in Don's carefully constructed veneer begin to show themselves at the surprise birthday party Megan's planned in his honor.
At the party, we see Megan laughing with a group of young 20-somethings who wear bright colors and are much more lithe than they have any business being. Don's 40, and the scene he sees before him only drives home the fact that he and this woman really come from two different worlds. She hangs out with a different group and laughs at jokes he doesn't get. She cleans the carpet in her sexy "underthings" with a boundless energy he just doesn't possess anymore. Later that night, when all the guests have gone home, and Don's free to let the grumpus come out, he tells Megan never to pull a stunt like that again. He couches it someone more diplomatic language, telling her not to waste money on such things. But Megan smiles and says she paid with everything out of her own pocket and Don doesn't have any say over what she spends her money on. Huh? That's not supposed to happen. And it only goes to further illustrate the fact that the American Dream means different things to different people. And that happiness for Don may not necessarily be happiness for Megan. The question is whether or not Don has grown enough as a person to accept that, and if he'll let his selfishness overcome what might otherwise be a very good thing. Their relationship is still young, but nowhere near as strained as his marriage to Betty (although he hasn't had as many opportunities to sleep around I imagine). And we see that when the Don, Megan, and the kids (we're on what, Bobby #7 now?), they all work much better as family unit than they did with Betty toward the end there. I think that, on a base level, these are all things Don realizes. But, like so many things, it's what he does with that knowledge that matters.
As a nightcap, let's not forget that after four years, Mad Men has finally decided to add black people to its rich milieu. SCDP's finger in Y&R's eye has some unintended consequences, which I think sit alongside the episode's larger points rather nicely. While lying in bed, Don tells Megan, "More people feel the way I do than feel the way you do." Now, we know that's probably not the case. It's far more likely that this is coming from a piece of Don that feels more and more irrelevant every time he looks out the window and sees a world trending younger. And not only younger but more diverse. Obviously, the Civil Rights movement goes hand in hand with that. And while Don may be able to choose how he conducts his marriage, he really can't control — or dictate the terms — the face SCDP will have to present to a world that's rapidly changing.** That really could, of course. But in a world changing this quickly, that would mean being left behind. And Don and everyone else on the show would gladly trade a little happiness if it meant staving off irrelevancy.
(**And we know that, living in the 60s, Don and the rest of them have a lot of changes to make yet. But at the time, they would have thought the world was turning on its head.)
---
Posted: March 11, 2012
Filed under: AMC, The Walking Dead
| Tags: AMC, Andrew Lincoln, Better Angels, Chandler Riggs, entertainment, Frank Darabont, Jeffrey DeMunn, Jon Bernthal, Laurie Holden, Norman Reedus, Robert Kirkman, Sarah Wayne Callies, Steven Yeun, television, The Walking Dead, TV
Leave a comment »
I don't know if I can take it anymore. These past few episodes of The Walking Dead have  just been too emotionally draining. Like good sex, they get my heart rate up and leave me a little weepy afterwards.
I guess I'm just a little too cynical when it comes to stuff like this. I'm used to shows seizing on a good thing — in this case, the rising tension between Rick and Shane — and dragging it out for as long as they possibly can. And considering the fate that befell poor Dale last week, well, this was a development I just wasn't expecting. But hindsight is 20/20, and looking back we see that Rick and Shane weren't unlike those other cops, Vic Mackey and Shane Vendrell from The Shield, after (spoiler) Vic discovered that Shane had killed Lem. Things between Rick and Shane had gotten so bad that there was really no hope of making things whole again. Shane's confidence in Rick as a leader had all dried up, and his feelings for Lori obviously weren't going away. Rick knew both of these things, so we knew that eventually he was going to have to show Shane the door.
But while I didn't expect to see the show arrive at this point this soon or in exactly this way, I will say that it could have come maybe four or five episodes sooner than it did. I think we all accept the fact that Rick isn't an idiot. But after having him drive the whole "WE DON'T KILL THE LIVING" thing into the ground up until they met Randall, and then watching him hem and haw over what to do when it looked like he was putting the group in such obvious danger stretched his credibility and really kind of made Shane's argument for him. So for the last few weeks we've been stuck between Rick's inability to make a decision and Shane's mental unhinging. And after too much of this there comes a point when you're just like, "enough already." Yeah, we all loved Dale, but who cares. Kill him just to get us out of this rut. And if you kill Shane too, well, even better.
But even though some of these developments came a little late in the game, it was still one of the season's strongest outings. I thought it did a really good job reminding us that, even though we can get a little annoyed at these characters when they drag us down into the muck and mire of their moral bullshit, we still care about them. Glenn's moment with Andrea while trying to fix Dale's RV was a nice moment. Especially for Andrea, who really needed something to help pull her out of her own asshole.
It's kind of interesting to compare the death of Dale and its aftermath with Sophia's. When you set the two up side by side, you see one as flip-flopped from the other. Sophia's death was like a punch in the stomach. Definitely one of the show's strongest, most emotional moments (if not the strongest). But unfortunately, no one really cared about Sophia. She was never really central to any storyline. And over the course of the seven episodes we saw her in, we never really got a chance to get to know her. So after Rick pulled that trigger, it seemed like the sorrow the show was trying to drum up for her felt a little fake. Dale is the complete opposite. My wife is constantly amazed — and a little turned off — by the gruesome kill-shots the show goes for more and more these days.** And while some of them I think the show really earns, Dale's felt like overkill for overkill's sake. But the aftermath, like the moment between Glenn and Andrea, felt good. It felt authentic.
(**And for those of you out there who agree with her, you might as well get used to it. Something like is of course going to appeal to a large chunk of the folks tuning in. And the way in which the show does it is kind of unique, so it's already kind of turned into its thing. And again, with the ratings it's pulling in, I wouldn't expect them to change the formula up too much.)
But the tussle between Rick and Shane was definitely the episode's main course. That Shane was going waaay off the reservation I thought was clear pretty early on. But when I thought that Shane's plan was to let Randall go then force Rick and everyone else into making a move against them, he was actually planning on taking Rick out into the woods and shooting him in the head. And if I wasn't expecting that, I definitely wasn't expecting Rick to talk him down, convince him to go back to the farm and talk things over, then whip out a knife and stab Shane in the chest LIKE A BOSS. Rick screaming, "This was you, not me!" was the cherry on top.
And on top of that we found that a lot of what we thought we knew about the virus was wrong. It turns out that you don't necessarily have to be bitten to turn into a zombie. Just being dead works fine. To be honest, I don't know how that affects anything going forward, besides forcing the survivors to put down anyone who may die of natural causes.
However it affects things, it's coming on top of a huge effing zombie horde headed toward the farm and Randall's people camped not far away, not to mention the splainin' Rick's going to have to do re: the Shane situation. It won't all get taken care of in the finale. But at least we won't have to some 17-month hell to see how it all shakes out the way we are with Mad Men.
---
Posted: March 4, 2012
Filed under: AMC, The Walking Dead
| Tags: AMC, Andrew Lincoln, Chandler Riggs, entertainment, Frank Darabont, Jeffrey DeMunn, Jon Bernthal, Judge Jury Executioner, Laurie Holden, Norman Reedus, Robert Kirkman, Sarah Wayne Callies, Steven Yeun, television, The Walking Dead, TV
Leave a comment »
Well, of course the big news this week is that Dale's DEAD. And I mean deader than dead. He had his guts ripped out by a zombie, and then Daryl shot the poor guy in the head. In front of Shane. So it was kind of a perfect storm of shitty ways to go.
Now, something like this coming hot on the heels of Rick shooting poor, zombie Sophia in the head may cause some of you to say, "Holy crap! No one on this show is safe! Truly heroic storytelling!" And it's possible that this storytelling truly is heroic. But I think Dale's exit from the show may have more to do with Jeffrey DeMunn than the dictates of this season's story. Aside from occasional guest spots on Law & Order, The Walking Dead is the most work DeMunn has ever done on a TV show. And after the departure of Frank Darabont at the start of the season, I think it's entirely possible DeMunn reassessed and realized this wasn't something he wanted to do for years and years. And make no mistake, if this show continues to pull in the ratings it's been getting, it'll get at least seven or eight seasons.
But whether it was DeMunn's choice or the writers', it's happened. So there isn't much to do besides clean up Dale's guts and try to move on. Which, now that Dale and his BIG MOUTH are gone, should be much easier. Or so you'd think, although I have a feeling Rick and the gang will find plenty of reason yet to waffle over whether or not to kill Randall. Because just when you think the show was giving the survivors every reason to get the hell off Herschel's farm, we're given this moral conundrum. Yes, Rick and everyone else have Herschel and his family to think about, but if they weren't planning on sticking around for a while, I don't think they'd be wrestling with this decision the way they are.
Although that's not to say that the question the survivors are asking isn't a legitimate one. If they choose to kill Randall — even for their own protection and survival — what is that saying about themselves? Do they lose the moral high ground? Could they still claim to be better than these people they'd hypothetically be fighting against (if Randall escaped and brought them back to the farm)? I think that question is best answered by Carol, in their little group powwow. While Rick is going around, asking for a show of hands of who agrees that Randall needs to be taken care of, Carol says, "I didn't ask for this." Meaning, she never asked for this sort of responsibility to be thrust upon her. She never asked to be making these sorts of decisions. Well, that's true. But it's also true that nobody asked to be thrown into the middle of a zombie apocalypse. Nobody asked to raise their kids teaching them how to shoot because one day, a walker might jump out of the bushes and rip their faces off. Nobody asked for that, but, Carol, to quote Shakespeare, that's just tough. And here's another Shakespeare quote: "Some are born great, some achieve greatness, and some have greatness thrust upon them." In a very similar way, some have hordes of bloodthirsty zombies thrust upon them. And it'd be great if we didn't have to worry about the Randall's of the world, running back to their camps and coming back with all their friends and their guns. It'd be great if, in the middle of all this, we didn't have to make any tough decisions. But that's just not the way things work anymore.
And as much as Shane's pissing and moaning about Rick not being able to keep anyone or anything safe is beginning to chafe juuust a little bit, he made some good points this week. They could keep Randall alive, but to make sure he never ran off to tell his friends about Herschel's farm, they'd either have to keep him locked up all the time (what's the point?), or keep someone on him at all times (and who wants to do that?). When you get right down to it, their options are pretty limited. Again, that isn't to say that Dale's a complete doe-eyed optimist living in some fantasy world for wanting to keep the guy alive. But the world has changed, and that's going to require some compromises in everyone's moral code.
But, Dale's dead now. So, you know, whatever.
What does this mean going forward? Well, Rick obviously agreed with what Dale kept repeating the entire episode. Although he also recognized the fact that he may be required to make decisions he finds morally questionable. Andrea agreed with him, too, although she's slowly coming under Shane's spell and has to be beaten over the head with Dale's argument before the rest of the group votes him off the island. Carol's too timid to really say much of anything in defense of the little man. And Daryl's transformation into Joe Kurtz continues unabated. So, going forward, maybe we will see the group take a little more hard-nosed stance to situations like this. Or maybe not. Maybe what we'll get are more close in shots of Rick, all pensive and watery-eyed, lamenting everyone's lost humanity.
---