Luck – "Pilot"
Posted: January 30, 2012
Filed under: HBO, Luck
| Tags: David Milch, Dennis Farina, Dustin Hoffman, entertainment, Gary Stevens, HBO, Ian Hart, Jason Gedrick, John Ortiz, Kerry Condon, Kevin Dunn, Luck, Michael Mann, Nick Nolte, Ritchie Coster, television, Tom Payne, TV
Leave a comment »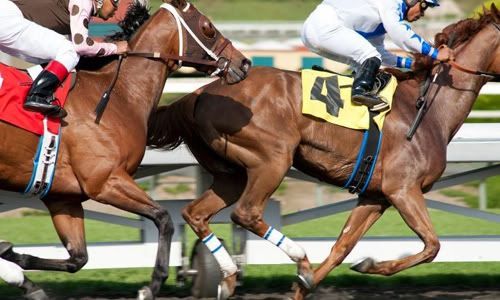 There invariably comes a time, while watching movies like Rango or playing video games like Battlefield 3 where we say, "They're almost there." It'll only be a few years before we can't tell the difference between what we're seeing on the screen and real life. It'll only be a few years before this sort of media won't be able to look any better. It'll be as real and lifelike as it can ever get. To a certain extent, the same applies to TV shows. Despite the ungodly amount of shit we see on our screens, we are living in a sort of golden age when it comes to television.
But unlike computer animated lizards or soldiers blowing each other up, television's golden age is much farther along. This isn't only about moving away from your typical procedurals (YES there's room for both, you bastards) and toward more character-driven shows, but shows that take entire seasons to pay off. Shows that are built more like novels than they are TV shows, sometimes going off on tangents just to give us a better idea of who these people are. And in discovering that, helping us to see beauty and meaning in the mundane, without having to worry about cliffhangers coming every ten minutes to keep us in our seats through the commercial breaks. Shows that are meant to be experienced almost as much as they're meant to be watched. And despite offerings like Real Sex, G String Divas, and Dane Cook's Tourgasm, HBO is kind of leading the charge.
Two writers — David Milch and David Simon — broke new ground with these sorts of shows with Deadwood and The Wire, and those shows paved the way for Luck and Treme, but since we're talking about Luck here, I'll try and only talk about Luck**.
(**I have a lot of feelings about Treme — a lot of problems, too — that I'll talk about at another time. But despite my problems with it, it's the only other show I can think of that approaches what Milch has done with Luck, or at least tries to.)
I suppose there's a fear out there that Luck, entrenched in the world of horse racing, isn't going to be accessible to the typical Philistine viewer. And that's true. There comes a point where all the Pick Six stuff goes over your head and you have to just kind of go with it. Still, I think the show offers enough for everyone to relate to. At its heart — and after only one episode maybe it's too early to say — I think Luck is a show about people who the world's passed by. From Dustin Hoffman's Ace Bernstein, who's just come off a three-year prison stretch to Nick Nolte as a grizzled (I think I'm the first person to use that word) ex-trainer who's still trying to live down the death of one of his horses. Those things, coupled with the always-half-empty Santa Anita racetrack lend to this feeling that while there may be better days ahead, the days behind us were pretty damn good, too. And by the time we get to the pilot's final race, there comes a moment where we can feel the sun on our face, feel the chill in the air and link it to some past memory, something we miss. Even if racing isn't your thing, I imagine we'll all have some passing interest in it by the time the first season's over.
Of course, this show wouldn't be a fifth of what it is if it weren't for the people behind it; that perfect storm of David Milch (please be seated), Michael Mann and Dustin Hoffman. There's not much we can say about Milch that hasn't been said already. It's only been a few short years since John from Cincinnati crashed and burned, and Deadwood's premature death still hurts, so we're happy to have him back. But in a lot of ways, Michael Mann is the one who brings the show to life. When we come to that final race at the end of the pilot, it's him who breathes life into something most of us have little to no experience with, making us realize only once it's all over that we've been sitting on the edge of our seats, our hands covering our mouths the entire time. Dustin Hoffman is as good as he's ever been, but in this first episode, coming out of prison the way he is, he's still trying to get his feet under him. Right now he's kind of orbiting the racetrack, trying to work his way back into that world. His best moments are still to come.
There's a lot going on here, and if you've seen the preview for the rest of the season you know that eventually it's going to get pretty heavy. But, being David Milch and HBO, you also know it's going to be a slow burn. And because things here in the pilot are only just getting set up, it's best to watch the show once and enjoy it before you start to analyze things. There's a lot here that could turn people away, but I think there's a feeling about this show, and shared experience that could really bring people in.
Author's note: I make no apologies for being a David Milch apologist. One episode in and I already love this show. My first draft of this review said only: THE BEST, scrawled in crayon on a picture of Dustin Hoffman and a horse. I'll try and be more objective in the future, but no promises.
---