Posted: November 27, 2011
Filed under: AMC, Hell On Wheels
| Tags: AMC, Anson Mount, Ben Esler, Colm Meany, Common, Dominique McElligot, Eddie Spears, entertainment, Hell On Wheels, Jamais Je Ne T'oublierai, Phil Burke, television, Tom Noonan, TV
Leave a comment »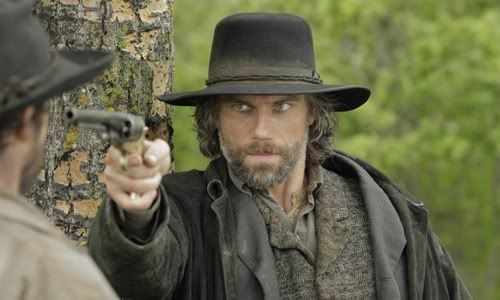 "Never shall I forget," before you ask.
One of the first jobs I ever had was working at Party City, selling Halloween masks and scraping shoe polish that said, "BOO! Happy Halloween!" off the windows ALL YEAR LONG. My first day there, I was trained by this guy who was always walking a few steps ahead of me for some reason, jumping from one topic to the next as fast as he could. When we finally made our way to the balloon counter (working at the balloon counter was some sort of Bar Mitzvah-esque rite of passage there) this guy took it upon himself to remind me to always take the customer's money before handing them their order. Apparently that was the done thing in places of business back then. "Money talks, bullshit walks," he said, as if the fortunes of kings and empires pivoted on the work we were doing. I've come to the conclusion that Cullen Bohannon is this guy. He charges into a situation, and before he really even knows what's going on, he gets in everyone's face and invariably says something stupid, because he needs to look like he's in charge.
Tonight, we find Bohannon hot on the trail of Harper (looking for this guy is the "someplace" he had to be in last week's episode), sneaking into a logging camp, gun drawn (per always), and sticking it in the face of the first guy he sees. Now, while we, the viewers, may have many questions, one thing is perfectly clear: there is no reason to believe that any of the information Cullen gets from this guy is going to be reliable. "You're looking for Harper? And you want to stick that in his face? Uhh… Harper's gone! Yeah, he went North! To, like, Canada! And he left yesterday, so you better hurry!" And because most people are good, upstanding Christians, Bohannon takes all this at face value and rides off FOR GREAT JUSTICE. Bohannon catches a glimpse of Harper, cresting a hill in the distance, but he doesn't catch him because let's not get ahead of ourselves.
Back at camp, we find Durant lamenting the loss of his maps, even as he celebrates the return of Lily Bell. "Celebrates" may be the wrong word here. For most of their time together, Durant looks like he's wondering whether or not to hit on her, and she looks like she's wondering whether or not to clap sarcastically at everything he says. Durant may be confused at how a woman like Lily could have fallen in love with someone like Robert, who they both mention is at least partially responsible for the work they're doing on the railroad. Their conversation is about as interesting as Robert himself was, and we realize that we're forgetting what they're saying almost as soon as it's come out of their mouths. When Durant tells Lily that Robert was a starry-eyed dreamer who never would have made anything out of himself without someone like him, Lily almost storms out. That is, until, Durant gets up, pleads with her to stay and finish her dinner of ham hocks and boiled potatoes. He promises that that's it, no more pontificating. He'll just sit there and look unsure of what to do with his hands.
We got to see a little more of the relationship we all knew was coming between Elam and Eva, the "tattooed harlot" so eloquently talked about by Irish O'Shaughnessy at the beginning of the episode. Even though — in the combined two minutes we've seen her on screen before now — I think she's an infinitely more interesting character than so many others on this show, I'm kind of glad she ended up with someone like Elam. Because he's a man who desperately needs something good in his life, and although he's tried, that something good isn't going to be a deep and lasting friendship with Bohannon. After that roll in hay denied him in last week's episode, Elam and Eva gaze deep into each other's eyes, and even though they don't say it, you know they're both thinking, "Finally. Someone who gets me." When Eva tells Elam that she was worth "three blankets and a horse" to the Indians who held her captive, Elam tells her that her eyes are worth 100 horses alone, which reminded me of the time I watched Johnny Lingo and my Sunday School teacher told us all we were worth 10,000 cows. So I'm having kind of a hard time taking it seriously. But we'll see where it goes. I'm sure it won't always seem like two teenagers pawing at each other in the back seat of a car. Will it?
Two things I thought were very interesting about tonight's episode. One was the Swede, who's still making snide remarks to Durant about what a shitheel Bohannon is, like if he keeps at it Durant will have no choice but to fire him and proclaim the Swede his favorite. Durant tells him that there's a wagonload of black powder coming in, and the Swede says he'll take a small group of men to watch over it. Later, the Swede tells Bohannon that he'll introduce him to President Jackson if Bohannon looks the other way while the Swede's men take a few barrels for themselves. THIS IS MY PREDICTION SO LISTEN WELL: As he's leaving Durant's boxcar, the Swede hears his boss dictating a telegraph to his stockbroker in… oh, let's say, Cleveland. Durant says to invest $147,000 in R&R Railroad stock. A few minutes earlier we heard Durant saying that if they couldn't get money for new surveyors, his railroad was pretty much sunk. I think the powder the Swede and his men are taking is meant to sabotage the R&R Railroad. After the explosion we saw tonight — along with Bohannon saving the guy whose ear he shot off last week because he's so, ugh, complex — who knows how it'll all play out. But the Swede's up to something, you can be sure of that. Interesting moment #2 came when Father Cole found Bohannon stumbling back to his tent, all liquored up. His revelation that he was with John Brown during the whole Bleeding Kansas thing really came out of left field. Mainly because he's seemed like such an uninteresting character up until this point; someone who didn't seem like he was playing a part in a period drama at all. So even though you can be a silly little ragdoll, Hell On Wheels, I still have to doff my cap to you. Four episodes in and it does seem like a few things are beginning to come together. And for all the awkward dialogue and Irish brothers the show is lousy with (their big thing tonight was looking at naked women), you are managing to surprise me every now and then.
Other thoughts (nope, just one)…
The Swede's naked! My eyes! The goggles! They do nothing!
---