The Hour – "Episode 6"
Posted: September 23, 2011
Filed under: BBC, The Hour
| Tags: Abi Morgan, Anna Chancellor, Anton Lesser, BBC, Ben Whishaw, Dominic West, entertainment, Josh McGuire, Oona Chaplin, Romola Garai, Suez Canal, television, The Hour, TV
Leave a comment »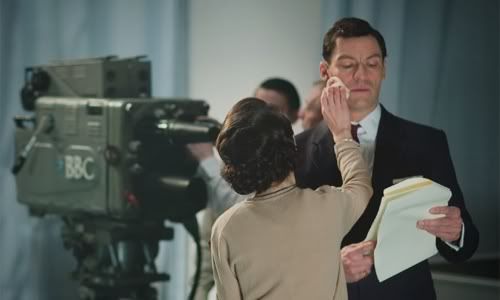 For me, this season of The Hour has been all about managing expectations. It's set in the 50s? It'll be just like Mad Men! Murder? Spies? Awkward dinner parties? I thought that this might possibly be the greatest television show in the history of television or shows. Then I watched the first episode, and the second, and the third… and I was a bit puzzled to discover that it wasn't. The show was good — more than good — to be sure, but it wasn't blowing my socks off or making them roll up and down or doing anything to them really.
Then I realized that this wasn't a show about political intrigue or the mistakes governments make or freedom of the press. All of these things played a part in it, but The Hour was primarily a story about Freddie Lyon and Bel Rowley. These two people who, even though they will probably never end up together, still care for and even love each other very much.
That was the show. The rest was just window dressing. Moody, well-written window dressing. But because my expectations were much higher, I couldn't help but feel a little disappointed. Then I watched this week's finale, and for some reason that put the rest of the season into perspective for me. The payoff made me realize that The Hour was never shooting for the moon, but was telling a very measured story about these people whose passions had brought them together, and together in their roles as journalists, were trying to report the news when the country needed it, in the face of a government that was dead set against them. Does any of that make any sense? No? Well, I tried.
Anyway, as I watching the finale and that story came into focus, the thing really took off. I never realized a news program could be so engrossing. And it wasn't just that, wasn't just Freddie and Bel trying to see what they could sneak past McCain. It was McCain, Clarence, Marnie watching things in the control room. It was Freddie waiting for Lord Elms to show up. The show really took us to bed and showed us that it was the gentle, more experienced lover we hoped it would be.
The revelation that Clarence was the Soviet Agent working inside the BBC that MI6 was looking for may have been a bit expected, but I thought what he was trying to accomplish with Freddie was a good way to twist things. It wasn't about grand gestures meant to tear down the government. Clarence wanting Freddie to reveal on air what he had been told about England's plans to assassinate Nasser was clearly the milk before the meat. Throwing this bit of knowledge out over the airwaves would have sown distrust between the government and the people. Clarence and those he was working with were thinking long term. So when — after he and Bel had been fired — Clarence telling Freddie that he's ruined what he's worked for years to build, meaning his work with the Soviets and not the bit about who killed Ruth Elsm, was really strong. You can look past the traitor to his country stuff for a minute and feel sorry for the guy. And while a piece of me is asking, "What the hell was Freddie thinking?" I don't know if I expected anything different from him. Was there ever any chance that Freddie would chase the story that wasn't personal to him? Everything Freddie did, his entire reason for pitching The Hour, was personal to him. That passion is probably why he ended up on the Bright Stone list in the first place. Maybe Clarence should have seen the whole thing coming.
The show's been renewed for a second series, so the question is where does it go from here? Another murder for Freddie to get involved in, another international crisis for the show to be reporting might seem a bit repetitive, and procedural in a way that's just not done. And even among the characters, there will be new problems to deal with. Bel's ended her whatever-it-was with Hector, who himself has told Marnie that he's coming back home. Like I said before, I don't think Bel and Freddie will ever end up together, so as far as each other are concerned they're in same place they've always been in. Except now they've got this show between them. But maybe the number one thing on our lists should be that there is no more show. There is no more Hour. McCain saw to that. So maybe series 2 will pick up a year later, with Freddie and Bel, Hector and Lix, Isaac and Sissy working on a new show, in their Sterling-Cooper-Draper-Pryce digs. I mean, they're the show, right? We've got to find some way to keep them all together.
But really, what's going on in the background won't make or break this show, because what works so well are their relationships with each other. Freddie and Bel may be a missed connection on some level, but on another they're all the other's got. Hector lives a life of privilege. One might think he's done the things he's done in life because that's what's expected of him. But he's wants to come down from that lofty perch, live among the little people, just live. And that's not something he'll be able to do at home with Marnie. These are the things I'm glad The Hour was able to show us, and what I'll be looking forward to when it comes back — For another six episodes? Really? — next year.
---